Comics
Published September 15, 2017
Secret Warriors: A Legacy of Anger
Matthew Rosenberg details a team set to fracture ahead of Marvel Legacy!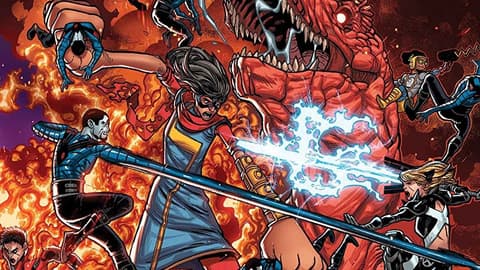 The universe trends towards entropy. Or, to put it another way, everything falls apart. Everything—including the Secret Warriors.
In the aftermath of Secret Empire, the group barely qualifies as a team anymore. And to further complicate matters, Quake—once central to the Warriors—now finds herself in a haze of rage, so focused on avenging Phil Coulson's death that she's lost touch with her friends and allies.
On November 15, writer Matthew Rosenberg joins artists Javier Garrón and Will Robson to unleash Mister Sinister on a team at their weakest point in SECRET WARRIORS #8!
We caught up with Matthew to see what's next for the group as Marvel Legacy begins.
Marvel.com: Describe the Secret Warriors current team dynamic.
Matthew Rosenberg: The team as a whole finds itself in sort of a disaster. They were brought together by necessity, not by choice. They don't really get along, they don't see eye to eye, and they've been stuck with each other because they had nowhere else to go. Now the team starts falling apart after Secret Empire.
So, they aren't really together anymore. But, as often happens with these things, bad things will bring them back together. They didn't finish what they started last time and now it's back for them.
Marvel.com: The team has gone through a tremendous amount of turmoil in a very short amount of time. How are the Warriors reacting?
Matthew Rosenberg: Everyone deals with the fallout of Secret Empire differently. Ms. Marvel really wants to get back to her life—to being the type of hero she feels more accustomed to being. Moon Girl wants to go home. Inferno doesn't want to play super hero right now. Quake runs out for blood. Having lost many of the things she cared most about in the world, revenge feels like her only way of processing. While the others are exhausted and beaten down, Quake becomes something else entirely. She seems a little broken.
And Karnak…who knows anything about Karnak's state of mind, ever? He seems like his usual creepy self.
Marvel.com: We know that Quake targeting Deadpool will be a significant storyline going forward. How does the rest of the team view that mission?
Matthew Rosenberg: Quake's revenge won't be something anyone feels comfortable with. She's always been willing to cross lines the others won't. Her choices disturb the group less since the team has gone their separate ways—but our Legacy story forces them back together, so Quake's vendettas become an issue again. The friction between Ms. Marvel and Quake will grow even more and everyone gets caught in between.
Marvel.com: What creative benefits and challenges does this storyline present?
Matthew Rosenberg: We get to have a story that increases the stakes on a personal level. Secret Empire served as big, world changing stuff—but that kind of story can overshadow some of the smaller things at times. Now we're telling a smaller story about loss and revenge, friendship and purpose. It can be really fun to zoom in on these characters—but it's a big challenge too. The shifting of gears can feel jarring if you do it wrong.
Also, it was tough to borrow Deadpool. [Writer] Gerry Duggan and all the DEADPOOL team have done an amazing job of telling this really long story currently reaching its culmination in Deadpool's fall from grace. It's beautiful, actually. So we want to play into that and be a part of it, but not get in the way of what they're doing in the main DEADPOOL book. We want it to feel relevant and offer something to DEADPOOL readers, but not put them at a disadvantage if they aren't reading our book.
Marvel.com: Javier Garrón will continue as the main artist for Marvel Legacy. How do his ideas and contributions add to where the book moves next?
Matthew Rosenberg: Javier is amazing. I feel like every interview I just talk about what a joy he has been to work with, but it's true. No matter what dumb, weird thing I throw his way, he manages to make it cool and fun. And he does it all while being one of the most pleasant people I've ever met.
It's funny because he's so amazing at two things that I think most artists struggle with. He can handle a lot on a page—big action, lots of panels, tons of characters. He never breaks stride and never makes it clumsy. That inspired us cramming so much into our first arc. We wanted to play to his strengths. And the other thing is acting. His characters have so much life and personality; I think that has been a big key to why people like this book. It's really easy to relate to who they all are because Javier makes them such great characters before any lettering even touches the page.
Also, he gave the X-Men great facial hair. I want that recognized. Rictor's mustache and Strong Guy's beard are themselves some of the most important characters in comics today.
Marvel.com: Looking beyond the first arc, can you hint at what else readers can expect from SECRET WARRIORS?
Matthew Rosenberg: We are building to a showdown with Mister Sinister. He has been involved with the team for a while—only they didn't necessarily know that. So this fight will be an interesting one.
Other than that, we have a pretty big addition coming to the roster. I am beyond excited to bring this new person to the team. It's one of my favorite characters of all time and getting to see them interact with everyone else has been really Magikal.
Matthew Rosenberg and artists Javier Garrón and Will Robson launch SECRET WARRIORS #8 on November 15!
The Hype Box
Can't-miss news and updates from across the Marvel Universe!