Comics
Published June 16, 2017
Secret Warriors: Family Feud
Quake and Mr. Hyde face off in the heart of Secret Empire!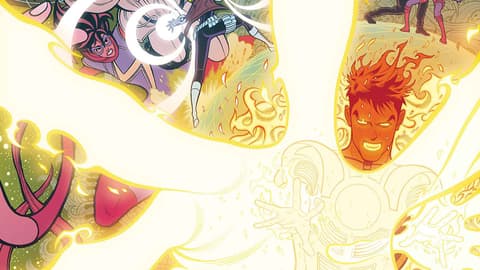 The Secret Warriors have faced a lot of big challenges since their inception as a loosely-knit team. From battling the X-Men to fighting Hydra, they've got a lot on their plates. And things get even trickier in the upcoming SECRET WARRIORS #4—due out July12—as Quake leads the team into a confrontation with her dad, the Hydra commander Mr. Hyde.
We chatted with writer Matthew Rosenberg about the top five reasons why a run-in with Hyde is Daisy's worst nightmare.
Marvel.com: At this particular moment, given everything going on with Hydra in Secret Empire and Hyde's role in it, we wouldn't expect this encounter to go particularly smoothly, to say the least.
Matthew Rosenberg: Yeah, Hyde is scary to tangle with when the world isn't falling apart and he isn't your father. But yeah, Daisy is trying to end this takeover and Hyde getting in her way makes things very complicated.
Marvel.com: Daisy and Hyde have never had what we'd consider a super healthy father-daughter relationship. And that emotional tension will make this confrontation even more challenging.
Matthew Rosenberg: Totally. Daisy has spent a lot of time steering clear of Hyde. She doesn't want him in her life, she doesn't want to have to deal with him, and she doesn't want to think about him. But Hyde has his own agenda and she can't get away from it anymore. And deep down I think Daisy is afraid of learning that she is more like Hyde than she wants to believe.
Marvel.com: Daisy has pretty impressive powers of her own, and Hyde has gone up against characters like Thor—so who will win out?
Matthew Rosenberg: Hyde is definitely formidable. Daisy is powerful too, but at a certain point her powers go from being useful to just destructive. She is always toeing the line between super hero and natural disaster, and she can't let Hyde push her too far. Luckily for her she has some friends with her. Or sorta friends. Regardless, all of the Secret Warriors vs. Hyde is probably a good brawl.
Marvel.com: We see some mistrust going on among the Warriors. Especially when it comes to Karnak, whom we've watched start to make his own plans for some reason. They don't seem to feel as unified as they could, so it's not really the best time to have to face someone like Hyde.
Matthew Rosenberg: No. It's probably the worst time, actually. But that's what this team is all about. Five people and a dinosaur who don't necessarily see eye to eye or even get along that well. But they're together because they need each other. They have always been reacting instead of acting, and that isn't going to change anytime soon. So Hyde definitely gets the drop on them in terms of preparedness, but I trust Daisy and the Warriors will put up a good fight. Hopefully.
Marvel.com: Hyde spent some time in Pleasant Hill; that had to have messed with his head, and can only make matters more complicated.
Matthew Rosenberg: At a certain point you can only scramble an egg so much. Pleasant Hill [was] probably not good mentally for any of its residents, but Hyde was further gone than many. But his time there has given him some new insight and direction for sure. He is on Team Hydra more than he was before, but he is also thinking about a longer-term plan in ways he never was before. Basically, once people start messing with other people's heads, don't ever trust anyone.
Marvel.com: Would you like to tease or mention anything else?
Matthew Rosenberg: The next few issues of SECRET WARRIORS have more than a few fun cameos. Daisy vs. Hyde—the team vs. Hydra—is what people should come for, but I hope people are excited about some of the other folks who stop in to make our team's lives more difficult.
SECRET WARRIORS #4 by Matthew Rosenberg and Javier Garron ships out on July 12!
The Hype Box
Can't-miss news and updates from across the Marvel Universe!