Comics
Published October 30, 2017
Secret Warriors: Start of Something Sinister
Matthew Rosenberg sets the Warriors up against a classic Marvel Legacy foe!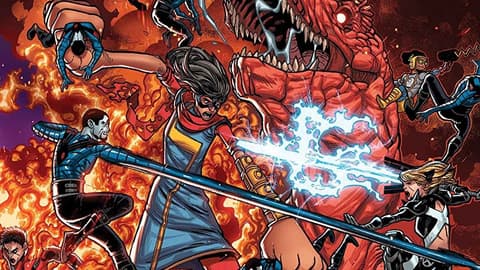 In SECRET WARRIORS #8, something wicked this way comes. Or, rather, something sinister.
On November 15, Mister Sinister turns his torturous methods on the Inhumans! Marvel Legacy dawns as writer Matthew Rosenberg joins artists Javier Garrón and Will Robson to see the Secret Warriors combat this classic villain—and more discord within their own ranks.
We asked Rosenberg for a couple of hints about what to expect in the newest issue.
Marvel.com: Given the unique physiology of the Inhumans and how they develop powers, it makes sense that Mister Sinister would be interested in them. Creatively, though, what drew you to using him in your story?
Matthew Rosenberg: Besides me being obsessed with the X-Men? Okay.
I think he's a fascinating villain because he can be a great example of the very simple—but very hard to pull off—idea that villains don't act as the villains of their own stories. Sinister has a brilliant mind and, if pointed in the right direction, could be doing some of the most important work in the Marvel Universe. His desire to figure out how the world works and conquer it feels truly admirable in many ways.
But he is psychotic and sees no value in the normal morality of the civilized world. It has never been hard to imagine him as one of the Hanks, as a Reed Richards-type. But he has no interest, and that fascinates me.
Marvel.com: How prepared will the Warriors be for this new threat? What do they know about Mister Sinister?
Matthew Rosenberg: They will not be prepared at all. Daisy knows him simply because she studied her S.H.I.E.L.D. files pretty well. Karnak knows who him because crazy people all know each other. But the rest of the team has not prepared at all. And in issue #8 you will see just how unprepared for playing by his rules they will really be.
Marvel.com: From the cover of #8, we see Mister Sinister sporting an unexpected look. Can you describe artist Javier Garrón's visual conceptualization of the character? How does it inform or compliment your take on Sinister?
Matthew Rosenberg: First of all, let's just say this. Javier is brilliant and I love working with him. With that out of the way, one of my favorite things has been that he just really likes redesigning characters. I think his instincts and design sense are awesome, but more than that, I just love the idea that all these characters just change it up sometimes. I don't wear the same thing every day. Actually, I kind of do. But I get that seems weird. But why should super heroes? I get that they have a brand consciousness and want to be recognizable, but even baseball teams have a few different uniforms.
I think Javier's design of Sinister feels like a great update that really helped me realize who he can be in our story. Sinister, obviously a psychotic maniac, is also cultured, sophisticated, and smart. His grand designs may not be evident to everyone, but he tries to shape the future of the world and he has a plan. This isn't some two bit villain in tights. Mister Sinister wants to reshape the course of the human race, so of course he'll dress like a megalomaniac too.
But what do I know? I wear shorts 365 days a year.
Marvel.com: Unfortunately, in the midst of this, Karnak seems to be pursuing his own agenda away from the team. Can you offer any insight into what might be going on with him? What kind of dangers does he expose the team to when he leaves?
Matthew Rosenberg: From the start, Karnak has his own thing going on, as I think he always does. Only this time it seems like his plans might be working in almost opposition to his teammates. An alarming disconnect appears to the team as a result. But it's Karnak, so he might be playing the game 10 moves ahead of everyone else. But he also has shown a willingness to allow suffering and hardships to befall the people around him in ways that many would find troubling. Those two factors combined put him somewhere between callous and evil. And that will be a big factor of what happens going forward.
Marvel.com: All things considered, what kind of odds would you give this team on being able to stay together and survive the battle with Sinister?
Matthew Rosenberg: 50/50.
Check out SECRET WARRIORS #8, by Matthew Rosenberg and artists Javier Garrón and Will Robson, on November 15!
The Hype Box
Can't-miss news and updates from across the Marvel Universe!