Comics
Published February 17, 2017
Secret Warriors Unite Against Hydra
Matthew Rosenberg spills the secrets behind this new group of Inhumans!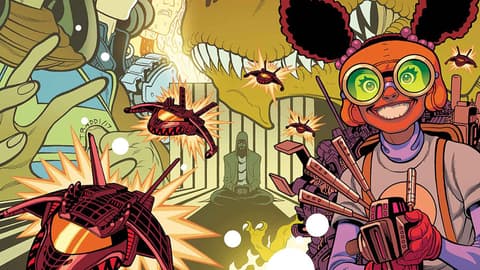 As Captain America's big secret comes to light in Secret Empire, heroes will rise to the occasion and team up to stop this infiltration from within. But with most of the Royal Family headed into outer space, a group of younger Inhumans—plus Karnak—must unite to battle the threat of Hydra!
Launching in May, SECRET WARRIORS by Matthew Rosenberg and Javier Garron brings together Ms. Marvel, Quake, Inferno, Moon Girl and Devil Dinosaur, and Karnak to stand against an old friend now revealed as foe. With the "secret" out, we spoke with Rosenberg about how this new team comes together.
Marvel.com: In Secret Empire, Captain America's full agenda as a Hydra operative comes to light. How does this affect the Inhumans and give birth to this new team of Secret Warriors?
Matthew Rosenberg: Well, Hydra aren't the most tolerant of organizations, and the Inhumans are known to be a little "different," so that puts them at odds. And really that is the birth of our Secret Warriors. Many of them are the Inhumans who are a little outside traditional Inhuman culture. They don't all get along with each other, and they don't all agree on how to do things, but they are forced together because of their common enemy. And I think that's a key point to this book: it's not about Inhumans, or super heroes, or anything like that. It's about putting aside differences and trying to help people.
Marvel.com: As the Inhumans/Terrigen Mist story has unfolded over the last few years, the Royal Family has been front and center in protecting their people, particularly those just discovering they are Inhuman. What happens when most of them aren't around to serve as that shield?
Matthew Rosenberg: You end up with a lot of people, especially young people, who are stuck trying to find their way on their own. Which I love, personally. These are characters whose heroes have left; their mentors have left and their government has left. And the question becomes, "Who are they on their own?" Obviously Ms. Marvel, Moon Girl, and Quake are all heroes on their own terms, but this still has some profound effects on them. There are opportunities for some of our cast to be the next great leaders of Inhuman society, and there are opportunities for some to cut those ties entirely. This is going to be a lot of big choices our Warriors have to make before all of this is over.
Marvel.com: One Royal who is sticking around is Karnak. What role will he play in the book?
Matthew Rosenberg: Karnak is much older, arguably wiser, and definitely crazier than the rest of the team. He assumes a sort of mentor/adviser role as we go, but things are never that easy with Karnak. But he definitely is good at breaking things and that will come up.
Marvel.com: With Quake and Ms. Marvel you have two young heroes with dynamically opposite experiences thus far in their careers—one has spent most of her time in the shadows as a S.H.I.E.L.D. agent, while the other has fully embraced the traditional costumed hero role, with a fresh "we can all make the world a better place" attitude. How do each of them react to the Captain America news?
Matthew Rosenberg: It's funny because those two, their different life experiences, are the heart of the book in some ways. The spy vs. the super hero. But Captain America means so much to both of them that it is a real hard blow. It is the kind of thing that can make you question everything you believe in and even yourself. And how they deal with it, what they want to do about it, that is the challenge. Quake is always going to be a destructive force by nature. It's who she is. And Ms. Marvel is a hero above all else. So watching them have their worlds rattled is a big part of the fun.
Marvel.com: Javier Garron has some experience with the Inhumans, coming off of Inhumans vs. X-Men. What's it been like working with him on this next chapter in that saga?
Matthew Rosenberg: It's been amazing! This book is really tricky in a lot of ways. We have a big cast of very iconic looking characters. We have a lot of crazy action and just as much real personal quiet moments. And Javier is just killing all of them. His work is so gorgeous, his characters feel so real, and his pages are so dynamic. There is a fight scene in issue #1 that I thought was pretty neat when I wrote it. Looking at Javier's art, I think it will be something people really lose their minds over. It isn't like anything I have seen in a Marvel book in a while. I'll just leave it at that.
But yeah, this book is 100 percent the Javier Garron art show at this point. I just want to give him the coolest stuff to draw. Luckily for me, sometimes that is Quake sitting alone on the D train and sometimes it's a dinosaur chasing Hydra agents through a forest. He makes all of it next-level cool.
Marvel.com: Finally, thus far at Marvel you've been working mainly on solo books like ROCKET RACCOON and KINGPIN, but now you're not only getting to tackle a team, but one that's playing a pretty big role in a Marvel Universe-wide event. What's it been like for you, taking on Secret Warriors?
Matthew Rosenberg: It's a dream come true. I know that is as cliché and cheesy an answer as it gets, but there is literally nothing else on Earth I'd rather be doing. Working with these characters, a lot of whom are the legitimate next generation of Marvel heroes, and getting to build their relationships and add little bits to their lives—it's been amazing. Having Moon Girl and Karnak be weird to each other? Getting to make Quake and Ms. Marvel square off against each other? Helping Inferno become a true badass in the Marvel Universe? It's the kind of job you hope to get one day if you write comics long enough. I am not taking a second of this for granted. I genuinely love these characters and I really hope that comes through on every page we put out.
It's all out in the open this May when Matthew Rosenberg and Javier Garron present SECRET WARRIORS!
The Hype Box
Can't-miss news and updates from across the Marvel Universe!