Comics
Published March 22, 2019
Secrets of 'Star Wars: Galaxy's Edge' Revealed in New Marvel Comic
Writer Ethan Sacks previews the new series, coming April 24!
As hotly anticipated as a new Star Wars film, the upcoming Star Wars: Galaxy's Edge themed land will not only welcome visitors to its wonders later this year at Disneyland Resort and Walt Disney World Resort, but also encompass a stunning new Marvel Comics limited series!
Launching on April 24, writer Ethan Sacks and artist Will Sliney present the five-issue STAR WARS: GALAXY'S EDGE!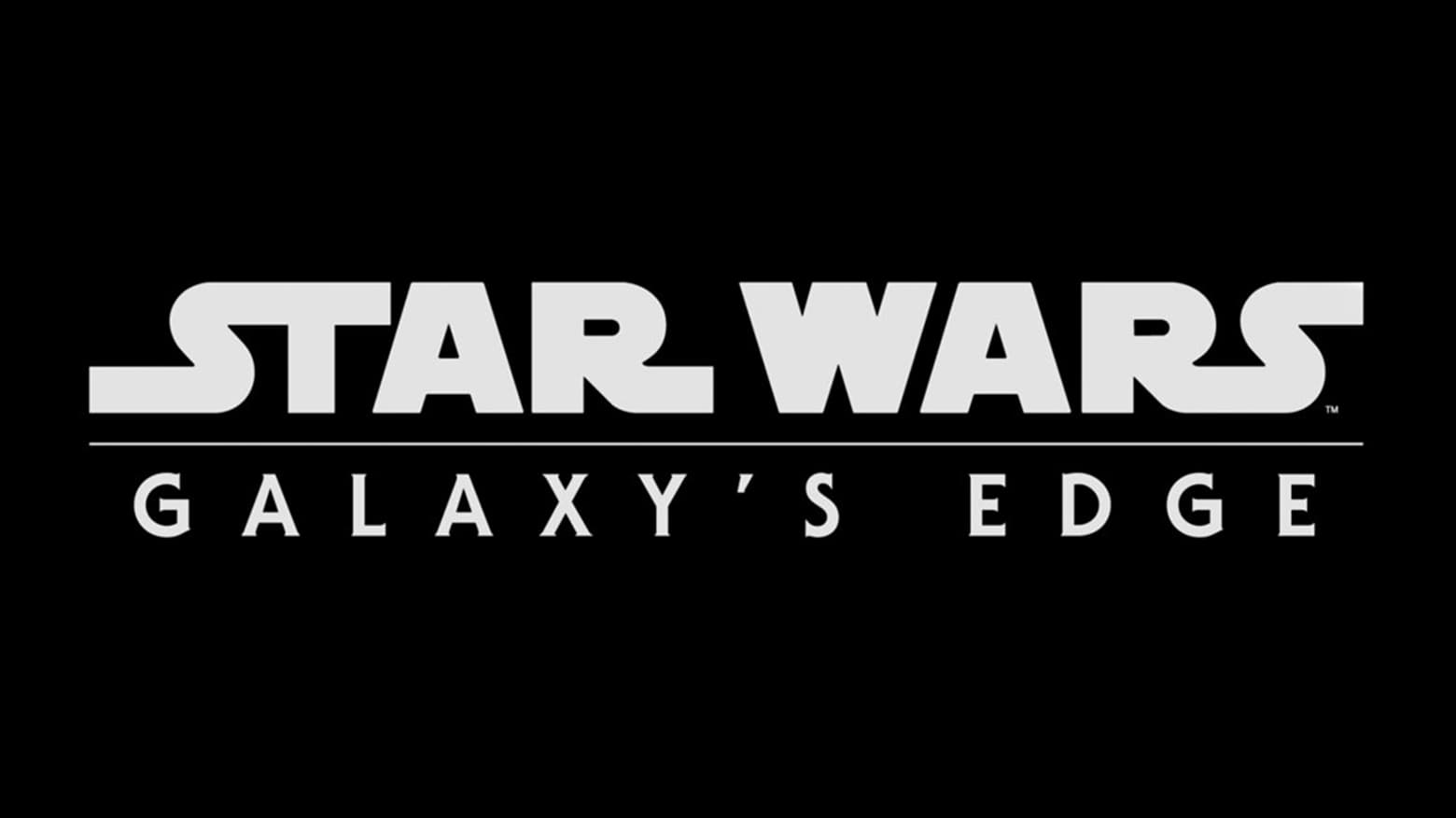 Black Spire Outpost has long been frequented by smugglers, merchants, and travelers from every corner of the galaxy looking to make their score on the infamous black market—or experience the exotic thrills only the remote world of Batuu has to offer. Beings like the infamous Dok-Ondar, a proprietor of rare and one-of-a-kind antiquities, thrive on the unique opportunities which abound on the lawless outpost at the very edge of Wild Space! But the evil First Order has come to Batuu and the survival of the entire outpost is at stake!
The road to Black Spire's possible salvation might begin in the past...with a job Han Solo and his partner Chewbacca pulled for Dok-Ondar...
While much of the story remains as shrouded in mystery as its locale, we checked in with Sacks to beam as much of a transmission as he could risk to whet our appetites for this new adventure…
Marvel.com: Ethan, STAR WARS: GALAXY'S EDGE is an amazing project; not just based on a single attraction, but on an entire land to explore! Basic question first: how did you come to the comic?
Ethan Sacks: Many Bothan spies died to give me the gig…
Marvel.com: Oh no!
Sacks: Seriously, though, I had worked with editor Thomas Groneman on the SILVER SURFER ANNUAL last year and we just had this amazing working relationship. He brought me to his boss, Mark Paniccia, who gave me the chance to write a Mace Windu story for an AGE OF REPUBLIC special. So, they were familiar with me and my lifelong love of Star Wars. And when this project came up, they thought of me. I will forever be grateful to them for the trust.
Marvel.com: Any big thoughts or considerations on your part when it was offered? How did you feel about it when you started in on the first script?
Sacks: I didn't have much to go on, to be honest, when I first got offered the gig—since everything was shrouded in secrecy. But all I needed to hear was "Star Wars" and "the new Galaxy's Edge themed land," and I was on board. Because so much of the Galaxy's Edge story and setting is top-secret, and rightfully so, I didn't really know the scope of what I was going to be doing until I was knee-deep in the Sarlacc. Sitting down to finally type the first page of the first issue was exhilarating.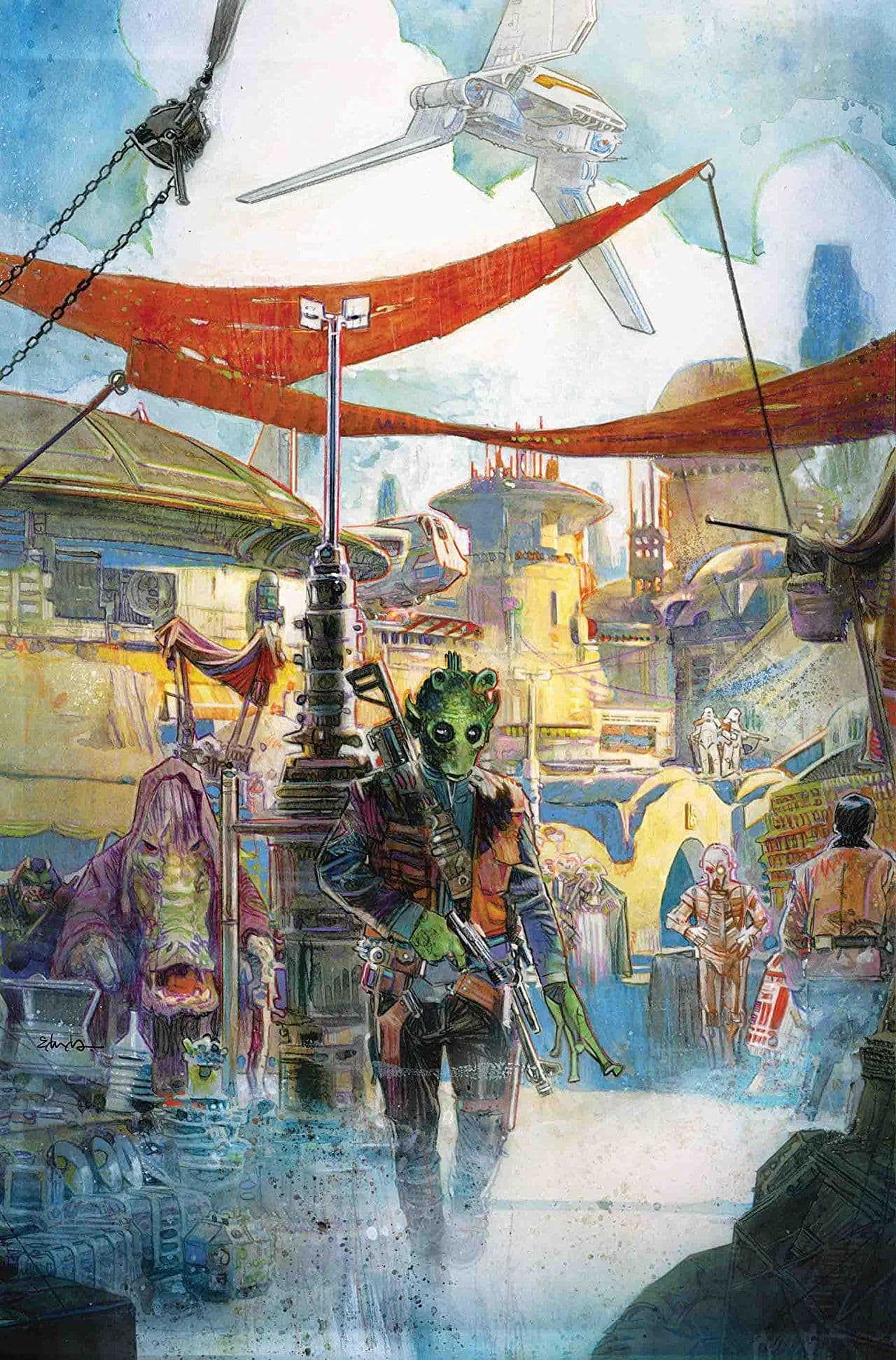 Marvel.com: We can only imagine. Now, assuming you worked not only with your Marvel editors, but with Lucasfilm, too, what was that process like?
Sacks: It's so interesting to work with Lucasfilm, or the Jedi Council as I secretly call them, because the Story Group is so dialed into the little details. They are the keepers of the flame and generous with their guidance. Getting to see behind the curtain, like the top secret maps and concept art for the land, was a true privilege. On the day to day, though, Mark and Thomas, my Marvel editors, do the heavy lifting of keeping me on track.
Marvel.com: How would you quantify Black Spire Outpost in a nutshell? How is it different from, say, Mos Eisley?
Sacks: Mos Eisley always felt a little backwater to me. The only reason why there was any Imperial interest in the place was because of that pesky R2 unit.
Marvel.com: Hmm, trying to place that one…
Sacks: Black Spire Outpost, meanwhile, is more the last major stopover for the galaxy's riff-raff on the maps. I'll leave any details out of it for now, because I think readers will enjoy discovering the place for the first time.
Marvel.com: Likewise, what's your snapshot of your main character, Dok-Ondar? How does he make for an engaging lead for this story?
Sacks: Dok-Ondar is an Ithorian, and there is a lot going on inside that hammerhead of his. He didn't get to his position as the procurer of the rarest relics in the galaxy just because he's lucky. He's always three dejarik moves ahead of everyone else. He's been at this collecting thing for a while, which has meant crossing paths with a number of familiar faces over the years.
Marvel.com: Now here's something really cool—we see that Han Solo has a role to play in the series' backstory. What's the most exciting thing for you as a writer about utilizing him and Chewie?
Sacks: These are characters that have been a part of my life since I first sat in a darkened theater at the age of four in the summer of '77 and watched that opening crawl for the very first time. Even at the height of my vivid childhood imagination, playing with Kenner action figures in my room, I never imagined I would get to put words in their mouths—or, well, roars in their mouths—and have it actually be in canon. Amazing.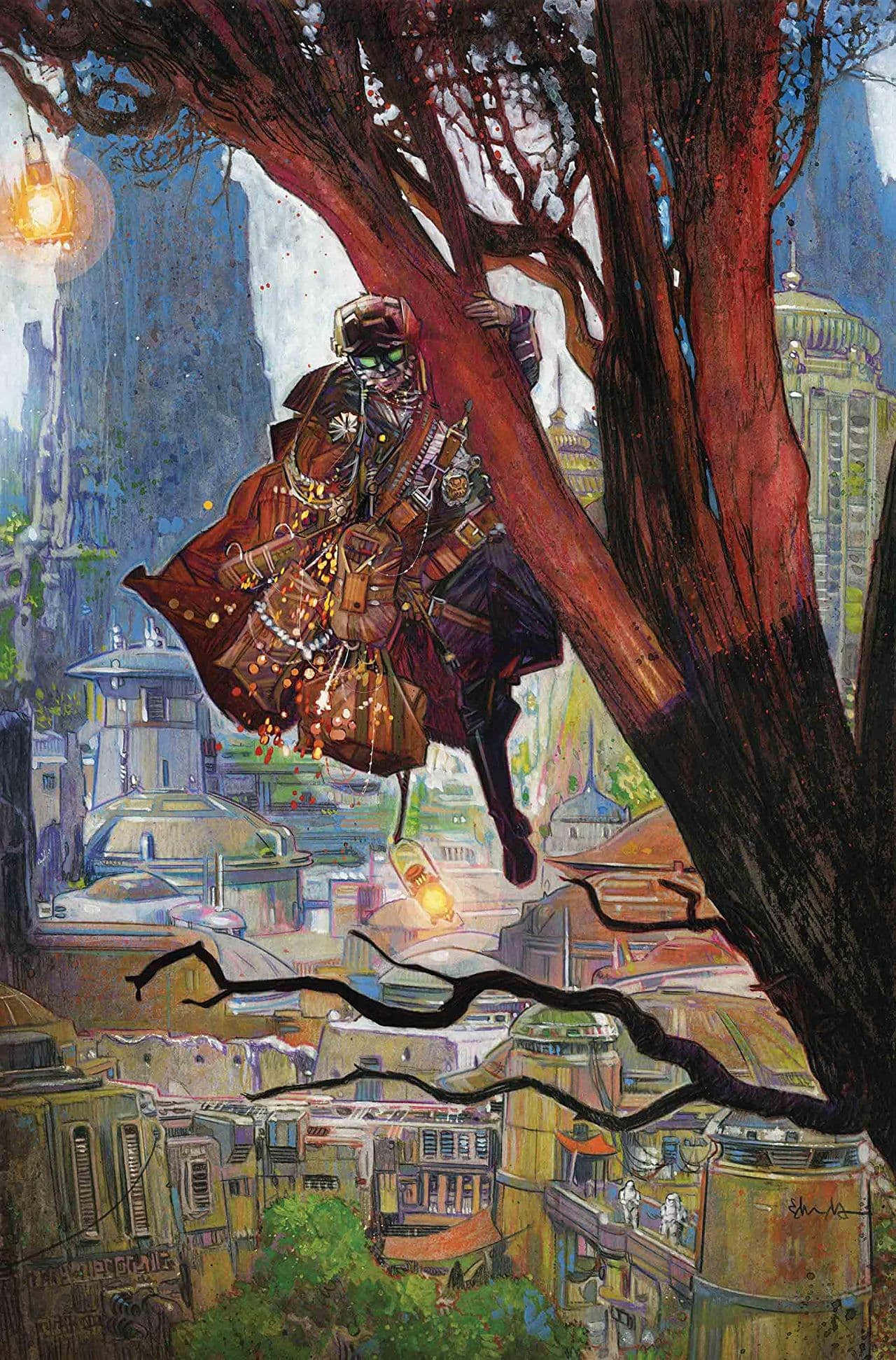 Marvel.com: You've also got the dreaded First Order arriving at Black Spire; what's that like for its denizens?
Sacks: The First Order has not conquered all of this part of the Outer Rim yet, but they're a dominant presence in the outpost. They are chasing down reports that the Resistance is hiding on the planet, and as long as their Stormtroopers are stationed there, they pose a potential threat to the smugglers, bounty hunters, criminals, and other scoundrels that are passing through.
Marvel.com: Did you get to create new characters as well as work with existing Galaxy's Edge characters?
Sacks: I did get to create a crew of three new characters, a shady crew involved in a heist, and when I opened the email that contained artist Will Sliney's designs for them, I teared up a bit. Okay, maybe wept a bit. Even at the sketch stage, they look so damn good. As Will put it, the chance to add puzzle pieces to the overall mosaic that is Star Wars is, "the coolest thing ever."
Marvel.com: Incredible. And since you opened that channel, what's it been like working with Will on this?
Sacks: After his work on SOLO: A STAR WARS STORY ADAPTATION, is there any doubt that he was probably born on Mandalore and just pretends to be from Earth?
Seriously, though, the guy can flat out draw anything and is just a great collaborator. The look on this series is everything, because this is the first time that readers will see large swathes of the Black Spire Outpost, and Marvel got the right guy to give them the tour.
Marvel.com: We're heading out now, so give it to us in Star Wars-ese, please.
Sacks: I am the Nien Nunb to his Lando.
Read STAR WARS: GALAXY'S EDGE #1 at your local comic shop on April 24!
The Hype Box
Can't-miss news and updates from across the Marvel Universe!