Comics
Published February 19, 2020
Seeing Ourselves
Available in comic shops today, MARVEL'S VOICES #1 features a collection of brand-new Super Hero adventures, as well as seven essays from creatives and cultural journalists discussing their favorite Marvel characters, stories, and comic book eras. Each written from the author's unique perspective, the essays present a diverse range of reflections, topics, and themes. These are Marvel's voices.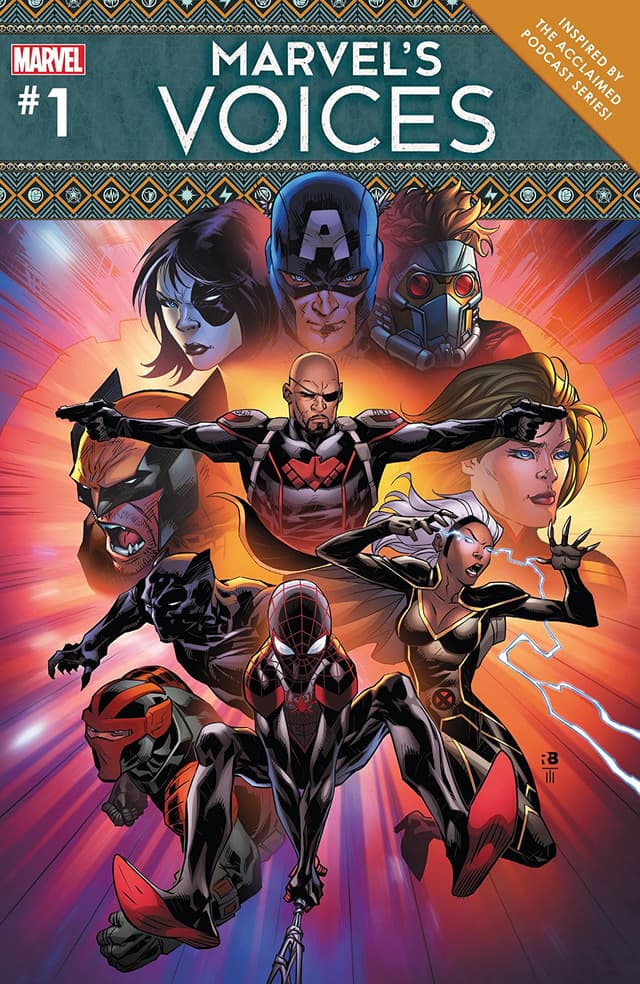 Part of the reason Miles Morales means so much to me is because my Marvel Super Hero education began with Spider-Man.
My teachers were writer David Michelinie and the '90s Mount Rushmore of Spider-Man artists, literal legends to my optical abilities, Todd McFarlane, Erik Larsen, and the mighty Mark Bagley.
Where they went with Spider-Man's adventures, I followed feverishly. I couldn't get enough. Who, between McFarlane, Larsen, and Bagley would draw the white lenses of Spider-Man's mask the biggest? It almost seemed like a '90s-fueled competition at the time. How many symbiotic villains would we get? Just when you thought Venom couldn't be topped, here comes Carnage.
And then there were the adversaries. Not the all-time greats such as the Green Goblin, Doctor Octopus, Electro, Scorpion, and the Sandman, but the most iconic B-list of bad guys ever. Boomerang, the Rhino, the Beetle, Shocker (such a great suit). No wonder I fell so hard for THE SUPERIOR FOES OF SPIDER-MAN series later in life.
It was my love of Bagley's art that led me to the ULTIMATE SPIDER-MAN series during my time studying journalism at Radford University in the 2000s. I walked into a local comic book shop outside of campus and was looking for a reason to keep reading comics. The shop owner suggested Ultimate Spidey, and I was hooked. There was, of course, Bagley's art, a recognizable joy from my adolescence, and the written words of some guy named Brian Michael Bendis, who little did I know would years later impact me with a creative decision that is still the "Wow, I can't believe it" comics moment of my life.
The high schooler, very much still a kid Peter Parker starring in ULTIMATE SPIDER-MAN was the Spider-Man for me. To this day, ask me for my definitive take on Spider-Man, I'll point to those "alternate universe" Ultimate Comics, just edging out the '90s, frequently foil-covered Spider-tales of my youth. (I still can't believe WEB OF SPIDER-MAN (1985) #100 isn't worth a small fortune. I bought two of those just in case.)
When Marvel, Bendis, and Bagley decided "my Peter" had to die in ULTIMATE COMICS SPIDER-MAN (2009) #160 back in 2011 (a comic that was released a day after my birthday) to make room for a new Spider-Man, I was devastated. So devastated, I wrote a column about it that appeared online in the Washington Post's Comic Riffs blog. It was more of an appreciation, but I might as well have been in mourning. I'll be the first to admit when the new Spider-Man's red-and-black suit debuted, I was intrigued, but I told myself I'd read the first issue and then move on.
Just who exactly was worth taking away a character that seemed so perfect? It baffled my brain, but boy, was I about to find out.
The new Spider-Man was revealed in the news before his issue hit comic stands, and when the mask finally came off, I saw the absolute last thing I ever expected to see. I, for the first time ever in any comic book, saw myself.
Miles Morales? Half African American? Half Latino? This couldn't be real. This couldn't be life. But it was. I…I mean Miles was Spider-Man.
But that wasn't enough. There was something I needed clarified. The headlines of Miles being African American and Latino weren't enough. I needed to know what flag he repped. The flag that would be on the World Baseball Classic team cap he no doubt rocked in the summertime in New York or on the side of his Air Force 1s. Miles being from Brooklyn meant an extremely high likelihood he was either half Puerto Rican or half Dominican, and I, the son of the biggest Puerto Rican Punisher fan ever (whose mother came to Brooklyn from Puerto Rico as a teen) and the African American mother who begrudgingly allowed us to share our love of comics together, was determined to get that scoop.
One of my first big-time interviews as a comic book culture reporter was getting the chance to talk with Bendis about his co-creation of Miles Morales. At the end of our chat I casually asked Bendis where Miles' mother Rio descended from. When he told me she was Puerto Rican, I Thwipped my fingers in the air in celebratory delight and rejoiced. There was a Boricua under that mask. When I told Bendis I had a Puerto Rican father and an African American mother, he said something that still brings a smile to my face to this day: "Wow," he said. "You are Miles."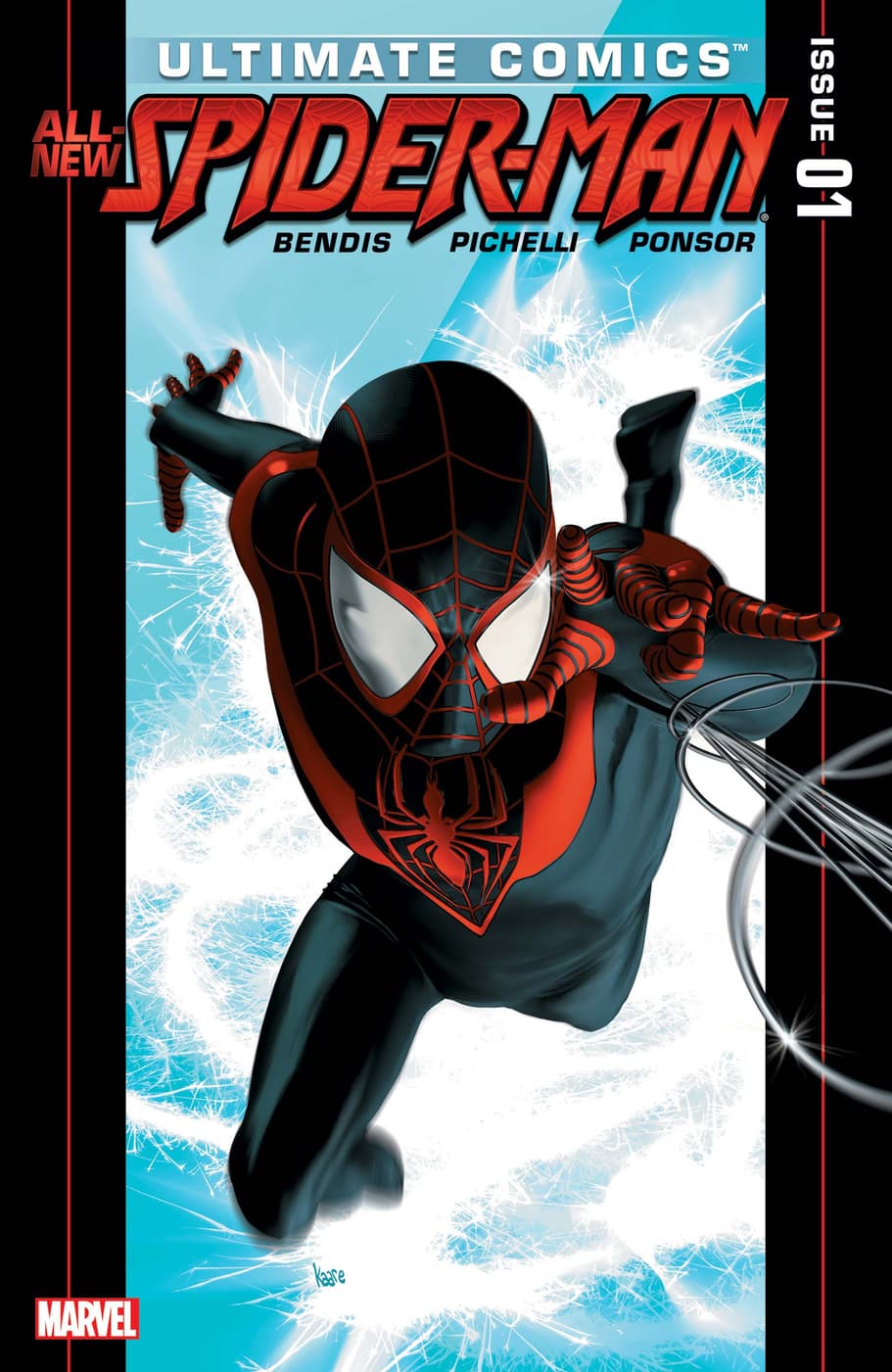 Before Miles, my favorite Marvel character was the X-Man Gambit. Want to know why? Yes, kinetically charging playing cards and turning them into offensive weapons is way cool, but it was his name, Remy LeBeau, that stuck out. He had a French last name like I did. Hey, I looked for my similarities in comics wherever I could find them as a kid.
Miles is a connection to the Marvel Universe I never imagined possible, with the exception of the many times I envisioned someone like him in my imagination, the only place I figured a hero like him could exist.
Watching Miles grow into a part of the "real" Marvel universe when the Ultimate Universe ended and seeing his rise to becoming an Avenger, an animated movie star, and a cultural icon has been a thrill for me personally, professionally, and emotionally.
Seeing yourself in your heroes is a powerful thing. It elicits emotions once barren because you once thought you couldn't believe in such a thing to something just beyond elation.
Miles' ascension to the mantle of Spider-Man remains the comic book moment of my lifetime. Reading his adventures, reporting on his impact and watching him figure out how to be a Super Hero while still growing up himself has been a radioactive charge of adrenaline to my fandom and my career as a comics reporter.
I truly can't wait to see what happens next.
Read MARVEL'S VOICES #1 at your local comic shop now!
The Hype Box
Can't-miss news and updates from across the Marvel Universe!