Comics
Published October 24, 2017
Shang-Chi Unleashed: A Master of Kung Fu Sketchbook
Dalibor Talajić and CM Punk give the martial arts hero a wild day off!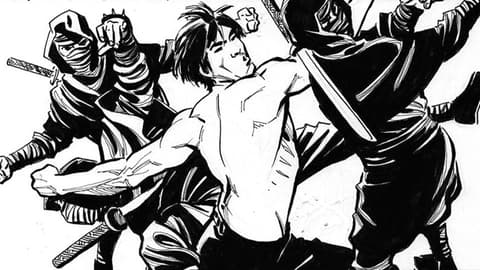 Even a true leader in his field needs a break. Of course, when someone throws on the sweats and hopes to relax, any number of problems can come up. For you and I, thought might mean a plumbing issue or noisy neighbors—but we're not Shang-Chi!
With MASTER OF KUNG FU #126, writer CM Punk and artist Dalibor Talajić take Shang-Chi from lounger to fighter in one issue. For his part, Talajić drew on previous incarnations of the ferocious fighting hero to help give this more out-there tale a firm base.
We talked with the artist about balancing the wild tone of the story with more grounded art, working with Punk, and taking inspiration from artists like Paul Gulacy and Mike Zeck.
Marvel.com: In the wake of his initial series, Shang-Chi's been a guest star and team player for the most part. Why do you think it's important to showcase him in his own book like this?
Dalibor Talajić: Well, times do change. His initial series was during the "Enter The Dragon" Bruce Lee era. And even though Bruce Lee is still considered the king of the martial arts realm, his time did pass. I guess Shang had to redefine himself and find his place under the sun anew.
His own book was also a team book, so naturally various comic book teams wanted to place him within a [group]. So, yes I do believe it is important to give him a chance to breathe on his own—so to speak—even in a story like this, where circumstances are almost ridiculous, one might say to see him on his off side.

Marvel.com: Shang's always been tough, but in the last few years he's proven himself on a larger scale by working with the Avengers. Has that changed how he handles himself at all?
Dalibor Talajić: Well, I guess his self-confidence in what he does better than anyone is what places him among the heavy hitters. True, he has no special powers, but his focus, his stamina, and [his] philosophical depth make him a genuine super human.
Yet his philosophical depth is what keeps him constantly questioning both his actions and himself, and thus keeps him down to earth. He won't allow himself any arrogance. But all these features combined open the doors for his endless growth as a character. This is something that reflects our own lives: the possibility of growth that only needs to be noticed by us. This is why I love this character; he is closest to us, to the best in us.
Marvel.com: What was it like figuring out his look for this series?
Dalibor Talajić: Well, given the nature of the story, I imagined him in his sweatshirt and stuff. You know Sunday afternoon stuff that you wear while watching TV and having a nap. The circumstances take him off guard and he stays dressed like that all the way through. He even loses his sneakers at some point. Here and there, through flashbacks, I would nod to Bruce Lee's famous yellow jump suit. Or the fact that he ends up topless. But the idea was the everyday Joe looks. As I've said—one of us.
Marvel.com: Overall, how's it been working with CM Punk on this project?
Dalibor Talajić: Well, fun! CM writes very funny dialogue. But the story is a slippery slope. In it's essence it's so pulpy that it's close to ridiculous so I had to be very careful to keep it balanced. If I was leaning to a stronger stylization, as the story might trick you into, it would end up like a flat out crazy cartoon. Instead, I went for "realism" so that ridiculous part would serve as a crazy Bond-like villain comedy.
Marvel.com: How has it been digging into Shang-Chi's history with this story? Are you looking back at a lot of his other comics for reference or possibly other mediums?
Dalibor Talajić: That was a difficult task. Because initially Shang-Chi is a serious character. So was the art depicting it. [Paul] Gulacy was treating him with an almost noir atmosphere, while I don't think is possible to make him more badass than [Mike] Zeck did. Even I treated him seriously a few years back in [the] MASTER OF KUNG FU [limited] series. There, I wanted to mimic classic flashy Hong Kong action films.
So I guess I tried to combine all of that a bit and hopefully blend it into something that honors all those beautiful incarnations of the character that were already there long before me. I can only hope I did Shang-Chi justice.
CM Punk and Dalibor Talajić give Shang-Chi a less-than-relaxing day off in MASTER OF KUNG FU #126 on November 8!
The Hype Box
Can't-miss news and updates from across the Marvel Universe!