Comics
Published November 14, 2017
She-Hulk: Hero Worship
Mariko Tamaki discusses the return of The Leader!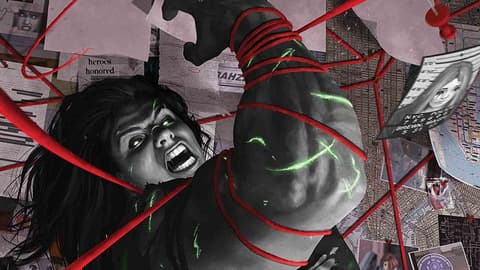 The Leader has come for Jen Walters again. And this time, he's conscripted her biggest fan in the fight.
On December 13, writer Mariko Tamaki and artist Jahnoy Lindsay present SHE-HULK #160! Jen has barely started to deal with the trauma still lingering after Civil War II and now she finds even more difficulty coming her way. Trapped between the two most Hulk-obsessed people on the planet, Jen has to ask: what do they want from her?
Mariko stopped by to give us a couple of clues!
Marvel.com: At the start of this series, we found Jen dealing with some serious stress. How has she been progressing through that emotional journey?
Mariko Tamaki: It's been a messed up couple of months for Jennifer Walters.
After she lost her cousin, Jen has really struggled to deal with the trauma of that and her own experiences with Thanos.
Post-Civil War II, she's been working at a new law firm where she's tried to focus on other people's problems instead of her own. But you can't treat trauma like a headache, like "Well, this sucks but it will go away." It won't go away! The more you avoid a thing like trauma, the more it shows up in your life. Jen wants to treat her pain like a cramp and shake it off and just focus on other people's monsters. But no matter what she does, her monster stands there waiting all the time and it's constantly messing with her.
Marvel.com: And so the grey state comes in.
Mariko Tamaki: Yeah, the grey state acts like a heightened version of Jen's previous green state. Everything about grey Hulk seems bigger and angrier. And being grey kind of makes it hard to connect to Jen.
Being grey is basically like rage. Pure. Rage.
Marvel.com: Tell us a little bit about The Leader and his history with The Hulk.
Mariko Tamaki: The Leader is a brain (a very big brain, thanks to gamma radiation) and a schemer. He's a tactician. The same way gamma radiation made Hulk and She-Hulk's rage and anger larger than life, the Leader's ambition, ego, and desire for domination and power, are also larger than life.
Of course, the problem with big plans tends to be that they always get foiled, and the Hulk has been a foil for The Leader time and time again. So the plans get a little more evil and a little more intricate every time…
Marvel.com: What makes him so obsessed with Jen!?
Mariko Tamaki: Aside from the ongoing backstory of Leader vs. Hulk, to paraphrase "RuPaul's Drag Race" winner Jinkx Monsoon, I think there might be two reasons you go after a person: you go after the person who's good at the things you're not good at, and you go after someone who's good at the things you are good at.
I think for The Leader, She-Hulk seems kind of a double threat in that regard. She's smart and strong. Also, I think at some point you pick the person you want to destroy and, once you've committed to that, you just have to follow through.
Marvel.com: Professor Robyn Meiser Malt shows up in this arc as well! What inspires her in this story?
Mariko Tamaki: Robyn, a scientist working with The Leader, is a huge, huge fan of She-Hulk. Robyn acts as my investigation of a kind of fan. What happens when you put someone up in a place beyond being admired? What singular thing does the object of your desire become and how does that connect to your own vision of self?
Now, at the start of issue #159, she works with The Leader. Jen gets drugged and restrained in a bunker with this woman who sees Hulk as an answer—kind of the exact opposite of how Jen sees herself. Robyn has turned Jen into this fairytale, a story that (with some help) has filled up her whole brain with this singular vision…a very dangerous singular vision.
Marvel.com: If you could give Jen one piece of advice, what would it be?
Mariko Tamaki: You need to ask for advice…and I don't think Jen would ask for advice. Fortunately, I do think Jen might be on the cusp of leaning into, instead of avoiding, her pain. I think the more you explore it, the more you understand it. But that's just me.
Pick up Mariko Tamaki and artist Jahnoy Lindsay's SHE-HULK #160 on December 13!
The Hype Box
Can't-miss news and updates from across the Marvel Universe!