Comics
Published July 18, 2018
She's Back: Read Jessica Jones #1 Now
Writer Kelly Thompson and artist Mattia De Iulis launch the new Marvel Digital Original today!
Three chances, three giant-sized issues, one sardonic Private Investigator. A new era begins.
After an unresolved case comes back to haunt her—and all the powerful women of New York—things are about to get personal for Jessica Jones.
In an attempt to right her wrongs and bring a killer to justice before she loses the life she never thought she'd be lucky enough to have, Jessica starts a brand new investigation with three double-sized Marvel Digital Original issues to kick off her new ongoing series—beginning today! Read JESSICA JONES #1, by writer Kelly Thompson and artist Mattia De lulis, right now.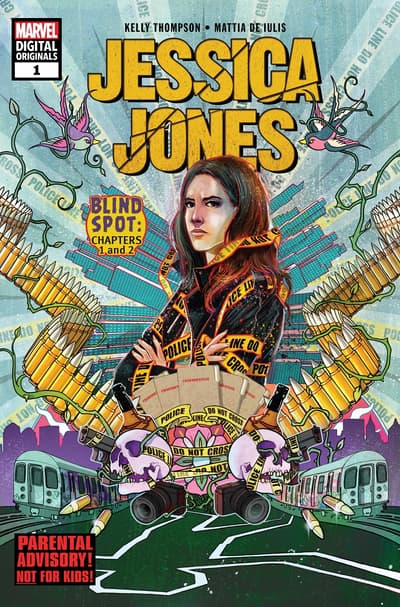 "Jessica's gotten her life together," says Alanna Smith, editor by day, giddy detective-in-waiting by night. "She's married to Luke Cage, they have a beautiful daughter, and the Purple Man's finally out of their lives for good." But don't be fooled; secrets lie behind Smith's eager eyes and Jessica may not be as reliable a P.I. as her new life might suggest...
None know this better than series writer Kelly Thompson. She's studied Jessica's every move, every thought, and even interrogated the character's creators in preparation to grab the torch and run alongside new antihero artist Mattia De lulis.
The writer explains that while Killgrave may be gone, Jessica's newfound serenity reminds us what she has to lose. And it seems Thompson is determined to push Jessica to her extremes to show just what she's made of—and what lengths she'll go to in order to save her new life and family.
"We'll be seeing classic Jessica Jones P.I., my favorite kind of Jessica. She's obviously still going to punch things (and fly…badly) when opportunities present themselves—and they do that quite a bit—but at her core she's the most exciting to me in her classic noir setting working as an investigator," notes Thompson. "One of my favorite things in our book are the colors—also by Mattia—which have a moody neo-noir to them that's just stunning and a perfect fit tonally for Jessica Jones."
"Jessica faces her biggest enemy: guilt," explains De lulis. "She has to deal once more with a past that already caused her a huge pain, and it's haunting her." But the renegade artist isn't worried, adding, "Jessica has the misfortune to always attract bad events, but at the same time she has the strength to react, not to be overwhelmed."
Ever the atypical femme fatal, our hero knows who she is, what she stands for, and more importantly, what she doesn't. "She doesn't have to negotiate her way out of a situation with an aggressive man. She can do what so many women wish they could safely do: she can tell the guy to %$#@ off, and if he doesn't like it, she can throw him through a wall," Smith says. "Jessica rarely finds herself in situations where she has to coddle men or censor herself to survive, and I think that's part of what makes her so appealing."
De Iulis agrees: "Her willingness to be able to get up again, not to break down despite everything she's facing, seems to be insurmountable. We all, more or less, are faced with situations that seem unsolvable, and having a mentor, an example like Jessica Jones, is very important!"
Join Kelly Thompson and Mattia De lulis for the Marvel Digital Original issue JESSICA JONES #1, out today! And prepare for issues #2 on August 29 and #3 on September 26. The first arc, JESSICA JONES: BLIND SPOT, will also be available on October 31 in print as graphic novels in comic shops and wherever books are sold. And then the ongoing continues!
So…what are you waiting for?
The Hype Box
Can't-miss news and updates from across the Marvel Universe!