Comics
Published October 26, 2017
Silver Sable and the Wild Pack: Alive Again
Writer Christa Faust previews Sable's Marvel Legacy return!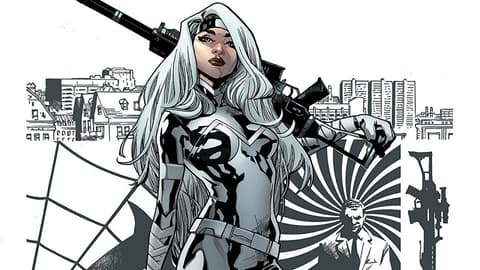 written by Dominic Griffin
Her death may have been fake, but on November 22, she returns in a very real way.
SILVER SABLE AND THE POWER PACK makes its comeback with issue #36 for Marvel Legacy. This one-shot, written by Christa Faust with art by Paulo Siqueira, sees the Symkarian soldier held hostage by a group of terrorists. Without any equipment—or any backup—Sable has no choice but to hearken back to the old days to make sure she gets out alive. Quite the silver anniversary for a book that originally debuted 25 years ago.
We reached out to Faust to hear about writing her first Marvel book, how she made the transition into comics, and what character she'd love to scribe next!
Marvel.com: How did you make the jump from writing novels to writing comics?
Christa Faust: I had this semi-autobiographical project called "Peepland," set in Times Square in the late '80s, and I'd been tinkering with for nearly 10 years. It was a very visual story about a world that no longer exists and I knew it needed to be told in a visual medium. I talked about it with my fellow crime writer Gary Phillips, who has written a lot of comics, and I asked him what he thought about maybe pitching it as a comic. Not only did he love the idea, he ended up collaborating with me. Then we found out that my crime publisher wanted to expand into comics, and everything fell into place.
Marvel.com: What have you found to be the biggest challenge in transitioning from novels to comics?
Christa Faust: Prose can be much more internal and subjective, allowing your reader inside your character's head, whereas in comics you get limited to what you can communicate visually. That proved pretty tricky to get used to, but the hardest thing for me ended up being dialog. I love snappy wisecracks, verbal sparring, and Film Noir banter and I have a myna bird's ear for the way people talk. But in comics, the amount of back and forth between characters gets limited by the physical space in each panel and the fact that you can't have ten panels in a row of two people talking. You have to get your point across to the reader in as few words as possible, so everything ends up distilled down to the bare minimum, almost like a kind of haiku. But I've been lucky to have experienced veterans to guide me, kick my ass when I need it, and make me an all-around better writer in the process.
Marvel.com: Did you grow up as a Marvel fan?
Christa Faust: I read a lot of novels as a kid, and when I did read comics, I tended more toward indie or underground stuff. I do remember liking the X-Men as a teen. I think a lot of nerdy outsiders and queer kids like me who got bullied in school could relate to those characters and found solace in the idea that maybe being a freak could be positive and powerful.
Marvel.com: Do you have any comic creators you looked up to?
Christa Faust: Bernie Wrightson was a brilliant artist and generous friend. There will never be another like him. The Hernandez brothers had a huge influence on me and I probably would not have written my novel "Hoodtown" if I had never read "Love and Rockets." Also, I had a cool French teacher in high school who let me read "Metal Hurlant" as my textbook, which warped my fertile little brain in the best possible way.
Marvel.com: What made Silver Sable the right character for your first Marvel story?
Christa Faust: I'm primarily a hardboiled crime writer, and most of my recent and best work centers around flawed, desperate, and complicated humans who fall somewhere in the gray twilight between heroes and villains. Silver Sable may be tough and smart and highly skilled but she's no super hero. She's not any kind of hero; she's a mercenary with flexible morals who likes to bend the rules. It seemed like a perfect fit for a writer like me. I love seeing more strong female characters take center stage and I'm proud to be part of that. Not to mention the fact that my hair went white at a young age too, and I'm just now letting it grow out natural. Silver foxes unite!
Marvel.com: How has collaborating with Paulo Siqueira been?
Christa Faust: It's been a blast. He brought lots fresh ideas into the mix that I might never have thought of on my own. I'm learning so much from working with him and everybody else on this crackerjack team of artists and editors.
Marvel.com: What kind of advice would you give to a writer looking to break into comics from another medium?
Christa Faust: I'm far from an expert, since I'm still learning myself. Mostly it's just simple stuff. Talk to other writers with more experience than you (or me, for that matter). Don't be afraid to ask stupid questions and stay humble. Comics will always be a team sport, so don't be a diva. Know you're going to screw up along the way, like we all do, but try to learn from your mistakes. Oh, and read like crazy. But if you're any kind of writer, you should be doing that already anyway.
Marvel.com: Have you thought about any other players in the Marvel toy box you'd love to tackle next?
Christa Faust: It would be cool to do more with Silver Sable if I had the chance. Because this project has been a one off—and pretty action-packed one at that—there hasn't been time to explore her inner demons and the ways in which she deals with everything she's been through.
Also, I'm a massive Film Noir fan and I love that era, so I think I'd have fun with Peggy Carter. But, hey, I'm a pro, and I'm always ready, willing, and able to take on any assignment I am given.
Don't miss SILVER SABLE AND THE POWER PACK #36, by Christa Faust and Paolo Siqueira, on November 29th!
The Hype Box
Can't-miss news and updates from across the Marvel Universe!