Comics
Published June 9, 2017
Silver Surfer: The Ballad of Norrin & Dawn
Looking back at the love affair between these cosmic cuties!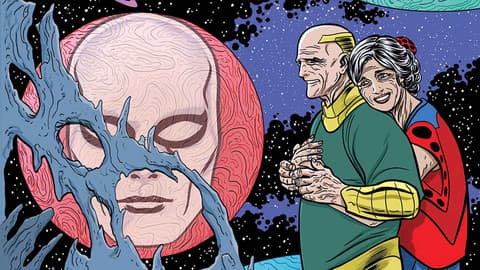 They say, "Be careful what you wish for," but "They" probably never met Dawn Greenwood, who wished upon a shooting star that turned out to be none other than Norrin Radd, The Silver Surfer. From then on, Dawn's life would never be the same.
An Earthling from Massachusetts and a former herald of Galactus make quite the cosmic couple and to honor them, we decided to recount some of their most adorable and heroic moments since they first met as their relationship continues to flourish in the pages of SILVER SURFER.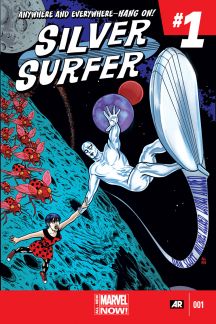 Every relationship can be boiled down to the first meeting, the meet cute moment parents tell their kids countless times until it becomes more of a romanticized myth than hard fact. In the case of Dawn and the Surfer, you wouldn't really call the circumstances of their first encounter as "cute"; in fact, you couldn't even call it an encounter. Norrin meets with the Incredulous Zed who wants his help in keeping the Never Queen from taking the Impericon's energy source. To ensure his participation, the Motivator scans the Surfer and reveals the one being in all of creation who means to most to him so that they can be used as leverage. When Dawn stands revealed as that very person, Radd has the perfect response: "Okay, I have absolutely no idea who that is."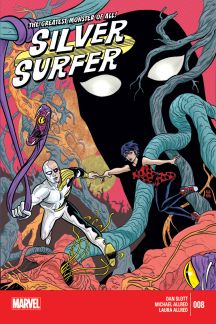 The first time Norrin allows Dawn to steer his board checks in as the romance equivalent of Patrick Swayze  helping Demi Moore shape clay on a potter's wheel in "Ghost." It shows real trust on the Surfer's part to let this Earth girl take control and only helps strengthen their relationship. Besides, Dawn's an absolute natural and the perfect match to Radd's neurotic worries when she says, "There's no upside down in space!"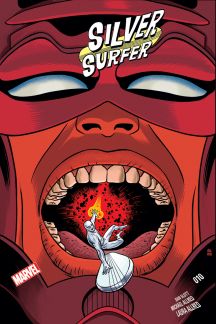 Think love can't save the day? Think again! When Galactus showed up to devour Newhaven, Dawn agreed to become his new herald in exchange for sparing the planet. Norrin's reaction comes in the form of heartbreaking, full of "No's" and "You can't have her's" as he tries in vain to stop the World Devourer from transforming his love into the destructive thing he once served as. Inspired by Dawn's sacrifice, the denizens of Newhaven abandon the planet so it can be destroyed without any casualties and she need not follow through on her agreement, proving once and for all that the way to a man's heart is through his stomach.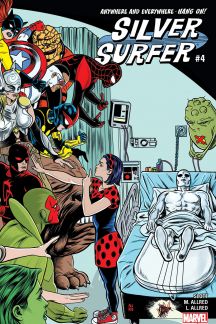 Hacking the Illuminatrix can take a lot out of a guy, even if he does ride a surf board from outer space. After stopping the rewriting of Earth's culture—at the expense of Zenn-La's—Norrin Radd fell from his board, surely dead…or so we—and Dawn—thought. He's jolted out of his coma when his connection to his board gets severed. To make matters worse, he gets disowned by his ex-lover Shalla-Bal, who basically calls him a traitor and says he doesn't deserve to call himself a citizen of Zenn-La. Dawn takes his hand in hers in a reverse "E.T." moment, assuring the Surfer that she will be his home. I'm not crying, you're crying!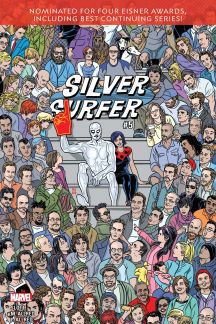 Earth may be his new home, but Norrin still needs to gain a better understanding of human emotion. When Dawn tells him about how her mother abandoned the Greenwood family, she voices her wish to ask her mom why or, at the very least, simply say goodbye. One trip on the ol' surf board and the two stand outside the former Mrs. Greenwood's window in San Francisco. The gesture is no doubt romantic, but, according to Dawn, Norrin should've asked for her permission first, a more inappropriate move than the time he removed her tonsils without asking.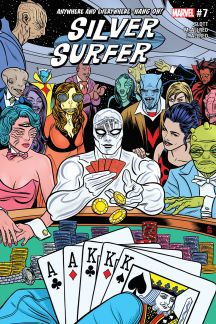 Norrin kind of makes up for his actions by introducing Dawn to an entire dimension devoted to gambling. After all, what is a relationship, but the ultimate risk? It's nice seeing the two of them having some mindless fun for a change. What could be better than becoming a Golden Surfer and winning a memory about the birth of a hideous blob monster?
Don't forget to pick up SILVER SURFER #13—written by Dan Slott with art by Mike Allred—on July 12!
The Hype Box
Can't-miss news and updates from across the Marvel Universe!