Comics
Published June 26, 2019
Sketching the Star Wars World of Batuu with Artist Will Sliney
Read up as more familiar faces make their way to the Star Wars land in today's 'Star Wars: Galaxy's Edge' #3!
Cantina Comlink is your weekly smuggler's run to spotlight Star Wars comics as only Marvel can make 'em!
As we slip once again into orbit around the Outer Rim world of Batuu—this time to celebrate the arrival of STAR WARS: GALAXY'S EDGE #3—we're opening the Comlink to intercept a very special transmission from none other than the five-issue limited series' artist, Will Sliney!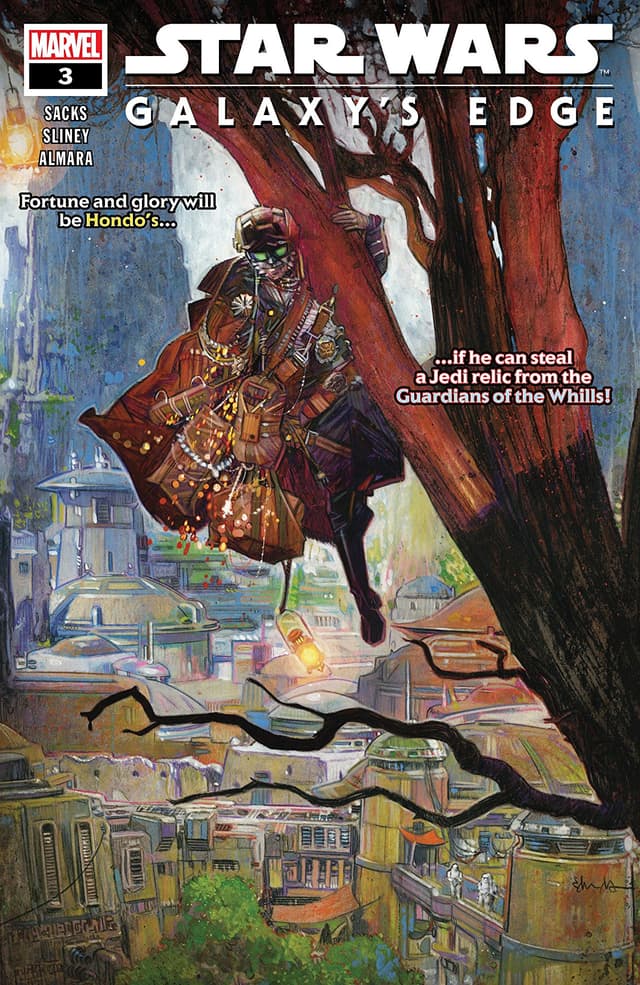 Time for another classic Star Wars interrogation scene! Will, strap in...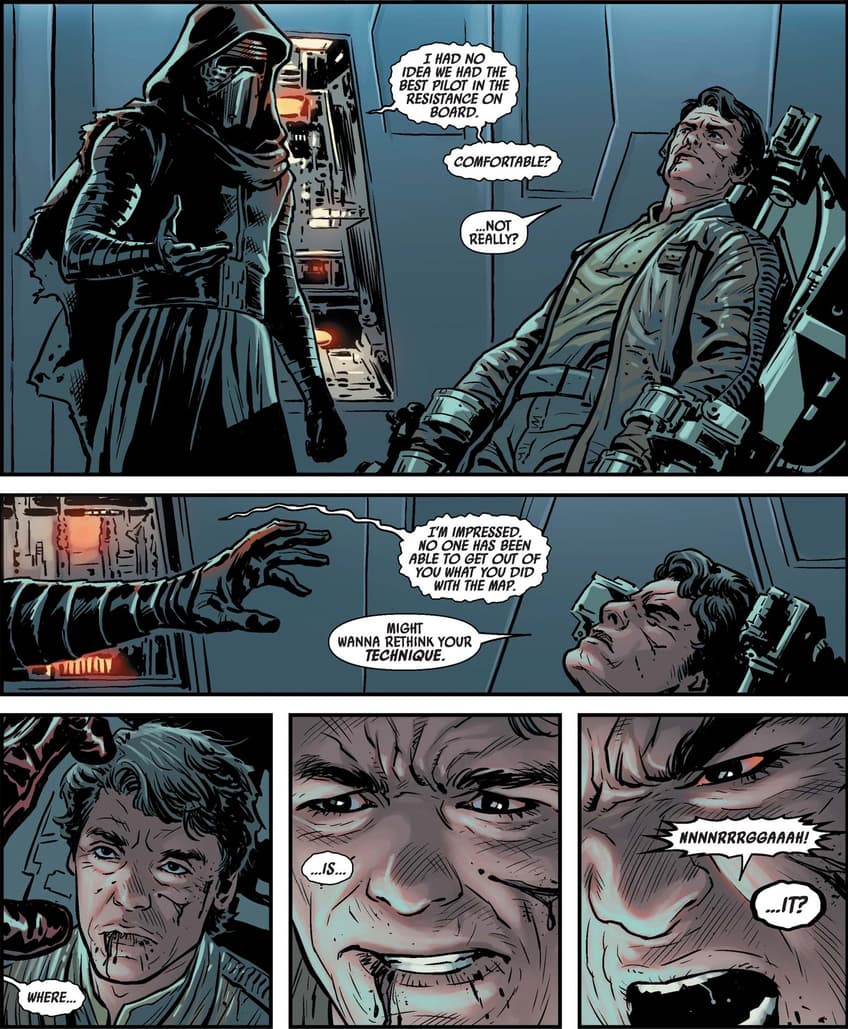 ...Now give us the information!
Will! Thanks for taking the time to talk to us. We always get the most important question out of the way first, so what's your favorite of the ten Star Wars feature films and why?
Always a tough question for me. I have a brilliant memory of The Empire Strikes Back as a kid. My mum rented the VHS and I remember being upset, because in my head, I had already seen Star Wars. So imagine as a kid, not knowing there was a sequel, popping in the tape and before you know it Luke is taking on AT-AT's. Magic!
Love it! Now, GALAXY'S EDGE is something of a first for Star Wars comics, a series based on a real-life themed land. Do you remember your initial thoughts when you were offered the gig?
Yeah I do. It was a crazy feeling when you are drawing something where some day you are going to visit the place. I always find it strange when I meet someone for the first time who I have already drawn—that happens quite a bit in Star Wars. So actually getting to visit the place you've spent months laboring over at the drawing board, that will be an amazing feeling.
I have such a huge respect for the art of Star Wars. All of it. So knowing I was going to be working on GALAXY'S EDGE, I was so excited to see the designs of the park come through to me and to have such incredible artwork to use as my reference daily.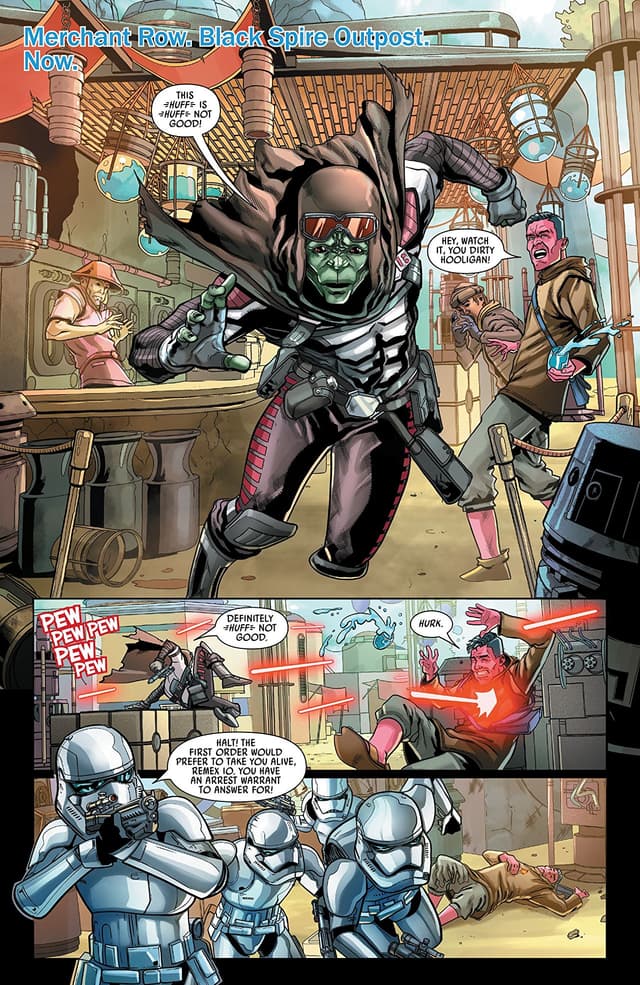 With those designs for the park's environments already in place, where did you come in as a designer yourself? In what areas did your own imagination get to soar?
Firstly with our trio of Kendoh, Remex, and Wooro. Anytime I get to design a character, whether it's for the Marvel Universe or Star Wars, it's both a thrill and an honor. I get excited to see where the characters will end up, whether I am drawing them or not.
The park itself was of course immaculately designed, with every detail nailed down, so the environments I got to design were whenever we got to go off-world.  
What's it like to work with series writer Ethan Sacks and his scripts? What kind of relationship between you and him grew from this project?
I've been very lucky with Marvel that I have grown to become good friends with all the writers I have teamed up with, and Ethan is no exception. I'm really looking forward to having a drink with him and the whole GALAXY'S EDGE team in Batuu's cantina someday. I'm sure it won't be the last time Ethan and I work together too and I'm as a fan of his work. It's so cool to see the great projects he has coming up with Marvel.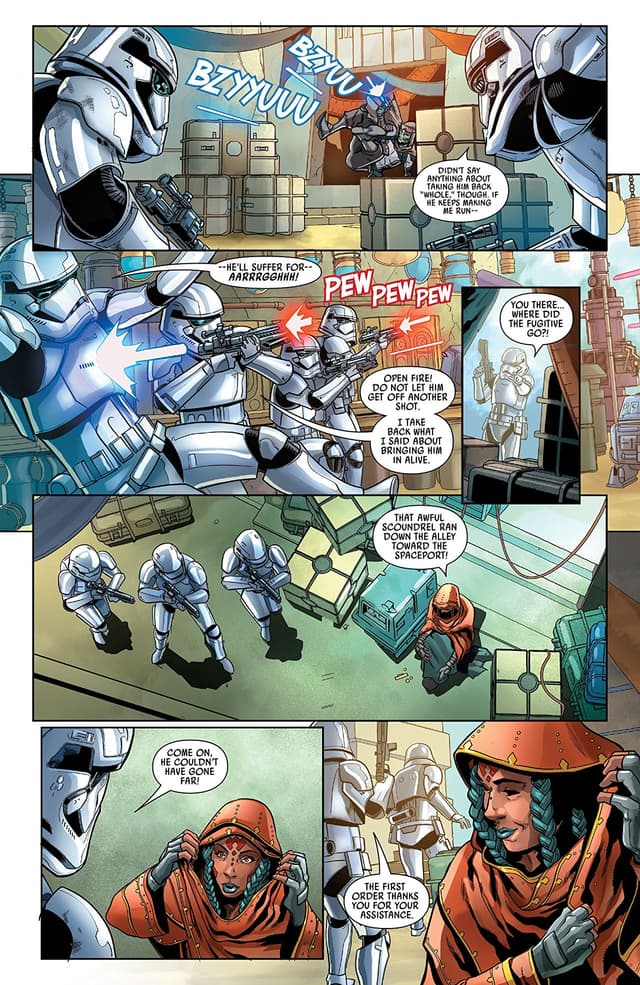 So, what's a typical day of drawing for you  like on the series? Did you change anything from your normal process on this one?
It's pretty much the same. However, this book has definitely been the most challenging yet of my career, but only because I want to get as much detail from Batuu in there as much as is humanly possible. 
And if the first two issues are any indication, you certainly have. Who's been your favorite character to draw so far?
Dok Ondar has to be up there. The guy has so much character, and now that the park is open I genuinely, regularly watch videos of him working away in his den.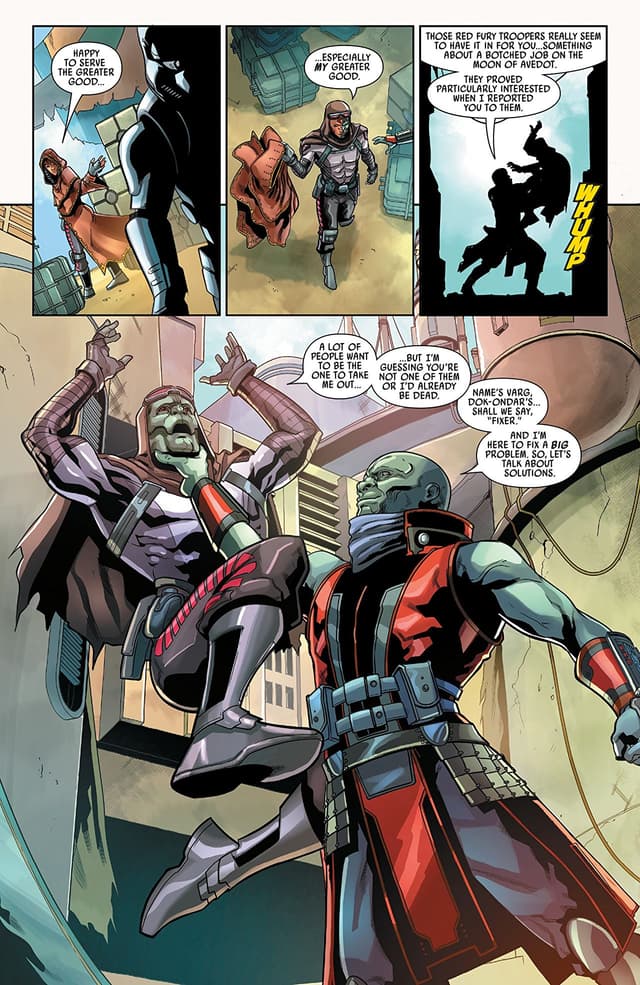 Final question, and then we'll let you get back to work—any Star Wars dream projects you'd love to do after GALAXY'S EDGE?
So many. I love it all, from the prequels to the new movies. I love that the universe of Star Wars is ever-expanding. There are some amazing plans for the future of Star Wars, and I hope to be a part of it for as long as I can. 
Read STAR WARS: GALAXY'S EDGE #3 at your local comic shop today!
The Hype Box
Can't-miss news and updates from across the Marvel Universe!