Comics
Published April 28, 2017
Sorcerers Supreme: Introducing The Author
Robbie Thompson and Javier Rodriguez craft a new foe for Doctor Strange and friends!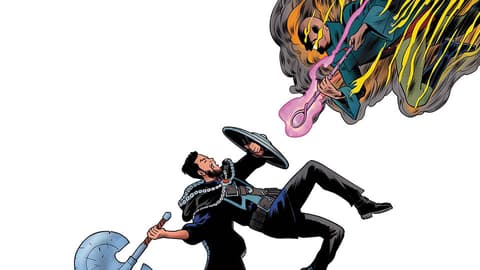 First, The Forgotten bedeviled them. Then, Newton betrayed them. But those threats pale in comparison to The Author, the baddie briefly revealed at the end of DOCTOR STRANGE AND THE SORCERERS SUPREME #7, set to fully tear onto the scene in May 24's issue #8.
While searching for shelter from what could very well be the end of the world we came across series writer Robbie Thompson and artist Javier Rodriguez who kindly took a break from chanting incantations to tell us all about this horrifying new antagonist.
Marvel.com: Issue #8 brings the Supremes and Newton face to face with a bloody baddie who goes by The Author. What can you tell us about this deadly new danger?
Robbie Thompson: The Author is the source of the power that brought our Sorcerers together back in issue #1. This creature wrote "The Word of God," which followers of The Forgotten used to wield unlimited power. No spoilers, but in issue #8, we'll learn who The Author really is, and more importantly, where he comes from…
Marvel.com: What kind of risk does this antagonist pose to our titular characters? How about the world at large?
Robbie Thompson: The Author is an enormous danger to our heroes and the world at large. He created the Word of God, a book with words so powerful that they can bend reality. If the Sorcerers—and guest stars the Avengers, Howard the Duck, and Luke Cage—don't stop him, our world will be destroyed!
Marvel.com: Creatively, how did The Author come together? What made him the right villain for this moment for you?
Robbie Thompson: When discussing the first two arcs with editors Nick Lowe and Darren Shan, we really wanted to have some big turns and reveals every issue. In fact, the first call I had with Nick, he pitched out killing Merlin as the ending of the first issue. That really set the tone from the beginning and felt like the right way to pace out our story.
We wanted to continue to put our heroes in deeper and deeper trouble, while keeping the escalation connected to the source of this story: Merlin. So, we've been building toward this reveal since the first issue—with Newton waiting in the wings to turn on his fellow Sorcerers, his blind ambition exposing our heroes to a being more powerful than any they've faced so far.
Marvel.com: The Author boasts a pretty bizarre look. Creatively, where did you draw inspiration from to realize him/it? What about the look spoke to you as the right choice for the villain?
Javier Rodriguez: I like to think that the simplest concept leads to the most effective solution. In this case, I thought about things that would disturb the reader's perception when they are out of place. So, a creature made of hands seemed pretty awesome, and I thought it fit well with Robbie's requirements for the story. I drew all the bad characters for this book very big, looking for a real threat to a group of Sorcerers Supremes, and more visual when all of them are fighting at the same time.
Marvel.com: How did working with each other help you both to fully realize The Author?
Javier Rodriguez: Robbie and I exchange a lot of [e-mails]. Sometimes he sends me a detailed description and sometimes it's an open field for creation. But to work with Robbie is like a dream. He leaves me a lot space to put in ideas and he doesn't have any problem introducing those ideas, or adapting the story to fit with all the new ideas that pop up throughout the process.
Robbie Thompson: I keep saying this in interviews, but Javier really is a Sorcerer! He's an absolute dream collaborator and master storyteller, and The Author wouldn't exist or work at all without his work on this book.
After we briefly discussed the true nature of The Author—no spoilers!—Javier went off and designed the creature, and we were all blown away. It was perfect and was created entirely by his amazing mind. In layouts for issue #7, we were all delighted to see the "snaps" The Author uses to wield his "magic"—that's all Javier, too, pushing the book and our story to be as visual as possible. He's done that with every panel and every issue of the book.
I write the scripts to give him, inker Alvaro Lopez, colorist Jordie Bellaire and letter Joe Caramagna as much freedom as possible to collaborate. Every layout, design, and page from Javier is more ambitious than the last, and the whole team follows his lead, with everyone pushing the book with their talents.
Marvel.com: Newton is power mad, but he's also pragmatic. In the face of this overwhelming threat, how does he react? How do the Supremes treat him in reaction to that?
Robbie Thompson: Unlike the rest of the Supremes, Newton knew what he was signing up for when Merlin came to him. He knew the Word of God was powering The Forgotten. And he would stop at nothing to get that book in his hands.
What he didn't know was that the author of that book would come back to reclaim what it created! Worse, he doesn't know where this creature hails from or how dangerous it is to magical heroes.
But, like you said, Newton is totally pragmatic—he's going to team up with Strange to survive. And, of course, he hopes that if they defeat The Author, he can reclaim the Word of God and reshape the world as he sees fit. Strange and company are willing to team up for the time being, but they've been burned by this madman already, and won't be fooled again.
Marvel.com: Without revealing too much, is there a particular moment from issue #8 of Author-inflicted devastation you can't wait for fans to see realized on the page?
Javier Rodriguez: Well, yep, there's a moment when we'll see the use of pure comic language to show the power of a Sorcerer Supreme. The end of issue #8 and the first pages of #9 are some of the best pages that Robbie wrote for the series. Can't wait to see readers' reactions.
Robbie Thompson: Howard the Duck casts a spell! 'nuff said!
Actually, I'll say a bit more: there's truly amazing work from the entire team on this issue, particularly Jordie, who finds such beautiful light and color in every issue. And it features all of our heroes, the Avengers, Luke Cage, said Duck, and more magic than you can shake a wand at!
Experience The Author in DOCTOR STRANGE AND THE SORCERERS SUPREME #8, brought to you by Robbie Thompson, Javier Rodriguez, and company on May 24!
The Hype Box
Can't-miss news and updates from across the Marvel Universe!