Comics
Published August 9, 2017
9 Super Heroes Who Have Been In Jail
Check out these Marvel characters who have spent time behind bars.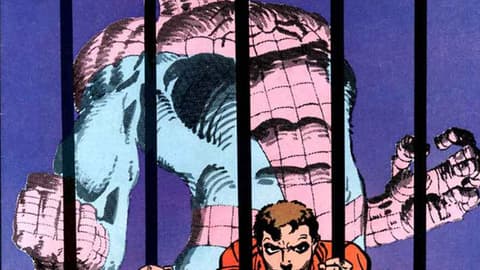 Not every hero in the Marvel Universe stays on the right side of the law. Sometimes they go one step too far—and other times, the law works actively against them. Below, we take a look at a few characters who have had stints under lock and key.
CAPTAIN AMERICA
Look at that, even the honorable Steve Rogers spent time in the pen! More than once, too! Most notably, Cap was locked up between his surrender in the last issue of CIVIL WAR and his apparent death in CAPTAIN AMERICA #25.
LUKE CAGE
Carl Lucas might have become a hero without heading to jail, but he probably wouldn't be super strong and possess his signature impervious skin. Wrongfully accused in a drug bust and sentenced to the big house, the future Avenger agreed to participate in an experiment that gave him super abilities. After his transformation, he escaped from captivity and resumed life under the name we all know him by today.
PUNISHER
Over the years, many people have wanted to lock Frank Castle up—but no one seems capable of actually keeping him imprisoned. During the mid-'90s, the authorities tried to send him to the electric chair—and failed. And during the most recent PUNISHER WAR ZONE, he sat in an underwater prison, but of course no walls—not even ones surrounded by water—could stop The Punisher.
DAREDEVIL
At the end of Brian Michael Bendis' epic run on DAREDEVIL, he left ol' Matt Murdock in quite a pickle—inside a jail cell where new series writer Ed Brubaker kept the blind lawyer incarcerated for a while. Murdock eventually got out when none other than master escape artist Frank Castle was purposefully captured as part of a jailbreak plan.
SONGBIRD
Since their inception, the Thunderbolts revolved around characters who served time in one way or another. The original squad, including Songbird, was assembled by Baron Zemo and consisted of villains masquerading as heroes. After her stint in jail, the former Screaming Mimi took to the lawful side of things—and even served as a warden on the maximum security prison known as the Raft!
IRON FIST
During CIVIL WAR, nearly every hero who sided against Tony Stark's Superhuman Registration Act wound up incarcerated—including Iron Fist. While posing as Daredevil in an attempt to keep Hell's Kitchen safe, Danny Rand was captured as a means to help Captain America and the other anti-registration heroes to the Negative Zone prison for a jailbreak!
WOLVERINE
Not at all unfamiliar with jail cells, Wolverine found himself imprisoned in the pages of LOGAN. Captured by the Japanese during World War II, the mutant was kept in Nagasaki before he escaped and fell in love with a local woman named Atsuko. When Atsuko was murdered, Logan followed her killer to Hiroshima, where they were caught in the atomic bombing of the city. Wolverine survived the blast, but was left scarred by the loss of his former love.
BUCKY BARNES
Even though he stepped up and filled in for Steve Rogers after the original Cap died, Bucky Barnes still stood trial for his crimes as his previous identity, the Winter Soldier. Declared innocent in the United States, Russia judged him differently—and locked him up on heightened charges. Thanks to help from someone familiar with Russian prisons—Black Widow—Bucky escaped and headed back to the U.S., where he then decided that his days holding the mantle of Captain America were over.
PETER PARKER
Miles Morales doesn't lay claim as the only Spider-Man to wind up incarcerated—back in AMAZING SPIDER-MAN #219, Peter Parker attempted to sneak into a jail as part of an exposé, but instead got caught and tossed in a cell! After Matt Murdock helped him get out of the predicament, Pete managed to publish his exposé—and apprehend a few escaped inmates in the process.
The Hype Box
Can't-miss news and updates from across the Marvel Universe!