Comics
Published March 8, 2017
Spider-Man: Mother Knows Best
Brian Michael Bendis speaks on Miles Morales' mom and more!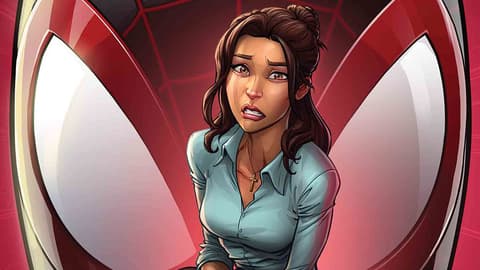 By Josh Weiss
I've never met a mother yet totally cool with the idea of her son swinging from the rooftops of buildings and getting involved in life-threatening battles with villains and heroes alike. If anything, these things would probably heighten the feeling of anxiety she has for her child—her own brand of Spidey Sense, let's call it. Pair that with a secretive, hormonal teenager and it can be a recipe for disaster.
Such is the reality of Rio Morales's relationship with her son, Miles, aka Spider-Man. As one of the co-creators and writers of this character—plus, a parent himself—Brian Michael Bendis happily gave us some profound insights into Miles' upbringing and how the presence of his mother in his life influenced his journey as Spider-Man, compared to the backstory of Miles' role model, Peter Parker.
Marvel.com: Unlike Peter Parker who was raised by his aunt and uncle, Miles was able to be brought up by his actual parents. How did the presence of his biological caregivers, particularly his mother, affect his journey to becoming Spider-Man and all the baggage the hero role ultimately came with?
Brian Michael Bendis: It affects it completely. This is everything. That is, in my mind, the real big difference between Peter and Miles. They were raised completely differently in different parts of the city with different relationships to everything—even different connections to morality and spirituality. That all comes from the way they were raised. That's true with everybody. Both of these young men are representing something similar but from completely different perspectives.
Marvel.com: Did you try and model Rio Morales on Aunt May or did you want her to be something entirely different? If so, in what ways did you try to distinguish her from such an iconic character?
Brian Michael Bendis: Something entirely different. I have gone on record saying that I based [the Ultimate version of] Aunt May on my mother, but Rio was based on someone else completely. I know so many good parents. There is this [Venn] diagram of the way good parents handle a lot of things, but there are also all these interesting differences. Things that we have all handed down from our families including things that we will never do because of our families. Everyone raises their children differently. Front and center are the ideas the parent really wants to make sure the kid understands. And while Peter was learning "with great power comes great responsibility," Miles was learning some harsher truths.
Marvel.com: Miles' father, Jefferson Davis, is an agent of S.H.I.E.L.D. While Rio Morales is just an ordinary person, albeit an extraordinary mother. How does this more grounded personality play into Miles' super powered persona?
Brian Michael Bendis: Every child is a product of their environment and when you have two strong personality parents, something I and my children know something about—it's very interesting to see how the child processes their surroundings and develops their own personality. With Miles, we have this interesting parent dynamic, plus their dynamic with each other. Both voices take up equal space in his brain. Plus, he has these powers which have opened doors to meeting all kinds of heroes and icons. All these people will be making a giant impression on Miles as he moves and develops forward.
Marvel.com: At the end of the day Miles is still a teenager and based on experiences with my own mother, she gets worried when I forget to call and I'm 22-years-old. I can't imagine what that worry must be like for Rio. Can you describe how she copes with it and if it causes any strain on her relationship with Miles?
Brian Michael Bendis: This is a major story point going forward. She gave him a lot of latitude in an attempt to be a cool mom to a teenager who has earned her trust but the reality is Miles' life may be too complicated to hide from her much longer. And it might be that keeping a secret from her is the worst thing he could have ever done.
Marvel.com: How does she feel about her son's involvement with that Spider-Gwen girl?
Brian Michael Bendis: Rio doesn't know what Miles is up to. Very few parents really know what their teenagers are up to. I fondly remember keeping things from my mother just because I wanted that power over her. I wasn't actually doing anything bad, I was reading comics, I just wanted my stuff. Spider-Man is Miles's ultimate teen expression of freedom.
Follow Miles' family drama with SPIDER-MAN #15, available April 5!
The Hype Box
Can't-miss news and updates from across the Marvel Universe!