Comics
Published November 2, 2017
Spider-Men II: Double Trouble
Brian Michael Bendis previews the series finale!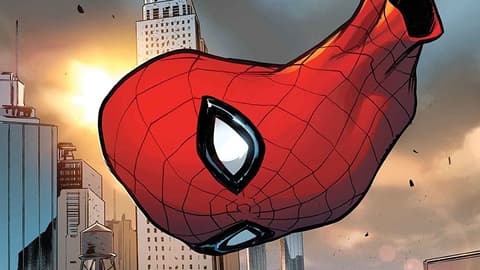 On November 29, Marvel's high-flying spider-duo returns for their series swan song—and you can expect double the excitement, double the Spider-heroes, and even double the Spider-artists.
SPIDER-MEN II #5 marks writer Brian Michael Bendis and artist Sara Pichelli's final issue of the limited series. And as a surprise, "Mark Bagley makes a very special appearance," teases Bendis.
So what do these arachnologists have in store? We bugged Bendis to give us the inside scoop.
Marvel.com: The final issue has arrived! What can readers expect with issue #5?
Brian Michael Bendis: Miles Morales and Peter Parker have teamed up because the mercenary Taskmaster has caused a lot of chaos behind a portal to another dimension. At first we don't know what he wants or what's going on, but it gets revealed that Taskmaster has been on a fact finding mission for someone named Miles Morales.
Not our Miles Morales. A different Miles Morales.
But what does he want and why? And how does it connected to our Miles?
Marvel.com: What can you tell us about this other Miles and how he might be connected to our heroes?
Brian Michael Bendis: We now know from the reveal in issue #3 and #4 that this new Miles Morales became a very close friend of a young Wilson Fisk and saw Wilson's ascension to the ranks of Kingpin. We discover that this Miles did not have the same taste for blood and ambitions as Wilson, so Wilson created a situation for his dear friend to disappear and live happily ever after with the woman of his dreams. That is why no one has ever heard of him…until now.
Marvel.com: Last we saw, Miles didn't know much about his mysterious namesake. What might be his big concerns heading into the last issue?
Brian Michael Bendis: Our Miles doesn't know that he intercepted this other Miles' mission to find his lost love. The other Miles' wife has passed from a terrible illness. He lost his lifelong love and is now despondent and desperate. His wife's funeral became the place where Wilson reunited with his once best friend and told him about other dimensions and other worlds and other versions of people in a hope to ease his pain—it sent this Miles on a quest. Our Miles doesn't know that this Miles has been searching for his long-lost love in other dimensions.
Marvel.com: What have been Peter's and Miles' biggest challenges in this series? In the last issue?
Brian Michael Bendis: The legacy of Spider-Man. Is it a legacy? Or just the destiny of one man?
Peter never intended the name to be a movement or a mythology. It was his stand against crime. His burden. But now Miles and others have cast new responsibility onto the legacy of Spider-Man and no one really asked Peter what he thought of any of it. So this will be answered in this issue.
Both characters are on a lifelong journey of self-discovery—this is hardly the end, but a very important, pivotal chapter for both of them.
And I do not say that lightly.
Marvel.com: How has Pete and Miles' relationship changed over the course of this series?
Brian Michael Bendis: When they first met, Miles was a very young man and Peter was a struggling scientist. Now, Miles has arrived on the other side of high school and Peter is a…recovering billionaire. They have both been through an enormous amount of personal growth and change since they first met. And their relationship has evolved. It's becoming less mentor-student and more Butch Cassidy and the Sundance Kid. They're both very good, but one just has a lot more experience.
Marvel.com: Will we see alternate, criminal Miles moving forward from SPIDER-MEN II?
Brian Michael Bendis: What criminal Miles does in this issue will surprise just about everybody who has read anything I've done in the last couple of years.
We knew doing a sequel to the original SPIDER-MEN would be doing a sequel to something that people had a great deal of fondness towards. I wanted to make sure that this limited series, on its own merits, lived up to that.
Where this new Miles goes and what he does will be very surprising! I felt surprised writing it.
Marvel.com: What can you tease about the issue? Any surprises heading our way?
Brian Michael Bendis: Abso-thwipping-lutely!
That was so Stan of me.
A lot happens. A lot is seen, discovered, and learned. Legitimate choices get made, legitimate chapters close, while others open. It's big.
Marvel.com: Anything you want to add?
Brian Michael Bendis: The publication of this issue actually marks my 18th anniversary as a Spider-Man writer. There hasn't been one month in the last 18 years where I haven't written at least one Spider-Man related title released all over the world.
The original SPIDER-MEN series was, at the time, my ultimate statement on the franchise and I thought about that, and I thought about the number 18—a very big number in Judaism (I'm Jewish, shock)—and I wanted to make sure that this series expressed that in an elegant and honest fashion.
Don't miss SPIDER-MEN II #5, by Brian Michael Bendis and artist Sara Pichelli, on November 29!
The Hype Box
Can't-miss news and updates from across the Marvel Universe!