Comics
Published December 13, 2018
Spoiler Session: Eve Ewing and Luciano Vecchio Break Down Ironheart #1
See what the creative team behind the new Riri Williams story has to say!
Written by Rebecca Childs
Warning! This article contains SPOILERS for IRONHEART #1. So read on at your own risk, True Believers!
From writer Eve Ewing and artist Luciano Vecchio, along with Kevin Libranda, IRONHEART #1 is a masterful 34-page exploration of the title hero's two personas: Ironheart and Riri Williams.
Welcome to the spoiler session. You have officially been warned.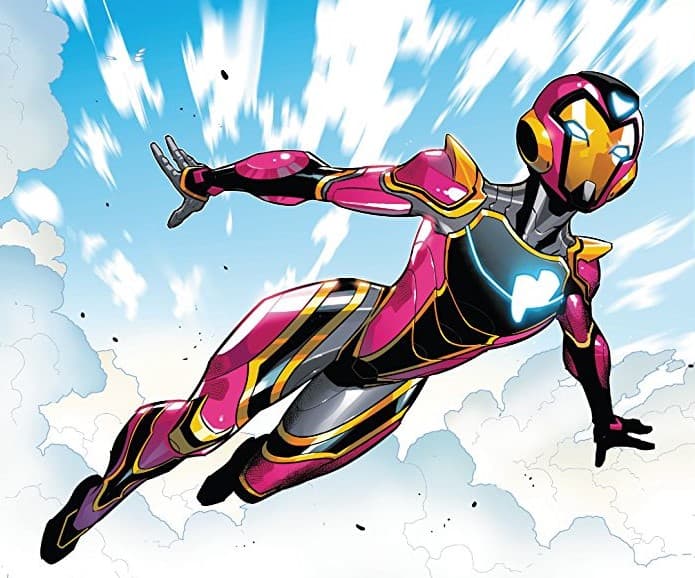 Issue #1 opens with Riri flying and reflecting on her extraordinary journey to becoming a Super Hero, eventually landing on M.I.T.'s campus. She muses that despite having a humble origin story, and despite her trauma, she is now able to launch into the sky as a Super Hero, quoting Maya Angelou: "Into a daybreak that's wondrously clear… I rise."
Writer Eve Ewing says of the introduction, "It seemed natural to me that she would have heard this poem, which has been an iconic touchstone for so many people, especially black women and girls, for 40 years. And I liked the resonance of it for a character who has been through a lot of adversity and who nevertheless literally soars. And maybe, just maybe, it's a subliminal message from me."
Soon after begrudgingly giving her dean and a gaggle of world leaders a tour of her M.I.T. lab, the group is captured by former Spider-Man villain Clash AKA Clayton Cole. (Clash first appeared in Dan Slott's 2014 AMAZING SPIDER-MAN run as a brilliant young man who was inspired to become a Super Hero after seeing "The Human Spider" defeat Crusher Hogan, then reveal himself as the Amazing Spider-Man.)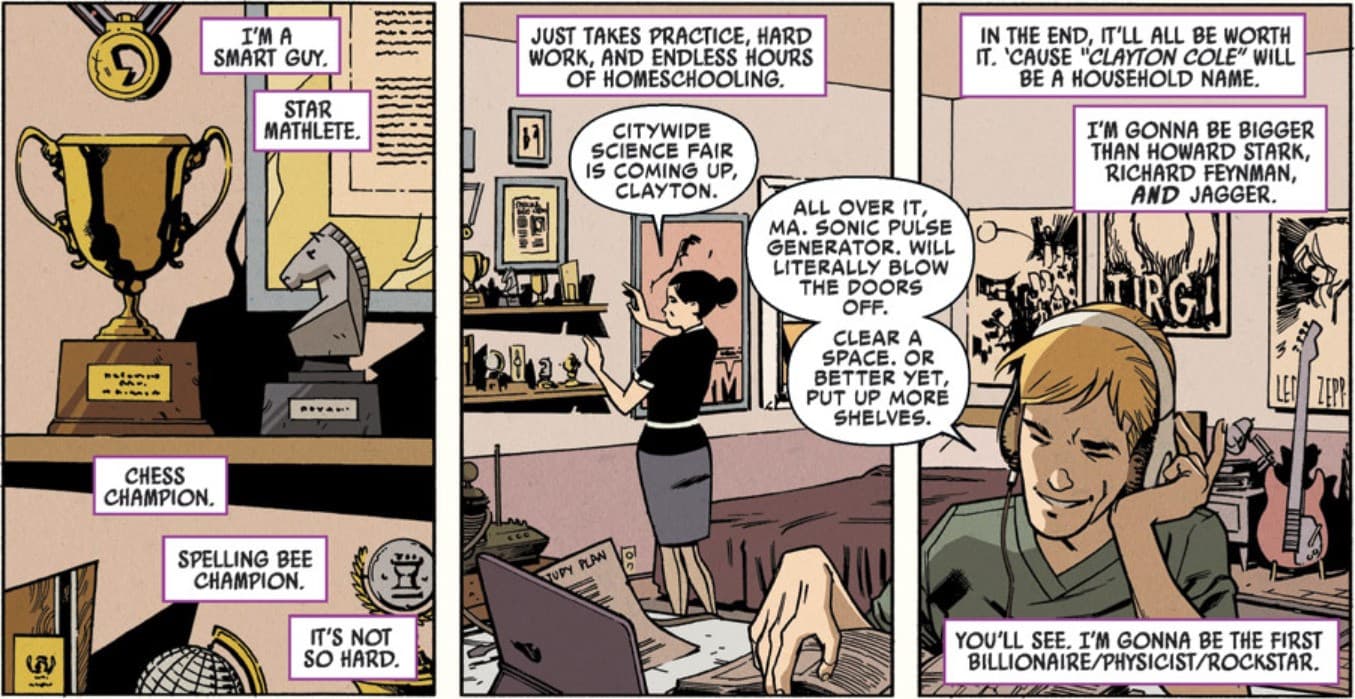 After several run-ins and misunderstandings with Spider-Man and a brief stint in juvie, he eventually grew disillusioned, lost his resolve and turned to villainy.
The first half of the comic is chock full of action as Ironheart out-thinks, outmatches and out-sciences her fellow super genius, then disables his sonic pulse generator. He is led away in handcuffs, but not before leaving her with a few foreboding words, as well as a disc bearing the insignia of The Ten Rings, a terrorist organization led by the Mandarin.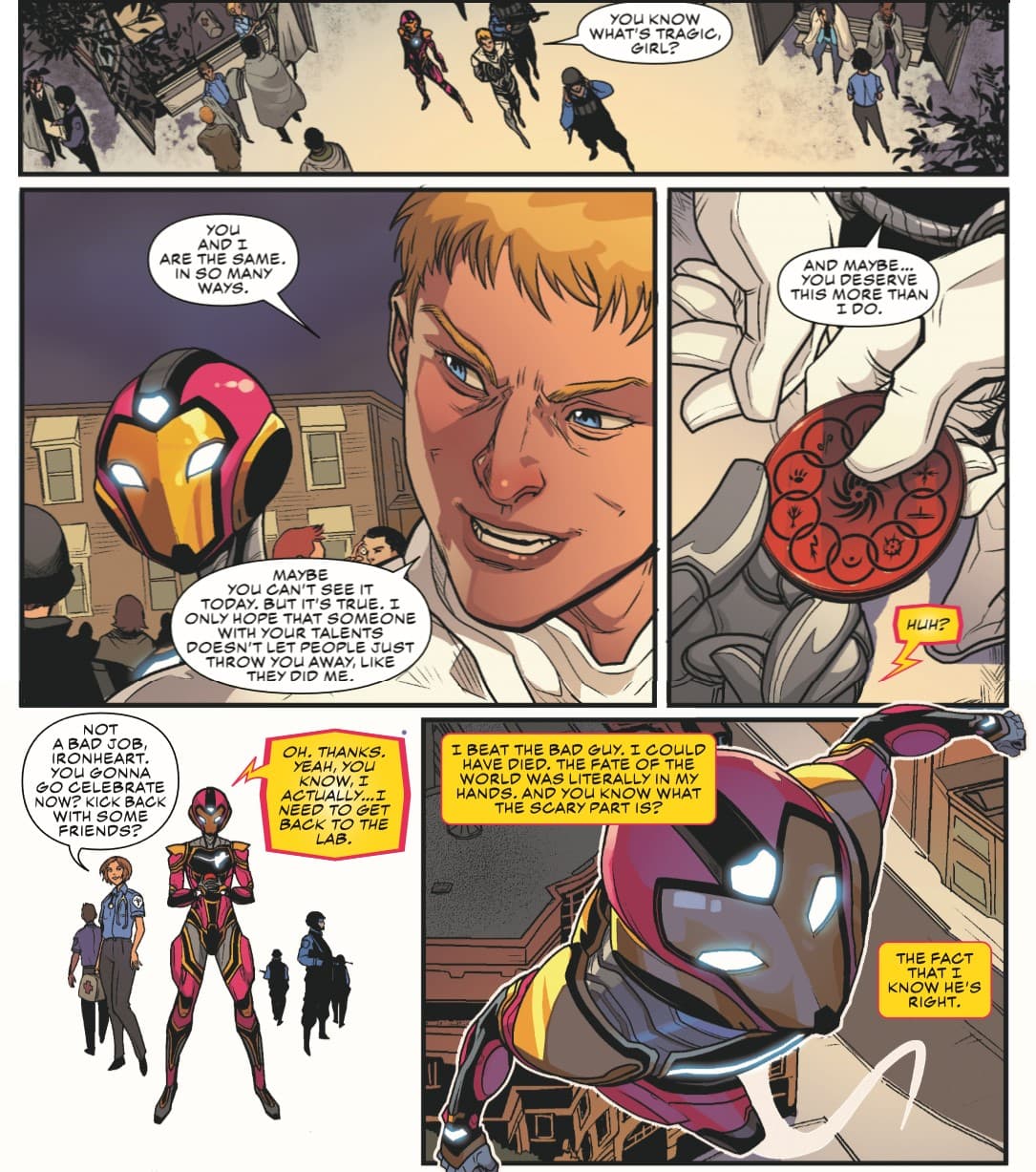 Eve shared some of what will motivate Riri throughout the series, emphasizing that "Riri has a lot of power in her hands, and some phenomenal abilities, but she's also young and she's learning.
"She has had pretty awful things happen to her, and has sort of been going on all cylinders in a way that keeps her from confronting some tough issues and difficult memories and unresolved questions. So this series is going to have a lot of that, trying to face things that she hasn't yet faced and dealing with a lot of growing pains."
The rest of the first issue takes an emotional deep dive into Riri Williams in her civilian identity, and it brings up another character from the past: the boy-next-door Xavier King, who "appears super briefly in Invincible Iron Man—Riri comes home and they have a brief exchange on the street," according to Ewing.
"I was intrigued by him because it was a rare moment of seeing her interact with someone from her neighborhood," the writer explains. "But it kind of fizzled. So I decided to bring him back!"
Xavier video calls Riri in her in lab and nudges her into a conversation, after having been told that Riri lacked friends at school by his mother. He admits it; she gets offended, but the conversation takes a turn for the better when Xavier notices the project she is working on, on her desk—a Geordi visor.
"Riri has always had trouble with friendship. As a young kid she was pushed ahead in school really quickly, she's sort of weird and has trouble with social cues, she's really awkward, and has often felt alienated from other people her age because her life has been so different from theirs. And, of course, she lost her best friend in a brutal, traumatic way," says Ewing.
Fortunately, Riri and Xavier quickly find they have a lot in common and talk late into the night.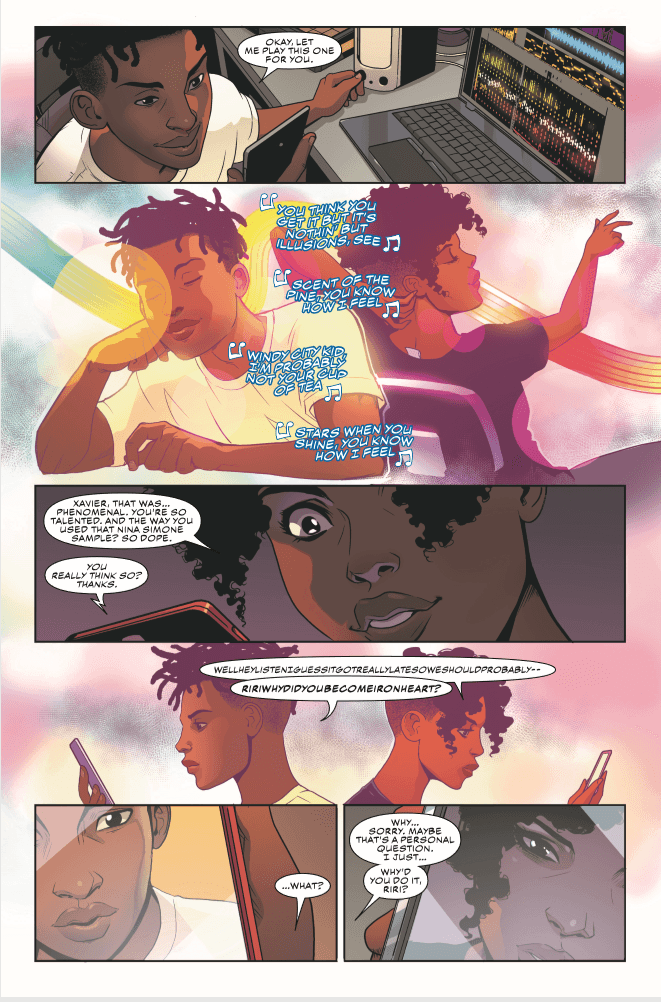 "Xavier is there to provide some regular-person perspective—not as a Super Hero, but as someone who is from where she's from, who is caring and who has her back and helps keep her grounded," notes the writer. "And he challenges her to do something that doesn't come easily to her: building and nurturing a friendship."
Series artist Luciano Vecchio is also a fan of Xavier; he says, "He's such a cute character. I love getting to know and develop him into a more fleshed-out character and his relationship with Riri and the balance of their personalities." Even so, his favorite page from issue one came after Riri and Xavier ended their call...
On the last page, the issue ends bringing back yet another character—Riri's late best friend Natalie.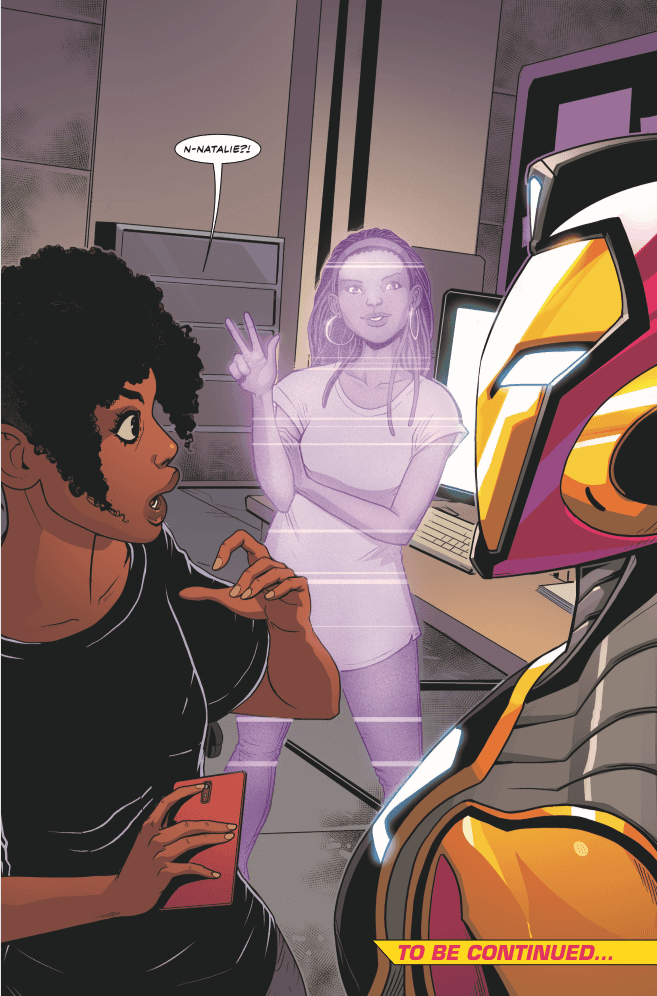 "The last page cliffhanger—it was actually one of the first pages I drew," Vecchio reveals. "I was shocked when I read it; it made everything click and I can't wait to see where Eve takes that in the future."
What a start!
Now that you're caught up, make sure to pre-order IRONHEART #2, arriving in stores on January 16!
The Hype Box
Can't-miss news and updates from across the Marvel Universe!