Comics
Published May 3, 2017
Star Wars: A Matter of Trust
Can Luke Skywalker count on Doctor Aphra? Kieron Gillen weighs in!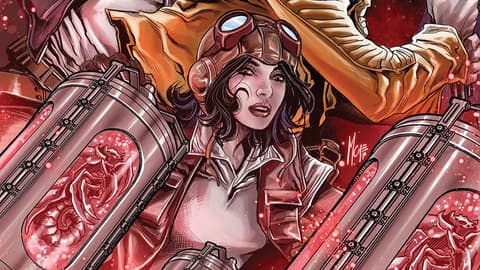 By Brittany Vincent
During the upcoming crossover event Star Wars: The Screaming Citadel, Luke Skywalker and none other than Doctor Chelli Loni Aphra herself form a reluctant partnership that can't be missed. With Aphra holding onto information integral to Luke's quest to become a Jedi Knight, the push for a symbiotic relationship between the two seems like a no-brainer; but what reason does the heroic Skywalker have to trust this wily con artist?
We spoke to DOCTOR APHRA and STAR WARS: THE SCREAMING CITADEL writer Kieron Gillen to get his opinion on why Luke and company should and shouldn't trust Darth Vader's former partner-in-crime. Get his insights on Aphra below!
Kieron Gillen: [Aphra] has come to [Luke] and has offered something he wants. It's one of those situations of mutual self-interest. The intersection between Luke's relative naiveté are good angles, like Luke's desire to be a Jedi Knight. That's what pushes them to go together. No one else—not Leia, not Han, or especially Sana would fall for that crap. There's a reason that the two go off together, and when everyone else finds out, they kind of hit the roof.
In this case, Aphra needs Luke because Aphra has realized Luke is Force-sensitive, and Luke has realized he's not going to be a Jedi Knight. He needs someone to train him. Aphra on her last adventure has stolen an ancient crystal that contains the secrets of the Jedi Knights. It's like, "You can stay the stupid farm boy Luke Skywalker or you could come with me and be a Jedi Knight." That's the motivation.
Of course, Aphra is lying. Anyone who knows about the Kyber Crystal know it is completely homicidal, so turning it on wouldn't necessarily be a great idea either. For those who haven't read the first arc of DOCTOR APHRA, my idea was basically that Indiana Jones thing that Aphra always does—not always, but one of the modes we use for Aphra. The ending is the end of "Raiders of the Lost Ark."
Instead of safely putting the Ark of the Covenant into better hands, Aphra steals the Ark of the Covenant. Now she wants to sell it. Imagine if Indiana Jones decided to steal and sell the Ark of the Covenant. That's where Aphra's arc is coming from. What could possibly go wrong?
Why Luke (and Company) Shouldn't Trust Doctor Aphra
They've Met Her
Kieron Gillen: It's Doctor Aphra, what's wrong with you? That's where The Screaming Citadel starts. It's like, "What possible reason could Luke have to go along with her?" There isn't any. If you've met Aphra, it's just really a bad idea to be around her.
She's Darth Vader's Ex-Comrade
Kieron Gillen: She used to be best mates with Darth Vader. She has all the clues. She could try to put together what Darth Vader really wanted, but she's gone a completely different way.
Previous Meetings Prove It's A Bad Idea
Kieron Gillen: Even if [Luke and crew] had just met Doctor Aphra and got on with her, she can't be trusted because last time Luke and crew met her, her robot [Triple Zero] painted itself gold and fired at Luke, and the other fired rocket launchers everywhere. There's no reason from their past experiences that they should.
She Used To Date Sana Starros
Kieron Gillen: I mean, Sana used to date her. Sana really should know better.
Why Luke (and Company) Should Trust Doctor Aphra
Friends Can Be Rough Around the Edges
Kieron Gillen: Luke has learned that people who are rough aren't necessarily bad. Luke never trusted Han Solo to begin with. He's learned that roguish people aren't necessarily bad people. Luke's entire experience with Han has taught them that people can be good.
Luke and Aphra Are More Similar Than They Realize
Kieron Gillen: Luke is nothing if not idealistic. That's kind of the joy of it. Despite all the tragedy he's gone through, he has this chirpy energy. That's the opposite of Aphra. Aphra and Luke have both lost the people who raised them. But they went in very different ways.
For me, that's the heart of this book. That's the heart of the relationship between Aphra and Luke, in that they're two people with similar life stories, and one went one way and the other one went the other. Aphra's considerably more experienced and very worldly, and Luke is less so.
Aphra Seems Pretty Knowledgeable
Kieron Gillen: She lies about stuff, but is knowledgeable without a doubt. The story takes them to the planet where the eponymous Citadel is. This queen has a consultancy and asks for interesting things to come. She looks at them and exchanges them for favors. Luke is an interesting thing. That's kind of the basic setup. Aphra is much more knowledgeable in certain areas than most of the cast of STAR WARS. That's a good reason to listen, of course aside from Aphra.
They Both Need Each Other Right Now
Kieron Gillen: It's a deal; he gets something, she gets something. That just makes sense.
The epic action gets underway on May 10 in STAR WARS: THE SCREAMING CITADEL #1 by Kieron Gillen and Marco Checchetto!
The Hype Box
Can't-miss news and updates from across the Marvel Universe!