Comics
Published August 18, 2017
Star Wars: Friends Forever
An ode to the droid duo!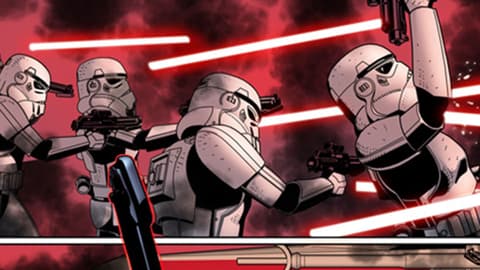 It's Artoo to the rescue!
On September 13, STAR WARS #36, written by Jason Aaron with art by Salvador Larroca, finds our lovable little R2-D2 on a mission to rescue his best pal C-3PO.
Though Luke, Han, and Leia thought they escaped Darth Vader's clutches without a hitch, they soon realized one member of the group didn't make it out in time. In response, Artoo commandeered an X-wing and headed off on a solo adventure to save Threepio from the Empire's grasp.
It's a challenge only a true friend would undertake. And if William Shakespeare has taught us anything, it's that this kind of true love can only be expressed with a complicated rhyme scheme.
Presenting: "An Ode to Artoo and Threepio"
Two droids, alike in physical mechanics,
Though quite different in personal dynamics.
One brave,
One grave.
Yet together, a friendship full of space antics.
Through bickering, fighting, and endless woe
In a galaxy far, far away, a long time ago,
Brothers, the two
Never say "I love you."
Don't worry, tin hearts…we know.
Luke, Leia, and Han may be a big factor,
But they'd still be stuck in a trash compactor
Without these two,
Doing what they do.
Save the galaxy, they must—true benefactors.
Now, too long have these friends been parted,
It's time to finish what the Empire has started.
To rescue Threepio,
Bwreep-Boop, tally-ho.
Artoo will shoot first before he's departed.
Only time will tell if the Empire can outgun
A friendship longer than the Kessel Run.
Is that long?
We could be wrong.
You'll find out once issue #36 is done.
Find out if our favorite friends are finally reunited in STAR WARS #36, by writer Jason Aaron and artist Salvador Larroca, on September 13!
The Hype Box
Can't-miss news and updates from across the Marvel Universe!