Comics
Published May 30, 2017
Star Wars: Rebellious Origins
Uncover a hidden history with Rogue One's Cassian and K-2SO!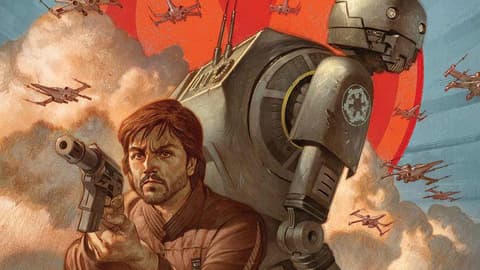 One of the most exciting aspects of "Rogue One: A Star Wars Tale" centered on the many new storytelling opportunities it created. For decades, fans only found access into the story of the Rebellion's fight against the Empire through the Skywalker trilogy. Now, that far, far away galaxy finds itself becoming more and more fleshed out as the backstories of the other members of the Rebellion come to life.
This August, writer Duane Swierczynski and artist Fernando Blanco join together to tell the story about two such rebels: Cassian Andor and his wise-cracking, Empire-turned-Rebel robot, K-2SO. We sat down to speak with both creators about their upcoming work on this "Rogue One" origin story and their experience of contributing to the Star Wars canon.
Marvel.com: When you first watched "Rogue One," what elements of it caught your attention the most?

Duane Swierczynski: The blend of sci-fi and noir blew me away. It had everything that appealed to me as a kid—Stormtroopers, lasers, droids—along with noir elements that seriously appeal to me as an adult—morally-ambiguous anti-heroes, desperate combat, the feeling that the universe really is out to get you. It's like when you eat something that's both sweet and salty—a rare treat.
Fernando Blanco: The moral ambiguity of Cassian's inner conflicts. Star Wars always been about the Light and the Dark Side, but in "Rogue One," we see for the first time, gray areas that are not related directly with this axis. It's a more realistic dilemma about real war conflicts, when you are obliged to obey orders or make decisions that could be ethically questionable in order to achieve a supposed higher good.
Marvel.com: This August, you will be pulling back the curtain a bit on two fan-favorite characters from "Rogue One": Cassian Andor and K-2SO. Apart from the obvious fact that this comic would give you a chance to work in the world of Star Wars, what made this particular chapter in this mythos appealing?

Duane Swierczynski: I love buddy cop movies. To me, Cassian and Kaytoo fit right into that grand tradition of Murtaugh and Riggs, Jack and Reggie, Freebie and the Bean, etc. So, it was great fun to consider their first meeting—who befriended who? Why does K-2 always say exactly what's on his mind? How did a Rebel spy learn to trust an Imperial droid?
Fernando Blanco: I think there are a really big expectation about the way "Rogue One" has expanded the Star Wars universe. There [are] a lot of stories to be told around this film, not only because of the characters but also because of the tone that "Rogue One" employs. It's more realistic and darker. On the professional side, for me, the biggest challenge of a Star Wars comic is the "scale." Everything is huge; planets, cities, spaceships, and more when compared with tiny humans. If a Star Destroyer is big as a small city, how big is the hangar where they repair them?
This is, for example, a question we had to answer in our story. The "scale" is something very difficult to represent in a comic book because you have physical limits about how small you can draw a figure in relation to a gigantic space ship. The only way to achieve this is cheating using perspective and storytelling tricks.
Marvel.com: Of course, there are a lot of characters whose backstories haven't been fully developed yet. Why were Cassian and K-2SO clear choices for you?

Duane Swierczynski: Well, they were assigned—but I think my editor very much knew these guys would appeal to me.
Fernando Blanco: They are an old-school buddy movie cliché that we have seem many times in Star Wars. Luke and R2D2, Chewbacca and Han Solo, Poe and BB2; but at the same time they have a genuine chemistry, that we haven't seen before.
Marvel.com: Duane, in terms of writing their origin story, can you talk a little bit about how much you were able to bring to the table and how much LucasFilm Group had already established? What was this process like for you?

Duane Swierczynski: I was brought to LucasFilm to read the script and watch some rough footage back in March 2016, a good nine months before the movie opened, which was a real treat—that I couldn't tell a living soul about. The assignment: tell a story about Cassian and K-2SO's first meeting. I thought about it for a while, then went in to pitch the Story Group directly, which was sort of like appearing before the Jedi Council. But it was also incredibly helpful, since I was able to fine-tune some details on the spot. So, the experience was unlike any other that I've had in comics—and one I'd do again in a heartbeat.
Marvel.com: Fernando, similarly, you had a lot of the designs already pre-established from the movie. How many opportunities for adding your fingerprints to this story did you find available? Where can we see some of that?

Fernando Blanco: I've designed Rismor and Kertas, alien twin rebels. Both will help Cassian in his mission. Also, I designed a couple of spaceships, Weacoe city and space port, and some Empire buildings and hangars.
Marvel.com: Was it difficult working on this story, knowing the fate awaiting each of these Rebels?
Duane Swierczynski: I don't think so. I write noir-ish novels, so I'm used to writing about people who are essentially doomed. It's fun!
Fernando Blanco: Not really, because this story happens many years before "Rogue One" and the tone of the story [is] very different and it's not dramatic in that way at all.
Marvel.com: As a final question, what sort of story can readers expect from you: action, suspense, comedy, or a little bit of everything?

Duane Swierczynski: Hopefully, Fernando and I have given readers a bit of that sweet-and-salty mix I mentioned before. There's definitely some intense action, strange aliens—and of course lasers! But I really hope everyone enjoys the buddy cop element and starts clamoring for more.
Fernando Blanco: I think it's an old-school Star Wars adventure, full of action and humor, and if you loved Cassian and K-S2O in "Rogue One," definitely, it won't disappoint you.
Look for STAR WARS: ROGUE ONE – CASSIAN & K-S2O by Duane Swierczynski and Fernando Blanco this August!
The Hype Box
Can't-miss news and updates from across the Marvel Universe!