Comics
Published January 4, 2017
Star Wars Sketchbook: Luke Ross
The menace of Darth Maul leaps to life for a new mission!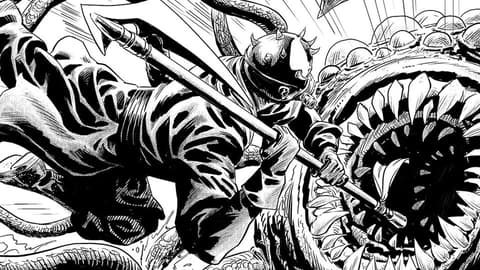 To celebrate the impending February 1 release of DARTH MAUL #1 we've dug into series artist Luke Ross' sketchbook for some exclusive images as well as a few choice words from him on how he's handled the devilish disciple of the Dark Side of the Force!
Marvel.com: Luke, as an artist, what attracts you the most to the Star Wars universe?
Luke Ross: I am crazy about all the Star Wars designs that are present in its huge collection of characters, costumes, weapons, starships, races, etc. I think that all the artistry deposited in this rich universe over the decades would attract any artist.
Marvel.com: What were your first thoughts when you were offered DARTH MAUL? What did you feel you wanted to bring to it?
Luke Ross: After working on the STAR WARS: THE FORCE AWAKENS adaptation I was excited about any new opportunities on the Star Wars books, but when I got the email offer from editor Jordan White for the series I thought to myself, "Man, it's a big responsibility!" There are a lot of Star Wars fans out there that are waiting for it, wanting to know more about Darth Maul and that is a great opportunity for me to help tell more about his past history. Since it was offered to me along with a synopsis of the whole thing, I've realized that I would have a number of new characters and other stuff to create. It's amazing to know you can leave your own seeds in such fertile soil like this one.
I see DARTH MAUL as a kind of Western. I can not avoid thinking about Sergio Leone's movies when I'm reading the scripts and dreaming up the first images in my mind for it. Perhaps I want to bring some of that same atmosphere to the book.
Marvel.com: What's a typical day like for you working on this book? What's your process like?
Luke Ross: I usually do not have a typical day, because everything is a bit chaotic. I usually work on batches of pages, perhaps 10 at a time. So, one day I'm reading the script, doing research on the [Internet], looking for reference and inspiration, and thinking about the problems I need to solve on the pages and panels. The next day I'm rereading the script, and then working on some thumbnails to visually establish the storytelling. Then I stop everything to work on a character design or background. Then I do more research, more thumbnails, and after few days I go to the layouts/pencils.
Sometimes I have a page all done and suddenly a better idea for telling the story pops up in my head and I have to redo that page. The last stage for me is the inking. I try to recover the lost time in this crazy process in the inking. Usually I have to ink three pages a day, but I prefer working on two. I think I might worry my editors with this process, but in the end I think might not cause too much troubles for them. Well, I hope so!
Marvel.com: Who is Maul to you? What's important for you to get across about him in the art?
Luke Ross: Maul is a quiet guy, a hardcore version of Clint Eastwood's "Man with No Name." The most important is showing in his face and his eyes the expressions of anger and hate that are the strongest part of his personality, if we can call it that. Besides that, I need to pay attention to the fight choreography to convey all his mastery of the martial arts.
Marvel.com: How did you approach this fight sequence between Maul and the rathtar we have here? How did you place the panels and the figures to get to where it is?
Luke Ross: Actually, I had to do and redo those panels so many times until I found the best angles and the right sequence of panels that would show what [writer] Cullen [Bunn] required in the script in the best way possible. In some panels I thought silhouettes would work better to make all the action clearer to the reader, because after all, we have so much visual information on those pages with many characters and the rathtar with its numerous tentacles and the forest background itself. It's too easy to let panels get too crowded with visual information and create problems for the readers to understand what is really happening.
Marvel.com: Here's the most important question of all we have for you: how the heck do you keep those tattoos of Maul's straight?
Luke Ross: [Laughs] I've got to work with tons of reference in front of me! But the real problem will be when I need to draw him shirtless!
Cullen Bunn and Luke Ross let loose DARTH MAUL #1 on February 1!
The Hype Box
Can't-miss news and updates from across the Marvel Universe!