Comics
Published February 22, 2017
Star Wars Sketchbook: Marco Checchetto
Explore the Screaming Citadel with exclusive art and commentary!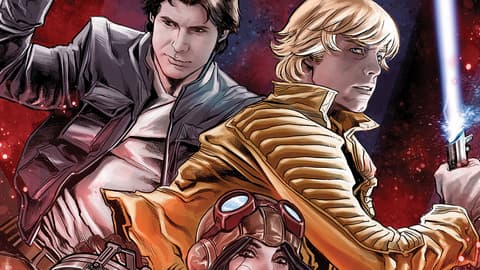 Artist Marco Checchetto's no stranger to Star Wars comic fans who've already loved his work on such books as JOURNEY TO STAR WARS: THE FORCE AWAKENS – SHATTERED EMPIRE and OBI-WAN AND ANAKIN, but it may be the plum assignment he's just pulled in that Galaxy Far, Far Away that'll cement him as one of the space saga's most accomplished illustrators.
Take a look at these exclusive shots from Checchetto's sketchbook for the upcoming STAR WARS: THE SCREAMING CITADEL, the one-shot that kicks off the newest Star Wars comic crossover.
Marvel.com: Marco, what were your very first thoughts when you were invited to join the SCREAMING CITADEL team? What excited you about it?
Marco Checchetto: I love Star Wars and I grew up with these characters, so I'm excited to draw within the classic trilogy again and also to create new characters and a new horror-planet. Another world created by me to add to the saga—it's awesome. I've been instilled with trust from Marvel and Lucasfilm, one that I hope to repay one day. In Italy it was about midnight when my editors, Jordan White and Heather Antos, asked me to work on THE SCREAMING CITADEL, and I did not sleep because I could not wait until morning to begin work immediately on the pages.
Marvel.com: What did you feel the demands would be on the project, in terms of the art and what you would deliver? What was your overall sense of the design?
Marco Checchetto: Another big thing about this job is that I've got the chance to work with two writers, Kieron Gillen and Jason Aaron, whom I respect very much. The story and the script for my one-shot are fantastic. I hope to work with Kieron and Jason again in the future, on some super heroes also. They had very precise ideas about the setting for this story. The difficulty in what they asked of me was in bringing a classic horror design and making it an integral part of the Star Wars universe.
Marvel.com: Looking over your sketches, we see what appear to be some cool mash-ups of medieval, gothic, and Victorian influences; where did you start out with your research for this? How much did you also pull from existing Star Wars designs?
Marco Checchetto: It was not easy. I opened up a lot of concept arts books from many movies and videogames to find something that would inspire me. Two of the most beautiful books I have are definitely the art books of the last two Star Wars movies, The Force Awakens and Rogue One. Those books helped me to try something new to me, but at the same time stay close to our galaxy.
Marvel.com: What can you say about the look of the Queen? What did you want to bring to her visually?
Marco Checchetto: For the Queen, and also for other characters, I was inspired by a Francis Ford Coppola movie, "Bram Stoker's Dracula." The costumes and the color palette in that are amazing. My woman here is beautiful, but very scary, a sinister and elegant alien-queen.
Marvel.com: Likewise with the palace guards: how do you get them looking so bad-ass?
Marco Checchetto: For the Citadel Guards it was more complicated. I wanted a sort of new Star Wars stormtrooper, something iconic but new. The head has as a base a classic Mandalorian helmet. This helps a lot to make it immediately familiar to the Star Wars world-look. For their costumes I used a classic medieval armor, but with lights and sci-fi details. For their weapons, a classic blaster and something to help me draw cool battles with them against Luke and his lightsaber. And to make it all more credible, I added a new flag for this new faction.
Marvel.com: When designing characters like Vespinax, Bombinax, etc., what do you do to impart "villainy" beyond things like darker colors, etc.? How do you make them menacing in the visuals?
Marco Checchetto: I decided to do all these characters without irises, and with cadaveric skin. Making them menacing is something you can do with your art-style; I really love to draw dark characters. I'm a dark side guy!
Can't wait to see versions of these new characters by the other two artists involved in this crossover, Salvador Larroca and Andrea Broccardo!
Marvel.com: The look at the Citadel itself is just so incredibly cool and bizarre—where did it come from in your imagination?
Marco Checchetto: For the Citadel I was inspired by old black and white horror movies, with these improbable castles perched on the most inaccessible mountains, but I didn't want to go with their classic medieval look. I wanted something that would strongly evoke that particular Star Wars-type atmosphere.
Marvel.com: Just look at those covers! Do you have a favorite one that you've done for the series?
Marco Checchetto: The most beautiful to me at the moment is the fourth cover, for STAR WARS #32, I think, the one with Han, Luke, and the Citadel Guards. Harrison Ford is very difficult to draw, but he's also my favorite actor. He's in four of the five covers! I want to persuade Marvel and Lucasfilm to give me an Indiana Jones series. That's my plan. I'm really serious! Do it guys. Do it!
Marvel.com: Finally, Marco, what's it like working with Kieron as collaborator on this one-shot?
Marco Checchetto: Working with Kieron is a real pleasure. The script is written so very well; everything works perfectly and the story flows smoothly and naturally. He has a great attention to detail in the storytelling. I like to work with writers like him or Jason. I love the interactions with all the characters of both series involved, STAR WARS and DOCTOR APHRA. I hope that this synergy with Kieron will be clear throughout the pages of SCREAMING CITADEL and make all the readers happy. We're having a lot of fun on this.
Discover the STAR WARS: THE SCREAMING CITADEL one-shot from Kieron Gillen and Marco Checchetto this May!
The Hype Box
Can't-miss news and updates from across the Marvel Universe!