Comics
Published September 12, 2017
Star Wars Spotlight: Blood Ties
Boba Fett discovers a relative he never expected in STAR WARS: BLOOD TIES!
Each week Star Wars Spotlight combs through the digital archives of Marvel Unlimited to showcase one classic story from that distant galaxy filled with Jedi, Sith, princesses, scoundrels and droids.
If there's one thing we know about the Star Wars Universe, it's that familial relationships can be complicated. The Skywalkers alone could offer a counselor enough material to fill a series of books, but that's just the tip of the iceberg.
Take Jango Fett for instance. As we learned in the Prequels, he made a deal with the Republic so they could use his DNA to make their Clone Army. Part of that exchange involved him getting one whose growth hadn't been accelerated, so he could have a son, Boba.
In the 2010 four issue limited series STAR WARS: BLOOD TIES by Tom Taylor and Chris Scalf, it became clear that this decision came with more complications than most would have assumed.
The series started off with Jango taking a mission to knock off a masked individual for Count Dooku. He took Boba along with him and had the boy help with the mission, but Jango went in for the kill himself. When he did, he realized that his target was one of his own clones! Jango killed him without much thought, but still decided to secretly send the clone's son, Connor Freeman, money.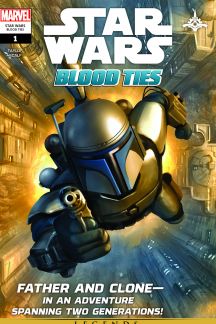 Years later though, the secret came out when Gilean hired Boba Fett to grab Connor for a nasty crime lord named Tayand who Freeman owed money to. Fett showed up just in time to save Connor from a group calling themselves the League of Bountyhunters, but the ensuing battle failed to kill a few of his competitors.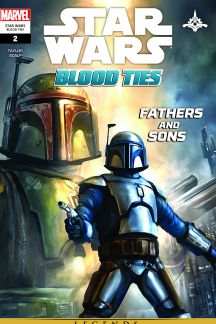 Connor and Boba had some time to talk and try to figure out why Jango sent Connor money, but the family reunion came to a crashing halt when the remaining Leaguers blasted them with their ship, grabbed Connor and seemingly killed Boba.
Of course, Boba Fett's way harder to kill than that, just ask the Sarlacc. The infamous bounty hunter followed Connor's captors to the ice planet Cilare, where Tayand kept his headquarters. Fett literally swooped in to save Connor from the Leaguers, but only to claim the bounty himself, even after Freeman explained that the whole thing was really a mistake.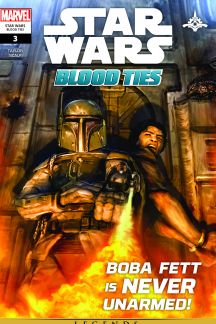 To everyone's surprised, after getting the bounty for Connor, Boba offered to clear his debt to Tayand, but the crime lord wanted blood instead. The surprises continued after this negotiation failed when Connor offered Fett three credits as a bounty to take out Tayand and he accepted!
Fett quickly made good on the bounty, and then ran out of there with Connor and the help of an enraged Rancor. With all their enemies out of the picture and Connor's bounty to Boba paid, they both took what they wanted and went their separate ways without truly knowing their connection to one another.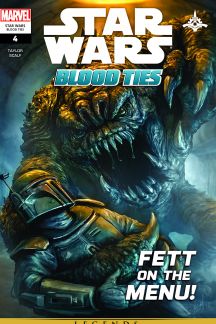 FROM THE JEDI TEMPLE ARCHIVES
If you've ever wondered what made Boba Fett such a renowned figure in the Star Wars Universe, BLOOD TIES goes a long way in showing just a few of the reasons. First off, his dad trained him from a young age to follow in the family business. In fact, the series started off with Jango spraying Boba with the scent of a giant monster's main prey. Leaving the boy with a jet pack, he commanded him to bring back one of the monsters' teeth. When Boba succeeded, Jango explained that he did all this so that the boy would know that he's already faced the scariest thing in the universe and survived, so everything else should pale in comparison.
Next week, C-3PO gets in on the action with STAR WARS: DROIDS – THE PROTOCOL OFFENSIVE, co-written by Anthony Daniels!
The Hype Box
Can't-miss news and updates from across the Marvel Universe!