Comics
Published February 27, 2018
Star Wars Spotlight: Cassian & K-2SO
Duane Swierczynski and Fernando Blanco prime 'Rogue One' with a one-shot!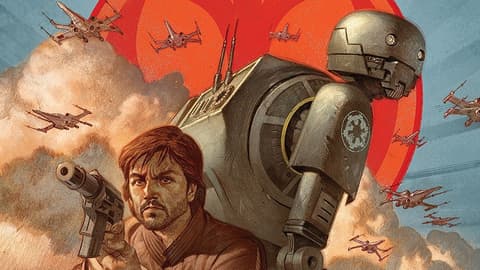 Every week, we comb through the digital archives of Marvel Unlimited to showcase a classic story from a galaxy far, far away. So kick back, pour a tall glass of blue milk, and remember tales of the Light Side, the Dark, and all the scoundrels in between….
When "Rogue One: A Star Wars Story" hit theaters in 2016, audience members found themselves in the company of a group of brave, but flawed, Rebel fighters with the weight of a galactic war on their shoulders. The harrowing story not only introduced us to the likes of Jyn Erso and Cassian Andor, but also the lovably honest droid K-2SO.
While we probably won't be getting any more stories about these characters after the events of the film, that doesn't mean we can't look back at their histories! And that's what writer Duane Swierczynski and artist Fernando Blanco did with the one-shot STAR WARS: ROGUE ONE – CASSIAN & K-2SO SPECIAL!
This particular story actually illustrated how Andor first met his droid pal. They met on a planet called Wecacoe, which was the setting for a Rebel mission lead by Cassius, assisted by twin Rebel spies Kertas and Rismor. The trio stole into an Imperial hangar facility and, using Kertas and Rismor's abilities to look into the guts of a decommissioned Imperial Cruiser, retrieved information to report back to the Rebellion. Things then got a little bit complicated when a group of Stormtroopers arrived alongside an Imperial Security Droid named K-2SO.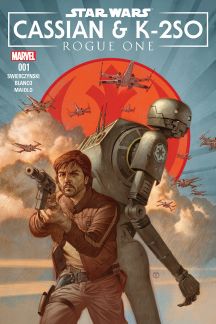 Cassian broke off from his partners to cause a distraction in an effort to get the twins on board their ship, but ran right into Kay-Tuesso. He attempted to find the kill switch, failed, but was saved when Kertas and Rismor managed to turn the droid off. Andor hacked Kaytoo's system, but couldn't flush out all of his Imperial programming. As they formulated their escape, Kay tried arresting Cassian again, forcing the Rebel commander to build a digital wall around his dark processes.
The siblings made their own play to distract the Troopers, but Kertas reminded Andor that Kaytoo actually already held all of the information they needed. With the droid now fully on his side, Andor gave Kaytoo a simple command to find a ship, steal it, and get them off of Wecacoe. The droid obeyed, setting up what has emerged as one of the great relationships in Star Wars history!
From the Jedi Temple Archives
Of course, you could watch "Rogue One" again after reading this lead-in one-shot, but you could also ready the film adaptation on Marvel Unlimited! Jody Houser, Emilio Laiso, Oscar Bazaldua, and Paolo Villanelli crafted a six issue series rooted in the 2016 film. Read up on the adventures of Cassian Andor, Jyn Erso, K-2SO, Chirrut Imwe, Baze Malbus, and the rest as they race through the cosmos in their mission to expose a major flaw in the the Death Star!
Next week, travel back to an even longer time ago in a galaxy far, far away with STAR WARS: TALES OF THE JEDI – THE GOLDEN AGE OF THE SITH!
The Hype Box
Can't-miss news and updates from across the Marvel Universe!