Comics
Published November 28, 2017
Star Wars Spotlight: Chewbacca
The legendary Wookiee helps a young girl save her people from slavery.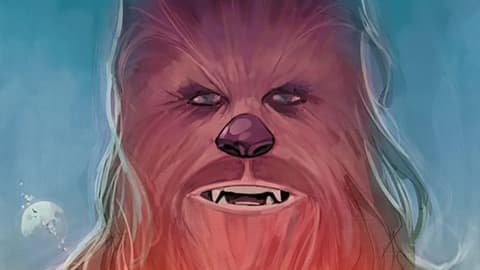 Each week Star Wars Spotlight combs through the digital archives of Marvel Unlimited to showcase one classic story from that distant galaxy filled with Jedi, Sith, princesses, scoundrels and droids.
Certain beings have a tendency to draw specific personality types to them. Call it a trick of the Force or happenstance, but that just seems to be the way of the universe. For Chewbacca, the renowned Wookiee and hero of the Rebellion, dashing heroes with a bad side seem to seek his sturdiness out as a kind of ballast.
In STAR WARS CHEWBACCA, the 2015-2016 five issue limited series by Gerry Duggan and Phil Noto, our favorite Kashyyyk native happened to have landed on a planet called Andelm-IV that needed help. Before even seeing Chewie we met a brave young woman named Zarro and her father Arrax who ran afoul of the local gangster Jaum.
The villain had set up an operation turning locals into slaves and making them mine the Beetle Caverns. Arrax hatched a quick plan to get Zarro out of the mine. Once topside, she eventually allied herself with Chewbacca who had taken to a Sabacc table in order to make enough credits to buy a part to fix his ship.
Zarro tried to convince Chewie to help her planet, but finally agreed after she mentioned that they'd basically been enslaved and no one in the galaxy seemed to care. With some true muscle at her back, Zarro allowed herself to get recaptured. She activated a tracker that told her new partner her location. He struggled with the tight entrance because of his time as a captive years prior, but pushed through to help.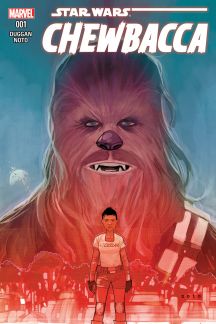 Chewbacca (2015) #1
Published: October 14, 2015
Added to Marvel Unlimited: April 11, 2016
Rating: Rated T
What is Marvel Unlimited?
Their mission succeeded, but Jaum's enforcer Tyvak did try to blow Chewie up, which did not sit well with our furry friend. Having escaped the treacherous mines and gotten the captives to freedom, Chewbacca and Zorra teamed up once again to stop Jaum for good.
They then enlisted a local inventor named Sevox to get droids and explosives to achieve their goal. Loaded up with tools and disguises, Chewie and Zarro made their way into Jaum's hangar where the plan kind of blew up in their faces. A firefight quickly broke out followed by the malfunction of their droid bomb and the capture of the freedom fighters.
Transported up to an Imperial Star Destroyer, Zorra and Chewbacca acted quickly on their feet and convinced the ship's commander that Jaum's true alliance lied with the Rebellion! She even wove the existence of the droid bomb into her story, so when it blew up, the Empire believed her lies!
The duo made it back to Andelm-IV in a stolen TIE Fighter. After a teary goodbye, Chewbacca made his journey back to Kashyyyk where he presented a young Wookiee with the bandoleer of his or her fallen mother or father, a fighter in the war against the Empire. Having achieved his initial goal, Chewbacca returned to the stars with some assistance from the recently arrived Millennium Falcon.
From the Jedi Temple Archives
What would a hoodlum like Jaum want with Andelm Beetles that he'd go so far as to enslave people and make dangerous deals with the Empire? Well, their larvae contained a mineral called dedlanite that could be used to make blasters. With the Imperials on a back foot after losing the first Death Star, they needed to make sure their Stormtroopers and other agents remained well-armed against the growing threat of the Rebellion.
Next week, Mark Schultz and Galen Showman pay a royal visit to Padme in STAR WARS: EPISODE 1 – QUEEN AMIDALA.
The Hype Box
Can't-miss news and updates from across the Marvel Universe!