Comics
Published November 22, 2016
Star Wars Spotlight: Classic Solo Stories
Han and Chewie meet Jabba, Vader battles Hunter, and Leia seeds hope!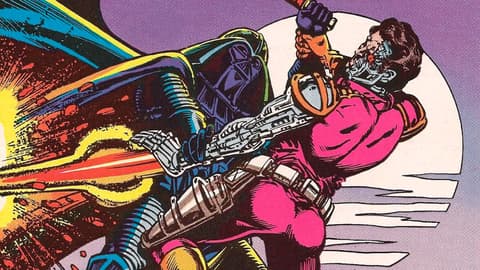 Each week Star Wars Spotlight combs through the digital archives of Marvel Unlimited to showcase one classic story from that distant galaxy filled with Jedi, Sith, princesses, scoundrels and droids.
By its third year, Marvel's original STAR WARS series had built up its own fair share of characters and adventures to rival the 1977 feature film that introduced the world to Han, Chewie, Leia, Luke, and the rest. In 1979, Archie Goodwin and Carmine Infantino took a trio of issues—#28-30 to be exact—and zeroed in on smaller stories to wrap up larger plot points and check back in on characters.
In issue #28, Han and Chewbacca finally face came face to face with Jabba the Hut on a rain-drenched planet called Orleon. As longtime readers will remember, a very different looking version of Jabba appeared in STAR WARS #2 in a scene that was shot for "A New Hope," cut out and later added in to the Special Edition. Before all that, though, he was a name in a script that Howard Chaykin drew in issue #2.
Thanks to some help from a bio-weapon called the Stone Mite, the Millennium Falcon escaped from Jabba's onslaught. Before taking off at light speed, though, they received a distress call from Jabba who said his ship had been overrun with the acid-emitting creatures. Solo, always looking to take advantage of the situation, made the crime boss an offer he couldn't refuse: erase their debt in exchange for a ride home. Not wanting to look too eager, Jabba hung around for a while, but eventually took the deal!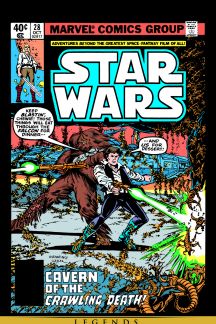 Moving along to issue #29, we returned to the adventures of the cyborg bounty hunter who hated droids known as Valance, who first appeared in STAR WARS #16, but had a change of heart in #27 that made him not want to throw Luke Skywalker and his droid pals to the wolves, otherwise known as the Empire.
Valance, otherwise known as Hunter, even tracked down Rebel deserter Tyler Lucian to stop him from revealing Skywalker's name to Vader as the person responsible for destroying the Death Star. This led to a battle between the two individuals over the ravaged Rubyflame Lake that only one walked away from. Still, Hunter's efforts inspired Lucian to protect the name by taking a flying leap in the lake himself.
Finally, issue #30 focused on a Princess Leia solo mission to the factory planet of Metalorn, which the Empire brought its enslaved workforce to. Leia snuck and blasted her way into the place in order to chat to fellow Alderaanian Professor Arn Horada about the Rebellion, which the Empire had completely excised from factory talk. Though Horada proved less than willing, Leia's resilience and power in the face of the villains—including Baron Tagge from STAR WARS #25 and #26—proved an inspiration to some of the others.
Leia put it best herself at the very end of the issue: "He and others there needed to be shown there was a Rebellion…to see that its leaders survive and continue the fight…to give Metalorn what it's been lacking before—hope."
From the Jedi Temple Archives
Around this same time in 1979, Chris Claremont, Mike Vosburg, and Steve Leialoha joined forces to produce STAR WARS ANNUAL #1. Set around the time of the above issues, this story featured Han, Chew, Leia, Luke, and the droids all traveling together in the Millennium Falcon. While stopping at a bazaar on Tirahnn, Luke and Leia ran afoul of the Majestrix of Skye who also happened to have beef with Han Solo and his one-time partner Katya M'Buele. After a tragic attack, Solo flew the Falcon to Skye to settle his old score with the Majestrix. In the ensuing battle, Luke and Leia donned S.H.I.E.L.D.-esque flight suits that allowed the former to participate in a mid-air lightsaber battle and the latter to storm an incredibly high castle!
Next time, Jason Aaron, Simone Bianchi and Stuart Immonen continue fleshing out the universe in STAR WARS #7-12.
The Hype Box
Can't-miss news and updates from across the Marvel Universe!