Comics
Published September 19, 2017
Star Wars Spotlight: Droids – The Protocol Offensive
Anthony Daniels co-writes C-3PO's 1997 adventure!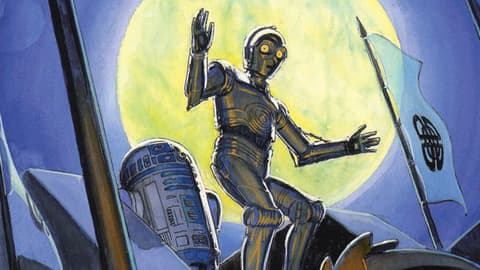 Each week Star Wars Spotlight combs through the digital archives of Marvel Unlimited to showcase one classic story from that distant galaxy filled with Jedi, Sith, princesses, scoundrels and droids.
Many say that the best way to write a character is to really get inside of them and figure out what makes them tick. So, who better to work on a story focusing on everyone's favorite protocol droid, C-3PO, than his big screen portrayer Anthony Daniels?! He, Ryder Windham and Brian Daley wrote a one-shot called STAR WARS DROIDS: THE PROTOCOL OFFENSIVE with art by Igor Kordey that debuted in 1997.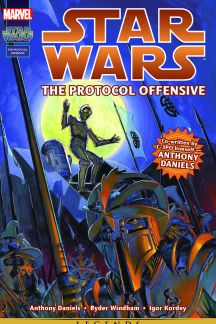 Set a few years before the events of "A New Hope," this tale starred Threepio and his longtime pal R2-D2 during a time when they represented the Tion Hegemony in their efforts to set up a trade route with Tahlboor, home to the warring Hobors and Troobs. Said negotiations took place on a space station hovering above the planet.
The two droids proved themselves to their new owners after Artoo fixed his boss's datapad and Threepio revealed that the existing interpreter had not been strictly truthful. After everyone agreed to allow ol' Goldenrod to act as translator, they took a recess which gave readers a look at the extensive ship, including its huge bar and casino.
Once there, General Krax of the Troobs attempted to buy Threepio, a request that Tion representative Jake Harthan denied. However, Madam Krax won the droid in a game of Sabacc played against Harthan's father! This move lead to even more mistrust on the side of the Hobors whose Chief Nimondro saw this exchange of property as potentially detrimental to the process of making a fair deal. 
To prove their power, the head of the Hobors said the planet spoke through him and then called up a huge beam of light that shot out from a mountain and nearly blinded everyone on the ship floating in orbit. Having demonstrated his powers, Nimondro then demanded that they reconvene the talks on planet and also desired to purchase Artoo because he'd help them win at space slots!
That night, the two groups went to war after it seemed like Nimondro's daughter Larka killed Krax's son. Worse yet for Threepio? It sure looked like Artoo helped facilitate the young woman's escape!
As Jake and Threepio tried to figure out the best way to get off planet and avoid this war, Artoo tried keeping the supposed murderess alive in a cave with a monster. After receiving the coordinates from his partner, Threepio stole a speeder bike of sorts and took off to save his friend! From there, Threepio learned some very interesting truths about the Hobors, including the secret behind their supposed power. Nimondro also learned something, that his daughter loved the Krax boy and would never harm him. 
In an attempt to stop the impending war, Threepio made a transmission to everyone explaining that Larka had not killed her lover, but instead it had been committed by Jake Harthan himself so he could use the weapon hidden in the mountain to take over his own planet.
In the morning, with Jake no longer a threat, the two groups started making inroads to peace, but Larka planned to leave the planet with her new droid friends.
From the Jedi Temple Archives
STAR WARS DROIDS: THE PROTOCOL OFFENSIVE marked the one and only time Anthony Daniels wrote a Star Wars comic, so far. As Ryder Windham noted in the book's Afterword, he came into contact with the actor while working on various DROIDS projects. He also came to know Brian Daley who had not only written the Star Wars radio adaptations, but also Han Solo-starring novels. He worked with Windham to come up with the story which Daniels also had input in. The idea would be for Daley to write the script with Artoo's words and then Daniels would fill out Threepio's lines. Daley wrote up a rough outline, but then had to work on the radion version of "Return of the Jedi," which he completed just before passing away in 1996. Windham eventually came back to the Star Wars fold to help finish the story which came out in 1997.
Before "A New Hope," Princess Leia goes undercover as seen in the second arc of STAR WARS: EMPIRE.
The Hype Box
Can't-miss news and updates from across the Marvel Universe!