Comics
Published February 21, 2018
Star Wars Spotlight: End of Games
Kieron Gillen and Salvador Larroca close out their Darth Vader run!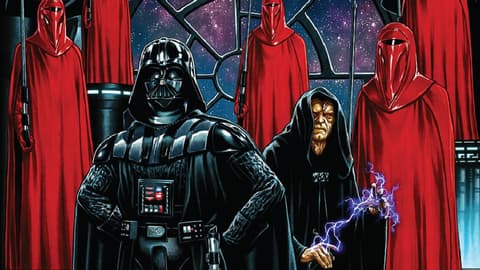 Every week, we comb through the digital archives of Marvel Unlimited to showcase a classic story from a galaxy far, far away. So kick back, pour a tall glass of blue milk, and remember tales of the Light Side, the Dark, and all the scoundrels in between….
Writer Kieron Gillen and artist Salvador Larroca built something incredible with the first volume of DARTH VADER. Not only did they unearth new facets of one of the most notable characters in pop culture, they also expanded the universe with a variety of new and interesting characters. Finishing up their run with a final arc in DARTH VADER #20–#25, Gillen and Larroca answered some lingering questions, and settled a few scores.
Accompanying the Emperor on a ship, Darth Vader set out to track down a man called Cylo, who was a scientist with an army of highly technological soldiers. Palpatine wanted him dead and Vader fully agreed. On his way, Vader managed to uncover his nemesis Doctor Aphra's location. With this information in mind, he ordered Triple-Zero and Bee Tee to travel to the Cosmatanic Steppes to bring her back dead or alive.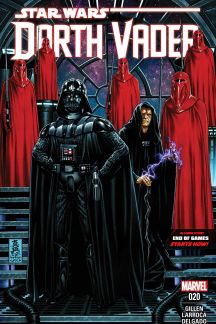 The droids found Aphra and used their muscle—the Wookiee named Black Krrsantan and a troupe of commando droids—to seize the archaeologist and take her back to Vader's ship. Upon arriving, though, Triple-Zero and Bee Tee had fulfilled the primary command from Vader, which meant that Aphra could give them another command: get her out of there.
After the Dark Lord of the Sith journeyed to the Outer Rim to deal with Cylo, he faced off against Tulon Voidgazer, her Rancor, and her various machines before emerging victorious. Then, following an attack, Cylo attempted to take control of Vader's ship as Aphra rushed in to defend the Emperor from Cylo's soldiers. Vader pursued his foe, but Cylo managed to freeze the Sith Lord by shutting down his mechanical parts. After an incredible look inside the mind of the struggling Anakin Skywalker, Vader reasserted control of his body and destroyed his enemy.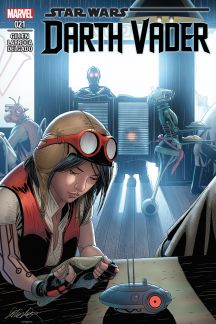 Once back on his ship, Vader disagreed with some of the information that Aphra had managed to share with the Emperor, and forced her out of an airlock. The Emperor then gave Darth Vader authority over the confrontational General Tagge once again (whom Vader would eventually find to have a disturbing lack of faith). With this episode behind him, Vader could once again focus on tracking down the young Rebel Luke Skywalker.
But that's not all! The storyline concluded with Triple-Zero, Bee Tee, and Black Krrsantan rescuing Aphra from space, allowing her adventures to continue.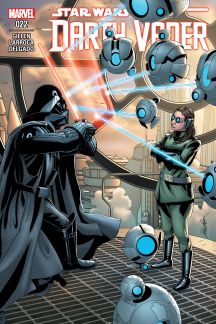 From the Jedi Temple Archives
During a conversation between Emperor Palpatine and Darth Vader, the Master explained an interesting thought to change the longstanding tradition of the Sith. After explaining the origins of the single master, single apprentice relationship, Palpatine said that he saw himself as a seminal figure in Sith history who would restore the group to "their rightful place in the galaxy."
In next week's Star Wars Spotlight, we'll read through the "Rogue One: A Star Wars Story" lead-in one-shot STAR WARS: ROGUE ONE – CASSIAN & K-2SO by Duane Swierczynski and Fernando Blanco!
The Hype Box
Can't-miss news and updates from across the Marvel Universe!