Comics
Published October 31, 2017
Star Wars Spotlight: Han Solo at Stars' End
Han Solo and Chewbacca find themselves roped into fighting the good fight in STARS' END!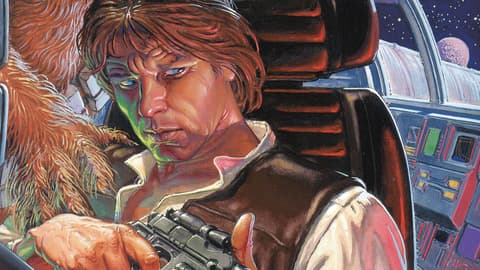 Each week Star Wars Spotlight combs through the digital archives of Marvel Unlimited to showcase one classic story from that distant galaxy filled with Jedi, Sith, princesses, scoundrels and droids.
In CLASSIC STAR WARS: HAN SOLO AT STARS' END, Archie Goodwin and Alfredo Alcala adapted Brian Daley's 1979 kick-off to the Han Solo Adventures series of novels. Set somewhere between five years and a decade before "A New Hope" in the Legends Continuity, this story found Han and Chewbacca appealing to an old friend named Jessa for help. Instead, Jessa blackmailed them into working directly against the Empire in an effort to save her father.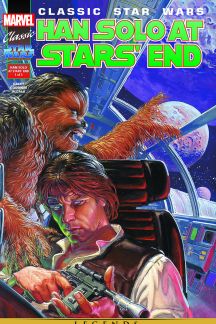 With an enemy ship right behind them and knowing that the Millennium Falcon could never be traced like that, Solo started thinking that Jessa and her Rebel pals might have a traitor in their midst.
Swept up in the action right away, Solo then helped Jessa and her people get a pair of robots – Bollux and Blue Max – onto one of the Corporate ships in an effort to get intel on Jessa's father's location.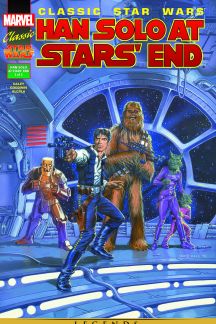 The op seemed to go well until the enemy got the drop on them, further bolstering Solo's conceit that a traitor existed in their small crew. Though he and most of the others got away, Chewie got captured!
Setting out to save his friend and Jessa's fathe, Solo used a mix of smuggler cunning and the deep-down heroics we'd come to see on the big screen to suss out and deal with the traitor. From there, he flew to Stars' End: Mytus VII, where the stolen beings had been taken.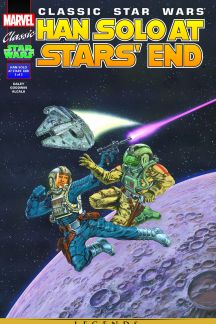 At Stars' End, Solo and his crew tried posing as entertainers. Not very good at putting on a show, they started raising a few eyebrows as Solo and Blue Max worked behind the scenes to find their captured friends, save Bollux from a superior fighting machine in a gladiatorial arena and get out of there.
Part of his wild plan even included launching the tower they all found themselves up into near orbit where the Millennium Falcon waited for them. Han, Chewie and the former prisoners got on the Falcon when it docked with the tower after Han put on a spacesuit and blasted at some of the attackers!
From the Jedi Temple Archives
As mentioned above HAN SOLO AT STARS' END takes its story from a Brian Daley novel, but it was also originally a comic strip! Goodwin and Alcala's work first appeared in the L.A. Times. Later on, the strips were combined into a three-issue series and presented in the format you see today!
Next week we head back to the future to check in on Cade Skywalker in STAR WARS: LEGACY!
The Hype Box
Can't-miss news and updates from across the Marvel Universe!