Comics
Published December 11, 2017
Star Wars Spotlight: Heir to the Empire
Luke, Leia, and Han continue making the galaxy safe five years later!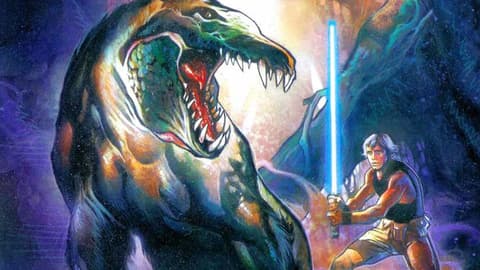 Each week Star Wars Spotlight combs through the digital archives of Marvel Unlimited to showcase one classic story from that distant galaxy filled with Jedi, Sith, princesses, scoundrels and droids.
As we all know, the Rebel Alliance didn't blow up the second Death Star and walk off into the sunset with the galaxy instantly eschewing the Empire and its ideas. Eventually, Luke Skywalker, Leia Organa, and Han Solo helped bring about a new era of peace across the cosmos, but not instantly. In 1991, author Timothy Zahn published the first entry in the Thrawn trilogy of novels that picked up five years after the end of "Return of the Jedi." STAR WARS: HEIR TO THE EMPIRE came out as a six-issue comic adaptation by Mike Baron, Olivier Vatine, and Fred Blanchard in 1995.
As the story began, Luke looked to rekindle the Jedi Order while the now-married Han and Leia expected twins. Still, the Alliance now had other problems, like trying to find people who would run their shipping lines. Even Han Solo had trouble finding smugglers who would go straight! At the same time, the Empire lived on through a man named Grand Admiral Thrawn. He studied a culture's artwork to help understand its people in order to both manipulate them and predict their movements. He also teamed up with an old Jedi by the name of Jorrus C'baoth who wanted to meet Luke and Leia, regardless of their own feelings on the subject.
Meanwhile, a smuggler by the name of Captain Karrde also played into the action heavily as he worked with Luke Skywalker's future wife Mara Jade, found himself sought by Solo to establish shipping lanes, and also sold Force-blocking creatures called Ysalamiri to Thrawn and his people. As it happened, most of the major players in the story wound up on Myrkr, Karrde's home base planet, meaning he had to deal with a visiting Thrawn, a captive Skywalker, and an intrusive Han along with Lando Calrissian.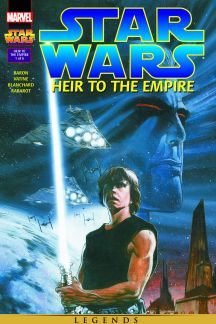 As these things go, Luke escaped, but wound up having to work with Jade while Han and Lando eventually discovered that Karrde had held their friends captive, which did not sit well with them. While all this transpired, Leia hid out on Kashyyyk with Chewbacca because a race of aliens called the Noghri continued to hunt her down across the vastness of space at the behest of Thrawn. Originally, they served The Emperor, but with his passing sought other employment.
At the end of the day, Luke and Han reunited. They soon made their way off planet along with Lando and stumbled into a battle that Thrawn had orchestrated. Thanks to their friendship with Lando, though, they all figured out a way to stop the assault and flew off in victory, preparing for the next battle with this dangerous new enemy in the process.
From the Jedi Temple Archives
Though this particular story now finds itself categorized in the Legends universe, that doesn't mean Grand Admiral Thrawn's been left out in the cold. Instead, he's been re-integrated into the current, official canon, first in episodes of "Star Wars Rebels" and then in a book published earlier this year called "Thrawn" written by none other than Timothy Zahn! A sequel called "Thrawn: Alliances" will debut next year!
The Hype Box
Can't-miss news and updates from across the Marvel Universe!