Comics
Published December 26, 2017
Star Wars Spotlight: Jedi Council – Acts of War
Mace Windu leads the Jedi against a marauding alien race!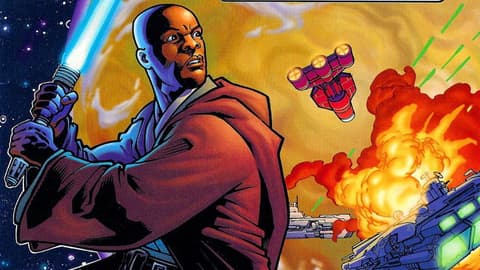 Each week Star Wars Spotlight combs through the digital archives of Marvel Unlimited to showcase one classic story from that distant galaxy filled with Jedi, Sith, princesses, scoundrels, and droids.
In 1999's "Star Wars: Episode I – The Phantom Menace," fans got their first look at the Jedi Council—a select group of Jedi Masters that strategized and gave directives to the Jedi Order at large. In the film, this committee featured the familiar Master Yoda as well as a group of new faces, including Masters Mace Windu, Plo Koon, and Ki-Adi-Mundi.
These characters, from their earliest appearances, captured fans' imaginations—including those of writer Randy Stradley and artist Davidé Fabbri, who created the four issue limited series STAR WARS: JEDI COUNCIL – ACTS OF WAR.
This story, set before the events of "The Phantom Menace," opened with a distress call about a ravaging alien race called the Yinchorri. Mace Windu explained that the Yinchorri lived by the credo that might makes right, meaning they thought they should be able to keep anything they could wrest control of—and that included a mining base that a two Jedi had been assigned to guard. The attack left both dead and Windu bearing the guilt. In response, the Jedi Master gathered a group of Jedi to go put things right.
As Windu crafted a battle plan against the Yinchorri, the action shifted to Darth Sidious' chambers, where he discussed his own schemes with Darth Maul. The Sith not only helped the Yinchorri with their raids, but also sought to establish a plan to attack the Jedi Temple alongside a warlord named Vilmarh Grahrk.
At first, Mace Windu's team struggled to locate the alien race across the galaxy, though Jedi Council member Yaddle soon realized something important about the system they searched: it contained a planet that appeared uninhabitable, but actually featured an underground city. The Jedi met up with the Senate Navy to run an attack on this planet, putting an end to the Yinchorri problem, though the more sinister schemes against the Jedi remained obscure.
From the Jedi Temple Archives
The Yinchorri proved such a problem for the Jedi because they were equipped with Cortosis shields. As Windu explained in issue #1, this rare ore disrupted a lightsaber's power—the sword would shut down and need to restart, leaving its wielder in great danger.
The Hype Box
Can't-miss news and updates from across the Marvel Universe!