Comics
Published September 5, 2017
Star Wars Spotlight: Rebel Jail
Jason Aaron and Leinil Yu pit Leia and some unlikely allies against a jailbreak!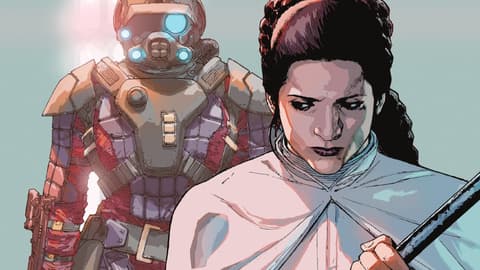 Each week Star Wars Spotlight combs through the digital archives of Marvel Unlimited to showcase one classic story from that distant galaxy filled with Jedi, Sith, princesses, scoundrels and droids.
When last we left the Jason Aaron-penned STAR WARS series, it had crossed over with DARTH VADER in a story called VADER DOWN that left his right hand woman Dr. Aphra in the hands of the enemy.
In STAR WARS #16–19 – drawn by Leinil Yu – Leia Organa took Aphra to a top secret Rebel prison called Sunspot because of its closeness to a star. Accompanied by Sana Starros, Leia found herself constantly explaining why they didn't just kill all of their enemies when a mysterious masked sentient staged a riot on the prison!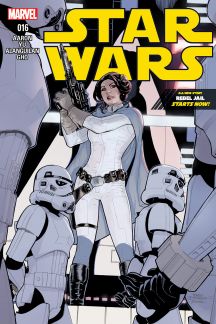 Meanwhile, Han continued getting Luke and himself in trouble as he failed to correctly cheat while playing Sabacc and lost all of the Rebellion's supply money in the process. This lead them to a smuggling job revolving around herding Nerfs before they heard Leia's distress call and made way for Sunspot.
Back at the prison itself, the masked attacker unleashed some of the worst criminals in the galaxy to see whether Leia would kill them or not. Realizing they needed more help, Leia freed Dr. Aphra to back her and Sana, which also revealed that the two women had a history together that didn't end well.
Han and Luke eventually showed up to help, but got captured almost immediately. Finally standing in front of Leia, Sana and Aphra, the masked man revealed himself as Eneb Ray, a spy first seen in STAR WARS ANNUAL #1 (see below).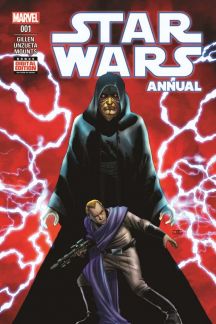 Thanks to some planning with Artoo, Leia used an Ion Pulse to incapacitate Eneb as well as the whole prison itself. As the station started falling towards the sun, Ray raged, wondering if Leia truly had what it would take to make the hard decisions, the kind that would swiftly topple the Empire and pave way for a new world.
Leia proved her strength as a leader by correctly evaluating the situation and developing a plan that resulted in the least amount of loss. She also allowed Dr. Aphra to escape, which would not sit well with Ray who now counted himself among the Rebel's prisoners, but with a key-looking shape up his sleeve, or more accurately, in his tooth.
From the Jedi Temple Archives
For the full story on what happened to former Rebel spy Eneb Ray, check out STAR WARS ANNUAL #1 by Kieron Gillen and Angel Unzueta. Deep undercover on Coruscant as Tharius Demo, Ray got new orders from Leia when a group of anti-Imperial senators came up for execution. After breaking into the prison and finding the politicians, he heard that the Emperor himself would see them before their murders. He came up with a quick plan involving other Coruscant spies to finally kill Palpatine, but the effort proved fruitless as the former senator showed his own immense power, shocking Ray with Force Lightning in the process, which presumably gave him the look he sported in Rebel Jail.
Come back next week for STAR WARS: BLOOD TIES, a father and son story about Boba and Jango Fett!
The Hype Box
Can't-miss news and updates from across the Marvel Universe!