Comics
Published July 11, 2017
Star Wars Spotlight: The Empire Strikes Back
Al Williamson and Archie Goodwin present their version of "The Empire Strikes Back" in comic form!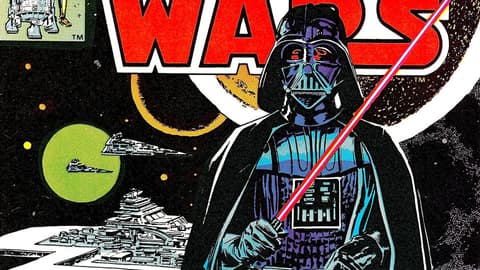 Each week Star Wars Spotlight combs through the digital archives of Marvel Unlimited to showcase one classic story from that distant galaxy filled with Jedi, Sith, princesses, scoundrels and droids.
After waiting three long years, fans finally got to see the next installment of Star Wars on the big screen! "The Empire Strikes Back" debuted on June 20, 1980 followed a few days later by Al Williamson and Archie Goodwin's serialized adaptation on comic stands a few days later (a slightly different paperback version bowed even before that).
Now, we've all seen the movie more times than we can count and could recite it to varying degrees of success, but back then, one of the best ways to re-live the action, adventure and drama seen on the big screen came in the form of comic adaptations which offered slightly different takes, usually because of the huge lead time needed for comics (see below for a few examples).
The first two issues focused on the Rebels' adventures on Hoth, starting with Luke's fateful meeting with the Wampa and Han Solo saving him from hypothermia. The action then ramped up when the Empire discovered the base and attacked with the might of AT-ATs. 
Luke and company fought long enough to get most of their people off planet and then, in the third issue, he and Artoo split off as Han, Leia, Chewbacca and C-3PO flew off in the Millennium Falcon. 
As most of you will remember, Luke and his astromech pal flew to Dagobah where the former trained with Yoda in the ways of the Jedi, increasing his power with each exercise. Meanwhile, the Falcon found itself flying through a series of challenges all its own from ship-eating asteroids to the ever-present Empire.
Han, Leia, Chewie and Threepio, of course, made their way to Cloud City, where they met Lando Calrissian, a friend of Solo's from the old days. Though they seemed welcome guests at first, we all know what happened, which helmeted villains showed up and who got frozen in metal. 
Luke flew in in time to battle Darth Vader while his friends, now aided by Lando, figured out an escape route. They, in turn, fly the Falcon up to save Luke after Darth Vader revealed himself to be Skywalker's father and he nearly fell out the bottom of Cloud City. 
Film-goers had to wait another three years to find out what happened with Han, but the adventures continued every month in the pages of STAR WARS!
From the Jedi Temple Archives
In the back of STAR WARS #41, the book's longtime writer Archie Goodwin recounted how he got working on this adaptation. Living many a fan's dream, he headed out to California to spend a full week with the Lucasfilm crew to get inside looks at "Empire." Eventually he returned home with about 750 requested photos and a copy of the script written by Lawrence Kasdan and Leigh Brackett. If you picked up the magazine adaptation version, you might remember a very different looking version of Yoda. His scenes hadn't been finished yet when they started working on the comic, so Williamson based his take on Ralph McQuarrie's character designs. They were able to change those pages to more accurately reflect the film version by the time the story made its way into monthly comics.
If you spent part of "Star Wars: The Force Awakens" wondering where ol' Goldenrod got that red arm, find out next week in STAR WARS: C-3PO by James Robinson and Tony Harris!
The Hype Box
Can't-miss news and updates from across the Marvel Universe!