Comics
Published October 24, 2017
Star Wars: The Ashes of Jedha
Kieron Gillen sums up what to expect in his initial story arc!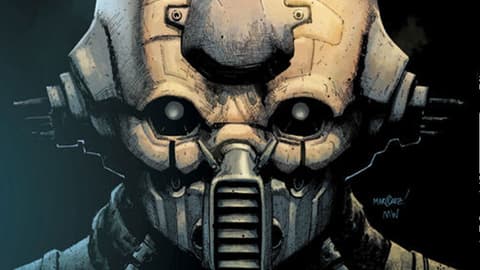 At the end of outgoing STAR WARS writer Jason Aaron's run—which concluded with issue #37—Luke, Leia, and Han come to a rebel outpost recently burned to the ground leaving no survivors and come to one conclusion: it's war. On November 22, new series writer Kieron Gillen, alongside artist Salvador Larroca, continue their new story arc with STAR WARS #39. This tale makes a bit of a time jump and we open to find our heroes fighting against the Empire among the wasteland remains of Jedha.
"If Jason's run is kind of about being after 'New Hope,' mines more about being before ['Empire Strikes Back']," explains Gillen. "This is about the rise and fall of the rebellion. If you look at the movies it's a really good time for the rebellion at the end of 'New Hope' and it's a really quite bad time for them at the start of 'Empire'
"In other words the Empire struck back before 'The Empire Strikes Back' starts."
The Empire has destroyed Jedha, turning it into a post apocalyptic hellhole, but they're not done. Instead of sending humanitarian aid to those still living on the unstable land, their forces attempt to suck every last usable resource from the planet while it's still holding together. Luke, Leia and Han come to Jedha to make contact with the Partisans—a resistance group of individuals inspired by, or survivors of, Saw Gerrera's forces—who attempt to prevent the Empire from leeching anything from this planet they might find beneficial to their cause by most any means necessary.
"I quite like just dropping some people in a cave, putting a gun to one of their heads and seeing what they do, you know what I mean, in that kind of how do Luke, Leia and Han talk their way out of this situation," posits Gillen. "Because the Partisans are really mean you know, they are from a more ethically troubled place than Luke Skywalker and half the fun in this arc is seeing someone who is a pure innocent snowflake like Luke—to some degree—deal with these people who have a very different approach to the nature of rebellion."
This issue will see Luke, the slightly damaged snowflake, on a journey that brings him face to face with the results of some real atrocities committed by the Empire. From these encounters, his initial impression of the unnecessarily harsh ways of the Partisans begins to change, realizing that they have a reason for why they do things the way they do, notes Gillen.
On top of this we have Luke's personal struggle. "Jedha was one of the most spiritual places in the universe," Gillen reveaks, "This is a place of enormous Force-worshiping temples, this is a place where pilgrims went and literally all that ancient knowledge Luke really wants to know is now a big hole in the ground. It's in incredible multiple mile across metaphor for how Luke feels his future is in terms of him being a Jedi knight. He wants it so desperately but its just rubble, not just rubble, it's like an enormous hell hole cut into the planet."
But while this story definitely deals with some darker issues, Gillen assures us we can bank on a fair few of one-liners and some pretty cool new ways to use that beast of a weapon we fondly call a lightsaber. Not to mention Luke awkwardly apologizing to the natives as he cuts into their homes. Come on, Luke, they have enough problems to deal with—like the lack of breathable air!
Catch all rebellious, lightsaber wielding action on November 22 with Kieron Gillen and Salvador Larroca in STAR WARS #39!
The Hype Box
Can't-miss news and updates from across the Marvel Universe!