Comics
Published May 22, 2019
Star Wars: The Unexpected Story of the Wrong Jabba the Hutt
Revisit 1977's amazingly anomalous 'Star Wars' #2 ahead of next week's jaunty new Jabba ish!
Cantina Comlink is your weekly smuggler's run spotlighting Star Wars comics as only Marvel can make 'em!
That infamous crimelord space slug we all know and love called Jabba the Hutt finally gets his due from Marvel in this week's all-new STAR WARS: AGE OF REBELLION – JABBA THE HUTT #1!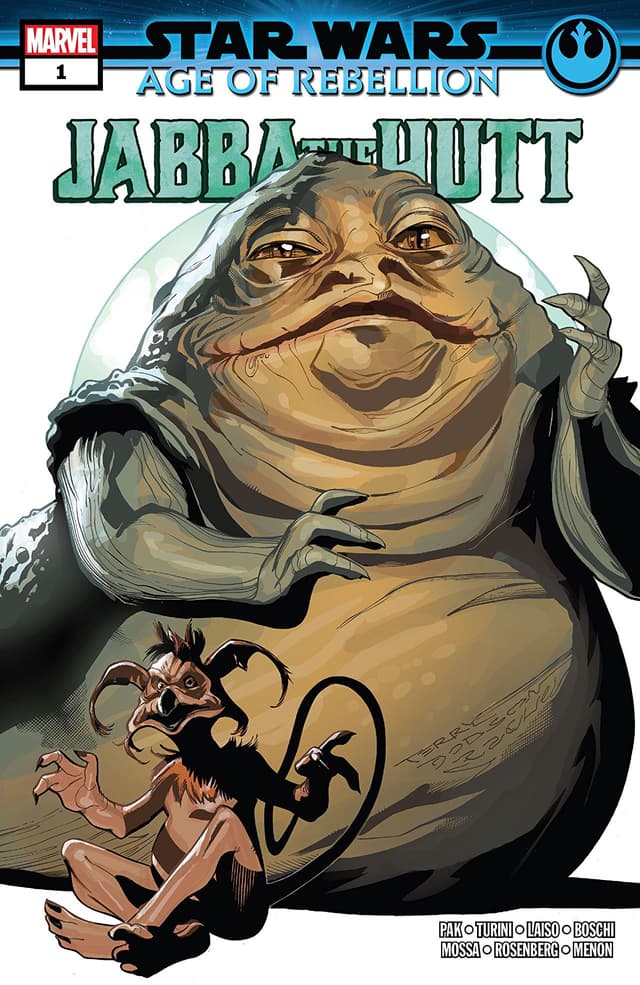 Why do we feel he's owed something from the humble House of Ideas? Well, there's something funny about that, so pull up a Dejarik table and kick your boots up for the tale of the other Jabba…
We'll set the stage for you... Back in 1977, Marvel Comics hurriedly prepped the official comic book adaptation of George Lucas' upcoming space saga, Star Wars, but as writer Roy Thomas and artist Howard Chaykin looked over the material for issue #2 of the six-part series, they saw something missing in their information on the film—namely, they had no idea what a character named "Jabba" looked like. Nobody really did.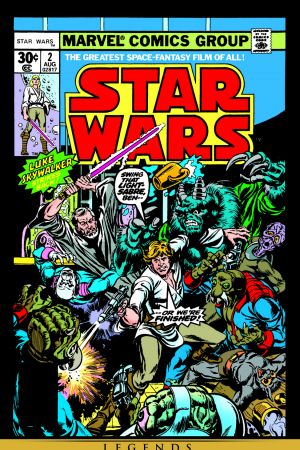 The character played an important role in Han Solo's backstory, being the gangster who held a debt over the smuggler's head, and though Lucas had filmed a sequence with Jabba that he intended to adjust later with special effects, he couldn't provide Marvel with any sketches or designs for what he'd ultimately envision. Roy Thomas couldn't wait for any forthcoming look for Jabba—deadlines and all—so he and Chaykin simply did their best and came up with something on their own for STAR WARS #2.
Thus, "Jabba the Hut" was born.
Yes, that's the way it was spelled in the issue (whether a Marvel mistake or the Star Wars gang still playing with the name, the details are lost in the mists of time), but what's important is what Marvel's "Jabba" looked like on the page…and it ain't nuthin' like the big slug we all met in Return of the Jedi six years later!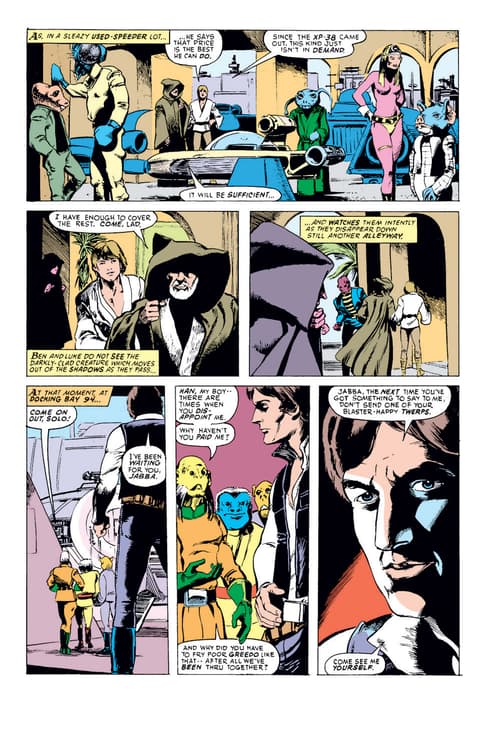 The Other Jabba walked into the scene on two legs—a clothed bipedal alien with bright yellow skin, a long walrus-ape face, glassy round eyes, and long white whiskers. Oh, he acted just like the real Jabba, but his appearance couldn't have been further from the later-revealed truth.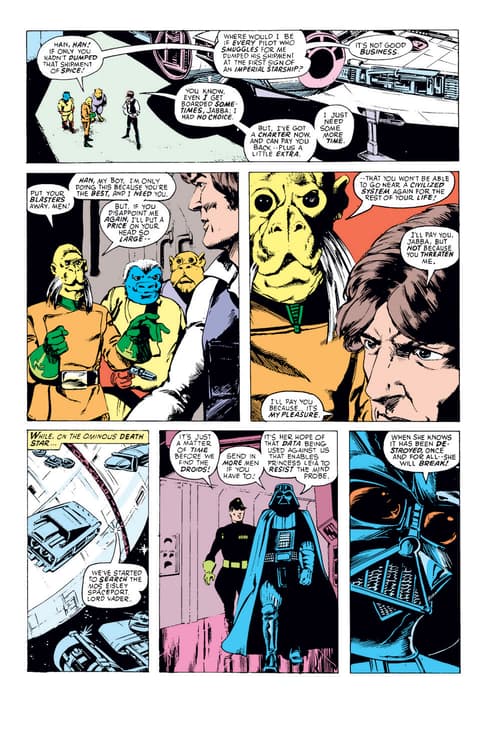 And the extra bit of fun about it is that he turned up two more times!
In 1979's STAR WARS #28, "Jabba" blockaded Han and Chewie on the rainy planet Orleon to end Solo's career once and for all, but a swarm of pesky stone mites killed his crew and marooned him in orbit around the planet. Thankfully for him, Han offered safe haven on the Millennium Falcon for the very small price of clearing any and all debts…and throwing in a bonus for him and the Wookiee.
Then, in 1980's STAR WARS #37, right before the much-anticipated Empire Strikes Back adaptation, "Jabba" returned with renewed anger for Han—the smuggler had previously destroyed an investment of "The Hut"—and a new bounty appeared over Solo's head. It was a quick remedy by the Marvel crew to explain why in the new film Solo still worried over the debt he owed Jabba though he'd allegedly taken care of it back in STAR WARS #28!
Sadly, "Jabba the Hut" never made a third return engagement with Marvel, though he needn't feel too bad about it, as his corpulent doppelganger's only just now getting his very own one-shot in the Mighty Modern Marvel Age of Star Wars. Time for a celebration on the Sail Barge! 
Channel the Force with STAR WARS: AGE OF REBELLION – JABBA THE HUTT #1 at your local comic shop today!
The Hype Box
Can't-miss news and updates from across the Marvel Universe!