Comics
Published February 12, 2018
Star Wars: Thrawn – Say Hello to the Bad Guy
Jody Houser reintroduces us to one of the universe's most notorious villains!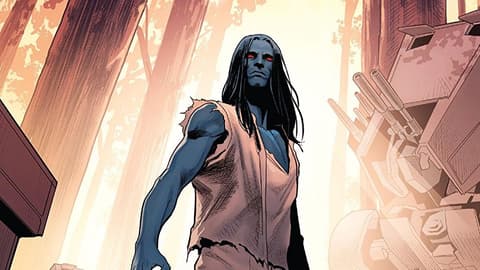 There can be a fine line between hatred and respect. And while the notorious Grand Admiral Thrawn is one of the Empire's most ruthless commanders, he's also one of the most brilliant.
Star Wars fans know the character from Timothy Zahn's "Thrawn" novels as well as his emergence as a major player on the "Star Wars: Rebels" TV show; now, witness the Grand Admiral's rise to power in comic book form! This week, on February 14, writer Jody Houser and artist Luke Ross begin their adaptation of the Zahn novels with the first of a six issue limited series: STAR WARS: THRAWN #1!
We caught up with Jody to talk about telling Thrawn's story in comics.
Marvel.com: How did this limited series come about?

Jody Houser: [Editor] Heather Antos got in touch with me about adapting Thrawn into a comic after I'd wrapped up adapting "Rogue One: A Star Wars Story" for Marvel. She was my editor on that project, so she knew about my love of Star Wars and Thrawn, more specifically. As a fan of the original Timothy Zahn trilogy that really kicked off the Star Wars Expanded Universe, I was very excited.
Marvel.com: After adapting a hugely popular Star Wars film into comic book form, what was the process like for doing the same for Timothy Zahn's novel? Is it a different challenge to tackle a character that's been so beloved for so long?
Jody Houser: The main difference is really the medium that I'm pulling from. Film tends to hew a little closer to comics than prose, as the two are very visual-focused. I also have more experience adapting from the screen (I did work on MAX RIDE, also for Marvel, but that was a much looser adaptation). Working from prose is a unique challenge.
Marvel.com: How much room do you have to deviate from and build upon the source material?
Jody Houser: Considering the depth of the novel and limited number of pages in a six issue limited series, it's really more about figuring out how best to streamline the story to fit the new medium.
Marvel.com: Is it more thrilling to write a villain as your protagonist after working with the rebel heroes of "Rogue One"?
Jody Houser: The interesting thing is that Thrawn is much less of a villain in this novel than in any of his previous appearances. He's a brilliant and collected tactician who is faced with bigotry and ego that makes little logical sense to him. Probably the most thrilling part is getting to work with a character I've been a fan of since I was a kid.
Marvel.com: What's it been like collaborating with artist Luke Ross?
Jody Houser: I've actually worked with both Luke Ross and [colorist] Nolan Woodard (separately), earlier on in my comic career, so it's wonderful to be reunited with them. In particular, there's a lot of design work on Luke's end, as many of the characters haven't appeared outside of prose. It's really fun seeing this slice of Star Wars take shape. Togorians are back! Luke and Nolan are a fantastic team, and the book really looks amazing.
Marvel.com: What is it about Thrawn that you think appeals to fans so much?
Jody Houser: Thrawn stands apart from the other Star Wars villains (and most other villains in general) because he doesn't act for his own benefit. He's smart, and his plans are always fascinating and satisfying to follow. I've described him as what happens when a Ravenclaw goes bad. And it's refreshing to read about an incredibly competent character, even when they're on the wrong side.
Catch the beginning of this thrilling adaptation in STAR WARS: THRAWN #1, by writer Jody Houser and artist Luke Ross, on February 14!
The Hype Box
Can't-miss news and updates from across the Marvel Universe!