Comics
Published March 12, 2021
Star Wars Writer Cavan Scott on the High Republic, Classic Comics, and the Force
Read an interview with the scribe behind 'Star Wars: The High Republic,' then look inside issue #4!
The galaxy is at peace, ruled by the glorious REPUBLIC and protected by the noble and wise JEDI KNIGHTS.
As a symbol of all that is good, the Republic is about to launch STARLIGHT BEACON into the far reaches of the Outer Rim. This new space station will serve as a ray of hope for all to see.
But just as a magnificent renaissance spreads throughout the Republic, so does a frightening new adversary. Now the guardians of peace and justice must face a threat to themselves, the galaxy and the Force itself....
Complete with four-dot ellipsis, this is the opening crawl-esque introduction to STAR WARS: THE HIGH REPUBLIC #1. It assimilates readers to the time and culture of the thrilling High Republic era, centuries before the Skywalker Saga, during the golden age of the Jedi. Now, arriving on April 7 is STAR WARS: THE HIGH REPUBLIC #4, and the aforementioned Starlight Beacon is under attack from an insidious foe.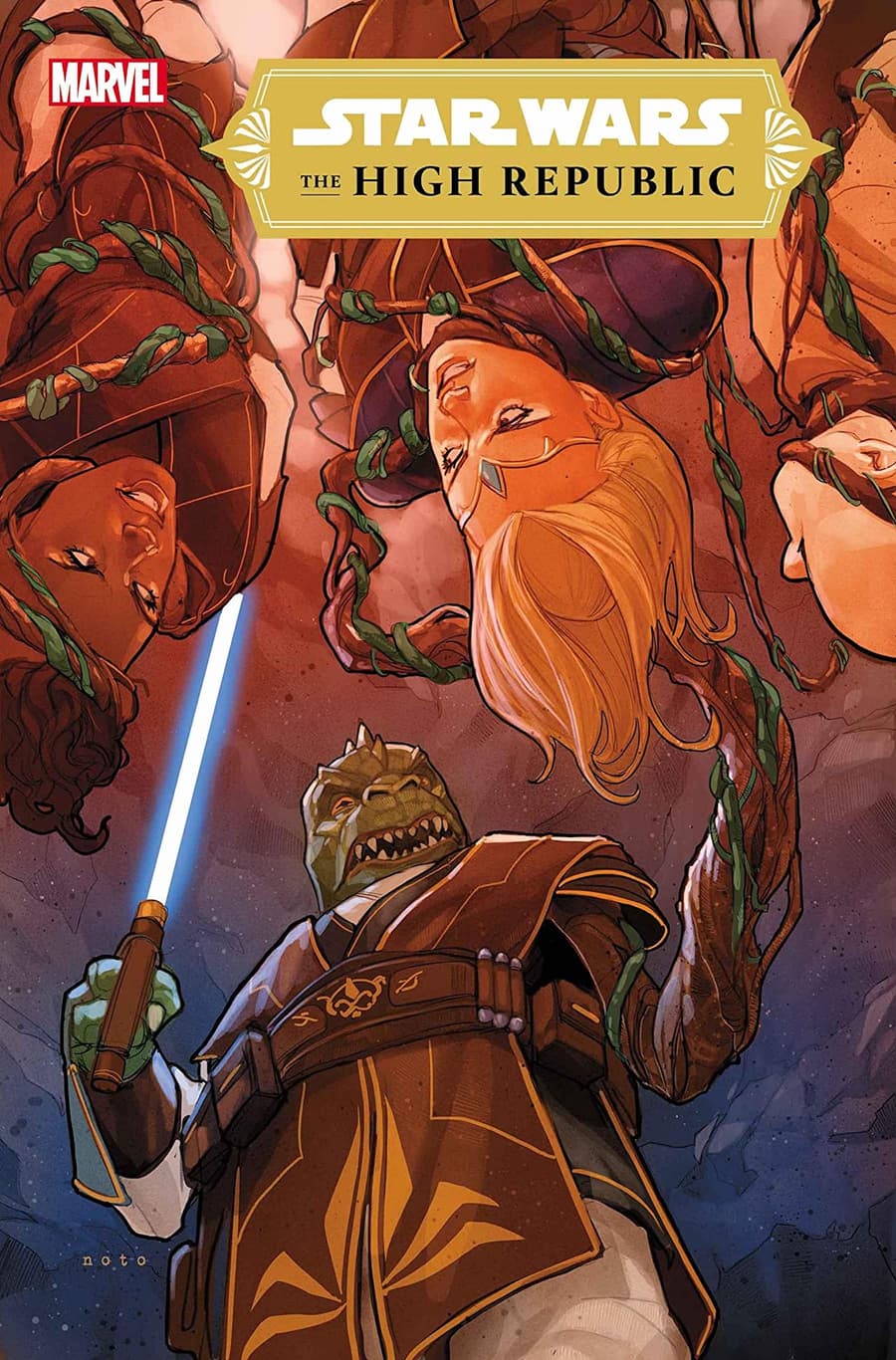 Written by Cavan Scott with art by Ario Anindito, inks by Mark Morales, colors by Annalisa Leoni, and letters by VC's Ariana Maher, issue #4 hits shelves at your local comic shop in just under a month's time. In preparation for the mag, we sat down with series scribe Scott for a closer look at the High Republic.
There's been some incredible, unexpected horror and monster work in The High Republic so far. Did you look at any classic Star Wars comics, which had so much delightful weirdness within them, before kicking off this series?
Star Wars started for me with the comics, specifically the Marvel run of the '70s and '80s (which explains my love for a certain long-eared, green-furred smuggler). But before diving into writing this series, I went back and re-read some classics from the 1990s (now all available on the Marvel Unlimited app which saved me from pulling out my heavy omnibuses). These were primarily Star Wars Republic, Star Wars: Tales of the Jedi, and Star Wars: Knights of the Old Republic. 
As for the horror aspects, at my heart I'm always a horror fan, as is our artist Ario. For this first arc, we took inspiration from Stephen King's Children of the Corn among others, while also trying to invoke the claustrophobia of films like Alien and Outland. Hopefully, above all, we're bringing something new to it. One of the ideas was to start the series with all the pomp and circumstance of this shiny new era and then throw our heroes into the complete opposite of the Jedi's gleaming Starlight Beacon.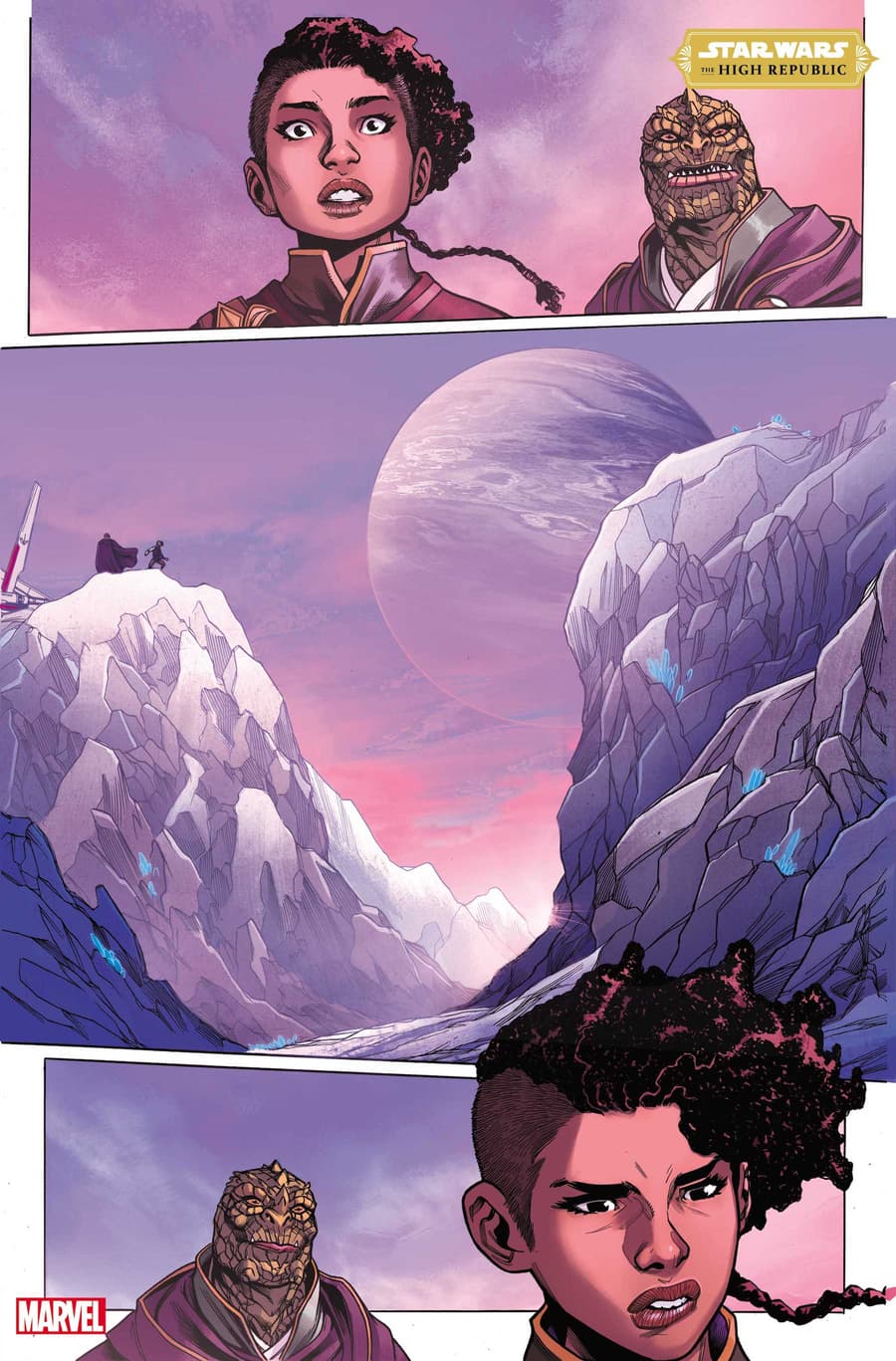 Much has been made of the amazing team of creators that make up the enterprise formerly known as Project Luminous; can you talk about the power of working with a small community of people this way? Have you worked with a group like this before? How did it help draw out new elements of your creativity in particular?
I've worked in writer rooms for various projects but never on this scale. In a lot of ways, it reminds me of the greatest part of writing comics—that sense that you're part of a team rather than just someone creating on your own. Some of the best moments have come when there have been, not so much disagreements, but times where, say, I'll be working on something for the comic and I've thrown it out to the group asking 'does this affect anyone else's projects?' You hope not, but one of the other writers [Claudia Gray, Justina Ireland, Daniel José Older, and Charles Soule] comes back and says 'sorry, you can't use such and such because they're doing something completely different at the same time in my book.' That's when the fun begins. Together you start spitballing ideas and before you know it, you have a solution that is SO much better than the original concept.
I definitely feel I've learned a lot from the other creators. We all have different methods and styles and some of the conversations about story construction mean that I've found new ways to approach my own stories. We talk pretty much every day, and it can be a real shot in the arm when you're approaching a deadline and your energy levels are drooping. Suddenly Daniel will share a piece of art from his all-ages comic at IDW or Justina will share a section from her next young adult novel and you get a jolt of excitement all over again.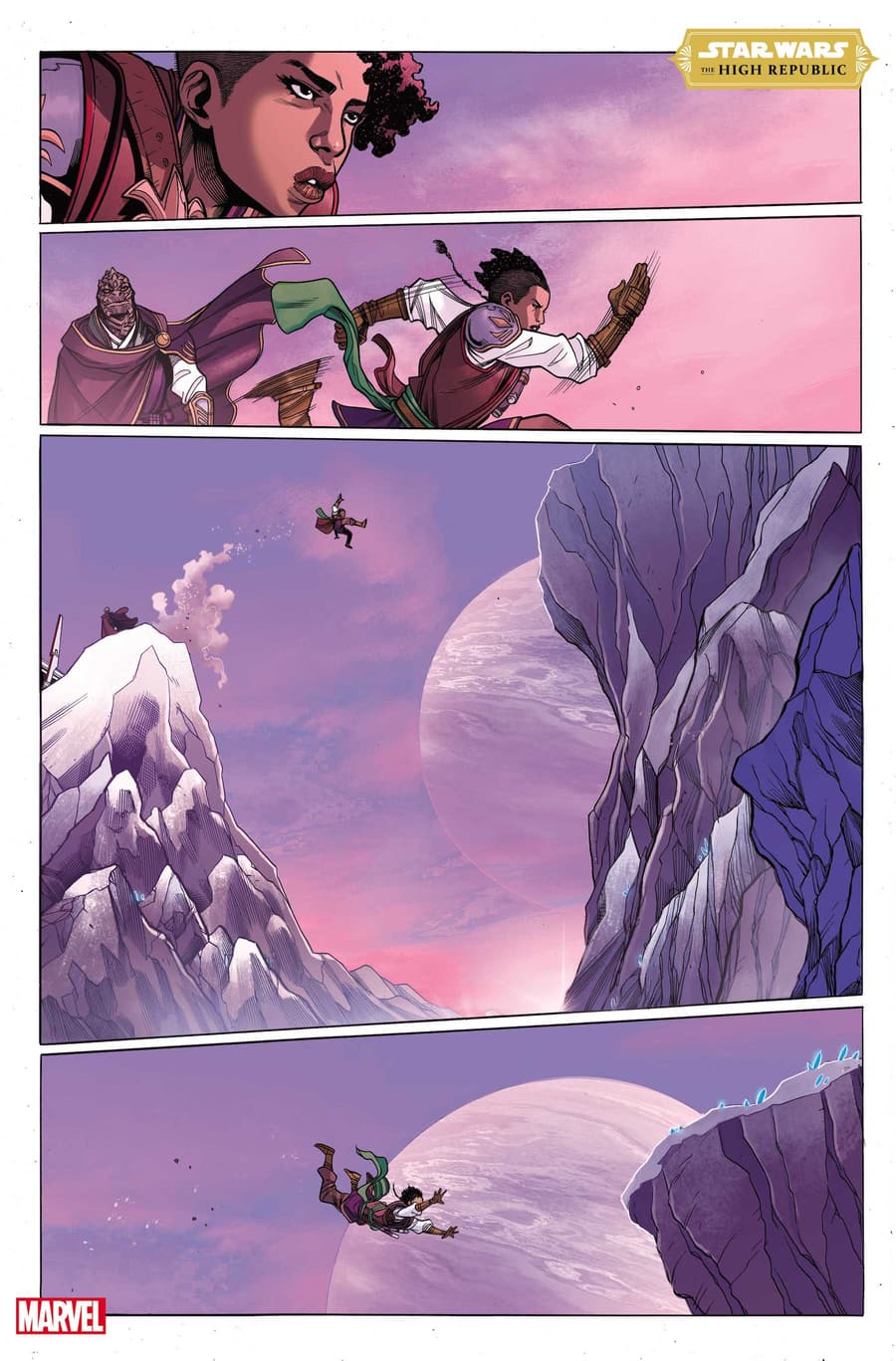 What kind of discussions did you have when fleshing out the ethos of the High Republic era with your collaborators and colleagues at Lucasfilm and Marvel? How did you find yourself characterizing this period of time in Star Wars history? Do you feel like there are real world analogues to this era?
We've talked a lot about that sense of Camelot, not only the traditional Arthurian connotations but that sense of early 1960 America, a land (or in our case galaxy) of opportunity and progress. It's something we've never really seen in the modern Star Wars canon, so it was exciting to explore from every angle, from those who feel that sense of adventure, and also from those who think that maybe, just maybe, this isn't the way the galaxy should be going. 
For the Marvel series especially, I thought new Jedi Keeve Trennis was a great opportunity to explore what it feels like to be a Jedi in this era when the eyes of the Republic are on you. These Jedi aren't hidden behind Temple walls, they're out there with the people. And more than that—they connect with the people. 
There's an important moment in issue #3 where Keeve is so wrapped up in her mission, she almost misses that the child she is with is grieving, but when she realizes she stops everything to comfort him and show him she understands. A lot of readers said they connected to that moment, which was so good to hear. That is what a being a Jedi of the High Republic is all about. 
Of course, that openness to people, that eagerness to empathize, may be used against them as the story continues...
What's the process behind your work with artist Ario Anindito when coming up with the stunning designs—characters, costumes, monsters, spaceships, planets—for this series?
When Ario first came on board we had a lot of concept art already at hand, more than usual actually for a project such as this, but there were still gaps. We knew what Starlight looked like from the outside, for example, but had no idea what it was like inside. That's where Ario came in and did such an incredible job. We started our time working together by having a mammoth two hour Zoom call where I brought him up to date on the philosophy behind the High Republic, and the design choices we'd made up to then. From there he extrapolated what Starlight would be like inside, or what High Republic versions of Jedi Shuttles would look like. The results are just beautiful and have in turn inspired story decisions later on down the line.
One of my favorite moments with Ario was when I asked him to come up with a medical droid in a scene for issue #3. I expected it to be a fairly typical standalone droid, like we saw in the original trilogy, but genius that he is, he came up with this incredible, massive droid unit that hangs from the roof of the medicenter. He never fails to amaze me. 
As for issue #4… well, you'll see Ario and the art team interpreting scenes that have been touched up elsewhere in the initiative as well as introducing a classic Star Wars faction to Marvel's High Republic line.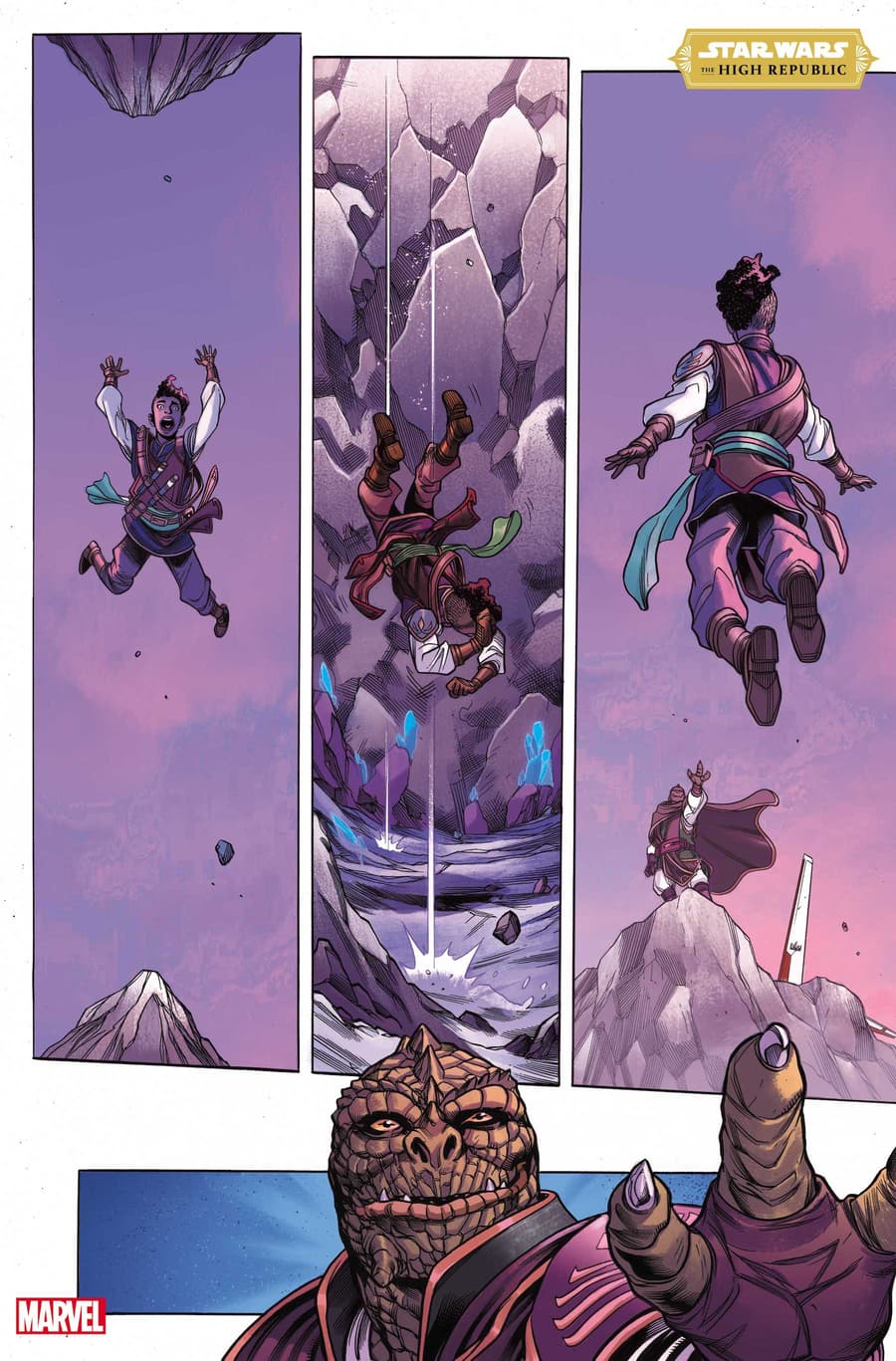 Last question... When working on Star Wars, legendary production designer Rick Carter asked "What is the Force?" prompting artists behind-the-scenes to explore the meaning of this powerful in-universe concept in our reality before translating that back into Star Wars creation. Cavan, in your perspective, what is the Force? How does this idea hit paydirt in the real world?
I also go back to Obi-Wan and his quote in the original Star Wars movie: "It's an energy field created by all living things. It surrounds us and penetrates us. It binds the galaxy together." That description always makes me think of Celtic knots, constantly looping around. The lines tuck above and below each other, every part linked to the next, so you don't know where the knot begins or ends. I think that's such a perfect image, and sums up one of the key messages that I take from Star Wars, that we are better together, connected with others. When we try to strike out on our own, that's when everything starts to unravel...
You can grab this comic and more digitally or at your favorite local comic book shop. Be sure to ask your local shop about their current business policies to observe social distancing or other services they may offer, including holding or creating pull lists, curbside pick-ups, special deliveries, and other options to accommodate. Find and support your local comic book shop at ComicShopLocator.com or by visiting Marvel.com/LoveComicShops.
For digital comics, all purchases in the Marvel Comics app can be read on iPhone®, iPad® and select Android™ devices! Our smart-paneling feature provides an intuitive reader experience, ideal for all types of mobile device and tablet users! Download the app on iOS and Android now!
The Hype Box
Can't-miss news and updates from across the Marvel Universe!