Comics
Published November 30, 2017
Storm Warning: A Star Wars Sketchbook
Mike Mayhew shows off his original art for this key Star Wars story!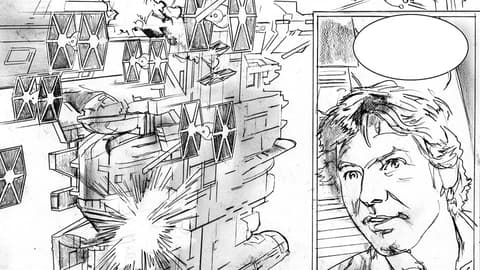 Over the years, Star Wars has introduced us to some of the most amazing and fantastic settings ever seen. With "Star Wars: The Last Jedi" debuting on December 15, we'll find ourselves on another new planet by the name of Crait.
Like everything in the Star Wars Universe, though, this locale has a deep history, ready for exploration in comic book form! That's where STAR WARS: THE LAST JEDI – STORMS OF CRAIT comes in by writers Ben Blacker and Ben Acker along with artist Mike Mayhew. The series will rewind to the time when Luke Skywalker, Leia Organa, and Han Solo checked to see if Crait would make a suitable home for the Rebellion.
We talked with Mayhew about getting a first look from Lucasfilm, working with these iconic characters, and how he changed up his style for this project.
Marvel.com: You've worked on the Star Wars books before, but this is a direct tie-in with one of the movies. Has that changed the process for you at all?
Mike Mayhew: It did change my process somewhat.
My Star Wars art has gone through an evolution, starting with my adaptation of George Lucas' original screenplay "The Star Wars." With that book, I wanted the cinematic, photographic art to make readers feel like they were watching an alternate universe version of the first film, and was less interested in making "comic art."
That photo-real sensibility carried over into my work on Old Ben's Journal from STAR WARS #15 and #20, where it made sense that the stories would feel like "prequel" films on paper.
This year I was able to move the "realism" bar higher on my series of STAR WARS covers for issues #33–37. It was my first time using some new 3D rendering techniques, like PBR rendering, or "physically based rendering," which allowed me to get very realistic images without spending time setting up "lights" around [a] 3D model.
When the opportunity came for STORMS OF CRAIT, I wanted to see if I could make a Star Wars story with that technique I used on the recent covers.
Marvel.com: I'm sure you can't get into specifics, but were you able to get a look at elements from the film to help you get a feel for what kind of planet Crait is?
Mike Mayhew: Long story short, it was a guessing game. I remember getting some images of Crait from Lucasfilm at the beginning thinking I was getting some special insight and it turns out 90% of what I got was already online. So, I basically saw what was available for you all to see and had to figure it out from there.
For the purposes of our story, it made a lot of sense to show how Crait was similar to Tatooine. In the beginning of our story that connection plays in the mind of Luke Skywalker. This story takes place after Luke has blown up the Death Star. He's on the road to being a Jedi and all of the sudden finds himself on a barren planet doing soil samples with farming gear for the Rebellion. It's not quite the high adventure he's always dreamed of, and feels he's worthy of.
Marvel.com: The classic, original Star Wars heroes feature in this story. What was your approach to capturing old school Han, Luke and Leia?
Mike Mayhew: I had a lot passion to make a "film on paper" that featured the original cast from the movie. There are so many tales about how long and arduous it was for George Lucas to cast the first film, but we can all agree on how incredibly charming they are and that they have undeniable chemistry.
While admiring the work of artists like John Cassaday on Marvel's current incarnation of the STAR WARS comic, I'd always been conscious about how much extra work it would be to have to create hundreds of images that feature the original cast. Capturing the likenesses [is] a very tricky and unique problem. There isn't the latitude you might have in portraying Tony Stark or Steve Rogers in a comic. The world knows Han, Luke, and Leia by the actors that originated them. They weren't originally "comic characters" who could be open to some interpretation. So, the expectation of seeing the actor is there on some subconscious level. And that's a very, very hard thing to fake or make up, especially consistently over a larger body of work. I think I came close to what I hoped was possible in terms of creating images that felt like "film stills" from a long, lost Star Wars episode. That's pretty much my approach to all my Star Wars art.
Marvel.com: The story features Luke and Leia looking to see if Crait could be a new home for the Rebellion. What can you say about the obstacles that stand in their way and the process that went into designing them?
Mike Mayhew: The main thing that [that] hinges on whether Crait is a viable home for the Rebellion is a friend of Leia's father named Trusk Berinato. I really enjoyed exploring who he might be visually and character-wise. I imagined him to be a rogue, like Lando, which is my favorite type of character in Star Wars. I was excited for him to make an impression, since he was the first "original" character I'd visually created for Star Wars.
The white, salt crust and red dust and earth of Crait have a lot of visual potential. For instance, the red dust can have all sorts of characteristics when the Rebellion Ski Speeders leave trails of it, or it might be different when something crashes into the ground. We get to dig deep into the depths of the planet surface as well in trenches, and even in mines that are of interest to the Rebellion.
And, spoiler alert, there is a storm. I wanted [the] storm to be visually distinctive and lend itself to the action. During the storm there is a chase, so I use the storm to heighten the sense of speed, or during battles I use the storm to add to the danger and drama. I think it's going to make for a dynamic and unique visual, especially following the blue sky pre-storm scenes that look more like the Crait we've seen in the "Last Jedi" trailer.
Marvel.com: How has it been working with Ben and Ben on this project?
Mike Mayhew: Ben and Ben were great to work with! From the first reading of the script I knew we had the right mix of great character moments and hardcore Star Wars action that would give readers the story they deserve. There are all the hallmarks of great Star Wars storytelling, from space battles, to strange planets, otherworldly characters, and even the familiar climax that cuts back and forth from one hair-raising action set piece to another. I can't wait to see "Star Wars: The Last Jedi," and think Ben and Ben really crafted a story that will stand as a companion piece to the film.
STAR WARS: THE LAST JEDI – STORMS OF CRAIT #1, by Ben Acker, Ben Blacker and Mike Mayhew strikes down on December 27!
The Hype Box
Can't-miss news and updates from across the Marvel Universe!