Comics
Published November 1, 2017
Study in Scarlet Samurai: An Old Man Logan Sketchbook
Mike Deodato reintroduces the one-time Wolverine to a deadly old flame!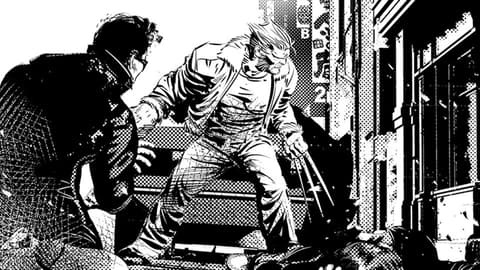 With the "Days of Anger" story just wrapping up this week in OLD MAN LOGAN #30, don't expect the creative team of writer Ed Brisson and artist Mike Deodato Jr. to start taking it easy on their title character. Instead, they will launch into a new arc featuring the mysterious Scarlet Samurai with issue #31 on November 29. Logan may have survived his most recent encounter with Maestro, but he's not getting a chance to rest any time soon. Instead, he goes up against a legion of Hand ninjas and their new leader—who happens to be an ex! 
We talked with Deodato about his continued working relationship with Brisson, putting his spin on Scarlet Samurai, and the challenges of drawing a whole bunch of ninjas! 
Marvel.com: How has your collaborative relationship with Ed evolved the longer you've worked on this book together?
Mike Deodato Jr.: I feel now like we have been working together for years. I have become one of his biggest fans.
Marvel.com: What was it getting used to the look of The Scarlet Samurai?
Mike Deodato Jr.: I wish it was me who created her visual but it wasn't, so I did my best to be faithful to the references I got. She is not a big woman, so the challenge was to make her look threatening and fearful nonetheless.
Marvel.com: What are the benefits and challenges for you as an artist of having a character like Logan go up against a legion of ninjas?
Mike Deodato Jr.: It is a chance to create a crazy choreography for this kind of blood dance. I just go crazy with the stunts and layouts, which is a lot of fun. The challenge is to make the storytelling clear in spite of the madness.
Marvel.com: How does having your main character go up against a series of similar characters differ from pitting them against one main challenge?
Mike Deodato Jr.: I envision the ninjas as in unity, like bees and ants. I think they look much more terrifying this way.
Marvel.com: How has it been developing new aspects of Logan's history with Ed?
Mike Deodato Jr.: This has been one of the most satisfying books I have worked on, not only because of this older and much deeper version of Logan, but also because of the whole team working on the book with me. All true professionals and fun people to work with.
Ed Brisson and Mike Deodato Jr. pit the one-time Wolverine against Scarlet Samurai in OLD MAN LOGAN #31 on November 29!
The Hype Box
Can't-miss news and updates from across the Marvel Universe!