Comics
Published February 28, 2018
Ta-Nehisi Coates Writes Captain America
Leinil Yu joins the best-selling author on July 4!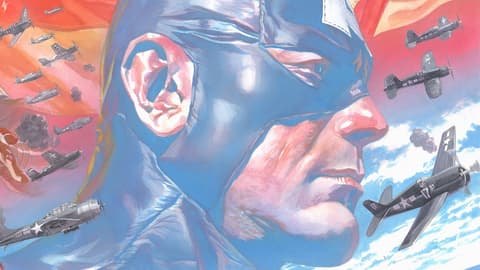 On Independence Day, writer Ta-Nehisi Coates and artist Leinil Yu wield the shield.
Today, Coates made the announcement in The Atlantic, where he wrote about the challenge and opportunity of crafting such an iconic Marvel—and American—character.
"I think it's a really exciting time to be writing CAPTAIN AMERICA right now," says Coates, "The country is in an interesting place, and I look forward to inhabiting Steve Rogers' character—this guy who has been a sort of awkward fit for the world, 'out of time' as people say. I hope fans are excited to see something different, and I think there are some really compelling villains old school Captain America fans and Marvel fans will be familiar with."
In the aftermath of Hydra's takeover of the nation, Steve Rogers is a figure of controversy, carrying a tarnished shield. So how will he respond?
On the story fans can expect, Coates continues, "I think Steve is still figuring out where he fits into things. Does the country still trust him? Do people still trust the country? How do the other characters feel about him? This book is ultimately about relationships, and I'm a huge fan of that. I want to explore how he looks at this country and those close to him. It's going to be a fun ride, and a perfect place for new readers to jump in."
And joining him on this journey is artist Leinil Yu on interiors and Alex Ross on covers. "I think Leinil coming onto this book, with Alex drawing the covers, is tremendous. I've been searching for an artistic partner, and Leinil and Alex get the feel, the emotion of the story," explains the writer. "I wish people could see what is being drafted currently—it's incredible. They are both legends at what they do."
Read CAPTAIN AMERICA #1, by Ta-Nehisi Coates and Leinil Yu, on July 4!
Fans can get their first look at CAPTAIN AMERICA this May in Marvel's Free Comic Book Day CAPTAIN AMERICA comic by Ta-Nehisi Coates and Lenil Yu, available on May 5th.  Here's a sneak preview:
The Hype Box
Can't-miss news and updates from across the Marvel Universe!