Comics
Published November 2, 2017
Taking Off: A Star Wars Sketchbook
Artist Angel Unzueta continues to soar with Poe Dameron and crew!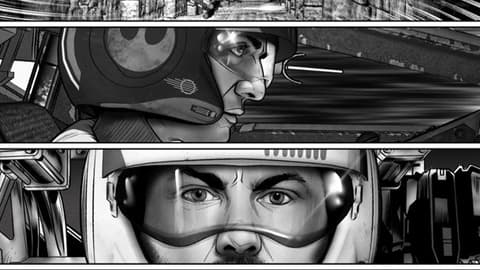 For Angel Unzueta, drawing STAR WARS: POE DAMERON marks a dream come true. The artist, who's been a Star Wars fan since his early days, first jumped onto the Charles Soule-written book with issue #7 before taking over as the regular artist with #14.
These days, Unzueta and Soule remain focused on throwing the title character and his Black Squadron into increasingly more dangerous situations. With the November-shipping POE DAMERON #21, the team will mount a very different mission as they commit a jailbreak on orders from General Organa.
We talked with the artist about his continued work with Soule, playing in one of the greatest sandboxes in pop culture, and the responsibility that comes with it.
Marvel.com: How has it been for you diving so fully into the world of Star Wars with the POE DAMERON series?
Angel Unzueta: It has been really fantastic since I am a big fan of the Star Wars movies. So, if someone would have told me when I was seven years old that one day I could make some canon stuff for the Star Wars Universe, I [would not] have believed him.
Marvel.com: What would you say are the main differences between working on a super hero book and a Star Wars one?
Angel Unzueta: Well, I think that the difference is what the reader is waiting for about the books. I truly believe that the Star Wars reader wants to feel inside the Star Wars Universe like he feels when he is watching the movies. Because of that, the realism for me is so important. But, at the same time, we need to make a comic book so sometimes it is really difficult, but a big, fun challenge at the same time.
Marvel.com: What's the design process like for coming up with the new races or characters seen in this book?
Angel Unzueta: Really fun! As I told you, feeling inside that canon universe and putting something yours there is just amazing.
Marvel.com: How has it been working with Charles on the series so far?
Angel Unzueta: Charles is, without any doubt, the scriptwriter with whom I have worked the most fluently with. He visualizes the stories from a very cinematographic view and therefore it is very easy for me to graphically interpret what he is imagining. He is always open to suggestions and is very easy to work with. On the other side, I am a big fan of him, so it is great to give life to his stories.
Charles Soule and Angel Unzueta send our hero off on a new mission in STAR WARS: POE DAMERON #21 on November 29.
The Hype Box
Can't-miss news and updates from across the Marvel Universe!