Comics
Published November 29, 2017
Thanos: Ghost Riding
Donny Cates takes us to the end of the line, a future where Thanos has finally won!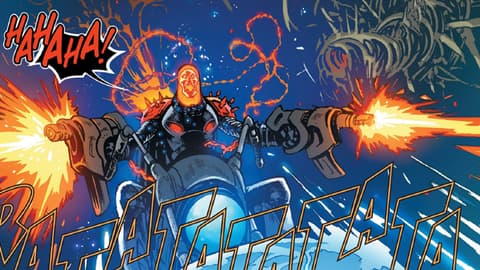 When writer Donny Cates and artist Geoff Shaw took over the Mad Titan's solo adventures in THANOS #13, they came out of the gate guns blazing! With their new arc "Thanos Wins," Thanos is whisked away to the future by a mysterious new character called The Rider, a cosmic baddie who very closely resembles a certain other flame headed denizen of Mephisto. But when Thanos arrives to this future, he meets The Rider's boss, a future version of himself!
We caught up with Donny to talk about the future and getting so deep into Thanos' head it gave him literal nightmares.
Marvel.com: Once you found out you would be taking over this solo title, what was your entry point into Thanos' psyche?
Donny Cates: I've been a huge fan of the cosmic side of Marvel since I was a very young lad and Thanos, in particular, has always been one of my favorite characters. There's really no way that Jordan White, our editor, could have known that! He's such a complicated character, even though he's sometimes written off as being one note. As far as getting into the character, you know how every Marvel book, on the title page, has that little blurb describing who the main character is? For Spider-Man, it always says, "Peter Parker was bitten by a radioactive spider, blah blah blah," right? Well, for any of the THANOS solo issues, it just says, "A total obsession with power drives him to control the forces of the universe."
He's had different seats of power. He's been a ruler, a despot. But at the end of the day, what does he really want? And what happens when he finally gets it? That's what everything bloomed out of, reading that one sentence description of him and saying let's just do it! Let's just finish that sentence that begins every Thanos issue. Let's give it to him and see what happens then.
Marvel.com: The premise of 'Thanos Wins' is wrapped up in time travel and the future inevitability of the Mad Titan finally getting what he wants. How in depth into his victory do you plan to go and how is seeing this potential future going to change Thanos?
Donny Cates: We're going to get way into it, man! Every single issue in the arc flashes back and forward and moves around in time a lot. As the series goes along, you will get a complete picture of how Thanos came to be where he is at the end of issue #13, where we see him clothed in immense power, with his companion and right hand man, The Rider, seemingly the only thing left alive. That's not something we're doing as a cheap, one page gag. That's the whole series. Really getting to the bottom of how Thanos goes from destroying the Chitauri at the beginning of issue #13, to what we call King Thanos, will be spelled out in great detail in the next few issues.
THANOS #14 has a lot and it is unbelievable. You know, I write these issues and I turn them in, get some notes and then when the art comes back with the words and colors and everything, I get to re-read them again months later. Every single time a new issue comes in, I read it and think, "They're really letting me do that? They're going to let me get away with this?" I'm consistently blown away with just how out there and crazy we're going.
It's a huge credit to Jordan White, who believed in this and got behind it to say this is what a Thanos book should be. Every issue should just be as hard as it can be.
Marvel.com: What can you tell us about Thanos' future Ghost Rider friend? What was the genesis of that idea?
Donny Cates: The Rider, as a character, is one of those back pocket ideas I think every writer who wants to someday write for a big comics publisher has. Something you fill up a notebook with, or, if you're like me, use the notes app on your phone and just fill it to the brim with crazy stuff. The Rider, his origins, and who he really is has been in my back pocket for years. I actually spoke with an editor at Marvel back in 2013 or 2014 at New York Comic-Con and he asked what I'd want to do at Marvel. I told him about The Rider, this cosmic Ghost Rider, and I told him who he really is and how I'd reveal it. I remember that editor saying that's insane, the craziest thing he'd ever heard. So, it's something I've wanted to do for a long time.
He became a natural fit for this story. I knew we wanted Young Thanos, well young comparatively speaking to King Thanos, to be ripped from time and taken to meet his future self. When I was working on the pitch, I tried to figure out who could fill that role and realized The Rider was a perfect fit! Then, when I started writing him, how he speaks and how he sounds formed this little balancing point to how overly somber Thanos as a character can be. The two vibrate with each other in a way I really enjoyed. He's the rare character who can actually call Thanos out on how much of a bummer he is, especially when he's with both Thanoses.
For anyone who has theories about who The Rider is, I would like to hear them. It's the big reveal at the end of this arc. So, anyone who wants to comment on Twitter or put their theories in, I won't confirm or deny anything, but please tag it as #WhoIsTheRider and let me know what you think!
Marvel.com: What's your process like with artist Geoff Shaw? Since you two have a rapport, does that make creating the book easier?
Donny Cates: I've been on THANOS longer than STRANGE, so coming onto my first big Marvel book with Geoff, there is the most supportive feeling, the most comfortable feeling. I know how to write for him and he knows how to draw for me. He really knows how to pull certain stuff out of my scripts. We've been working together for five years now, starting with "Buzzkill" back in the day. Over the years, just by virtue of working so closely, we've come best friends. Going into something where Marvel gives you the keys to the kingdom and lets you play with all the toys, getting into that with your best friend, who is also this phenomenal talent, is surreal and I couldn't ask for a better collaborator.
With some artists, you're not able to build the same rapport or talk to them regularly, because you've just been thrown together or they're in Argentina or something, but Geoff and I talk all the time. That's the essence of comics to me, is getting on the phone or in the same room and just hashing it out. The same goes for Antonio Fabela, our colorist. Geoff and I had never worked with him before but were excited to see what he could do. It felt like he walked right onto the team, read the room and could match the insanity we were throwing down. Letterer Clayton Cowles, too! He's added so much, differentiating Thanos and King Thanos in speech bubbles. It's like we're all jamming on the same frequency.
Marvel.com: You've said that writing Thanos has been a scary experience. What's the darkest place getting into his head has taken your own mind?
Donny Cates: I had said in a previous interview that I had nightmares about Thanos when I first started writing the book. I think most people thought I was exaggerating or joking, but I was not. I tend to get really obsessive about a character when I first start on a book. I don't stay that way. My wife makes fun of me all the time for it. On THANOS, I was deep in it—unconsciously changing the way I spoke, or sitting in chairs the way Thanos might sit. I was in a dark place and had a nightmare where I was being chased by Thanos through a desert landscape. I could only hear his footsteps, feel the ground shake and sense his breathing. One of those dreams where you try to run and you can't. It was really scary!
I woke up covered in sweat and I'm not a person who has nightmares. I think that people, as they read this first arc, anyone who thought I was kidding about that or made fun of me for it is going to see what I'm talking about. This book is brutal and intense. 
Catch the next chapter of "Thanos Wins" in THANOS #14, from Donny Cates and Geoff Shaw, on December 27!
The Hype Box
Can't-miss news and updates from across the Marvel Universe!