Comics
Published August 15, 2017
The Best Around: A Generations Sketchbook
Two Wolverines lock claws in a memorable match-up drawn by Ramon Rosanas!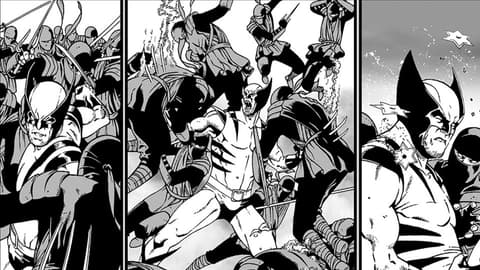 Ever since DEATH OF WOLVERINE, readers have felt a Logan-sized hole in their lives. Other clawed individuals have stepped in to do some of the jobs other heroes won't touch like Laura Kinney, who now holds the name Wolverine, and Old Man Logan, but what about the original? With the publication of GENERATIONS: WOLVERINE & ALL-NEW WOLVERINE this week by writer Tom Taylor and artist Ramon Rosanas, we'll finally have a few answers.
We got in touch with Rosanas about reuniting the clone and her fallen mentor in an issue that celebrates the House of Ideas' long history of legacy heroes.
Marvel.com: Ever since the "Death of Wolverine" story, people have been wondering when Logan would make his return to comics. How does it feel to be drawing this huge issue in his history?
Ramon Rosanas: Very proud! Wolverine is one of the most loved characters and to be part of his story makes me feel very happy.
Marvel.com: Laura's gone through a good deal of changes since Logan died. What can you tell us about the emotional connection they will feel when reunited and how that comes across on the page?
Ramon Rosanas: It's really magical. They are two strong characters. Finding them in an emotional union is a key moment in their personality. I love to draw emotions. I already did it with Deadpool and Ant-Man. I feel comfortable with these stories and this script has given me touching moments.
Marvel.com: Laura might be the All-New Wolverine, but Logan's the classic model. How do they compare when leaping into battle in this issue?
Ramon Rosanas: They are two generations. Getting them together has been great. I love to see them in that kind of relationship formed between parents and children when you discover that your daughter surpasses you, that she has taken a few steps ahead of you but that you can still protect and teach her many things.
Marvel.com: What can you tell us about the kind of trouble Laura and Logan get up to in this issue and did it offer a lot of design opportunities for you?
Ramon Rosanas: I have enjoyed drawing ninjas and Japanese settings. I have experimented giving the scenes an aspect close to the Manga style; although that has also given me a few headaches in combining both styles of work. I have been allowed to draw Logan in his classic outfit, in civilian clothes, and in his usual T-shirt as the story progressed. And I did the same with Laura, leaving her with a T-shirt like Logan, as if he was "passing the baton."
Marvel.com: How has it been working with Tom and the gang on this issue?
Ramon Rosanas: I have been part of a great team. I have been able to work with Mark Paniccia whom I love and admire. He was the first editor to open the doors for me in Marvel and to work with him is always really great.
Tom is a great writer. The script describes everything I need to know but at the same time Tom leaves me room to adapt it. He has done a magnificent job throughout the whole episode. I cannot wait to hear from the fans.
Slice and dice alongside Logan and Laura in GENERATIONS: WOLVERINE & ALL-NEW WOLVERINE, available this week from Tom Taylor and Ramon Rosanas!
The Hype Box
Can't-miss news and updates from across the Marvel Universe!