Comics
Published December 14, 2020
The Cat Is Back
Take a trip through Felicia Hardy history ahead of 'Black Cat' #1!
No matter how hard you may try to get rid of 'em, cats always land on their furry feet—and come back hissin' and scratchin'!
Just place your ever-lovin' eyeballs on this week's BLACK CAT #1, which spotlights the return of Felicia Hardy to her own series, plus a mess of mischief and mayhem for anyone who crosses her path…including Knull!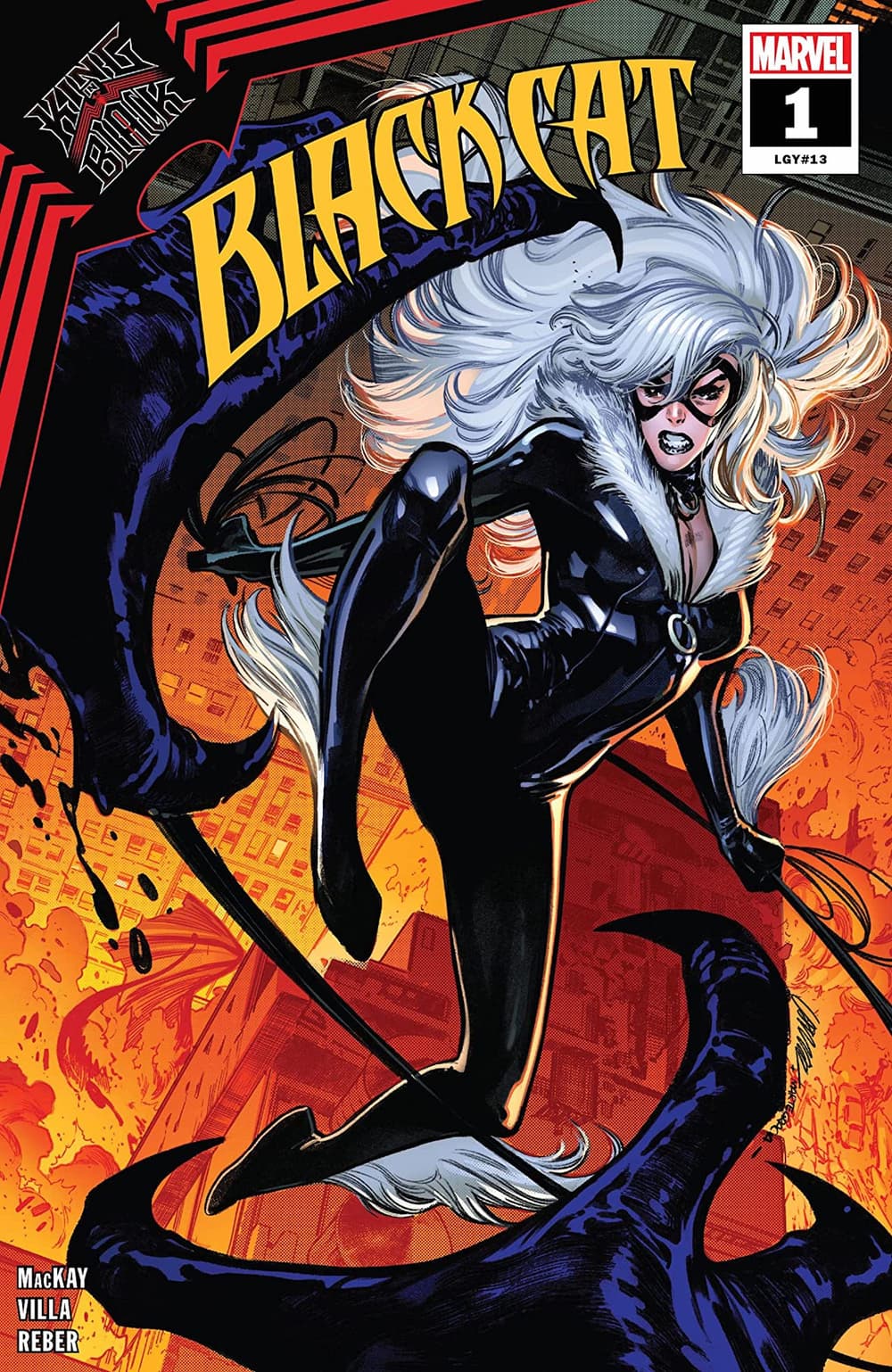 Let's let the fur fly as we fish for some fabulous facts about Felicia! (And here's betting a certain wondrous Wall-Crawler will be webbed up in the way-out wonders ahead!)
The Black Cat's devious dad inspired her to get involved with all this Super stuff!
Some costumed cut-ups are inspired to do that voodoo that they do by a tragic personal event, an awful accident, or even being born on another planet, but the Black Cat found her inner feline fury by way of her father—a curious cat himself!
We first met Felicia in AMAZING SPIDER-MAN (1963) #194 and began to learn of her origins as a cat burglar with larceny right down to her DNA. See, Walter Hardy was a cat burglar par excellence and when his daughter learned of his liking for boosting bangles and baubles she followed suit…in a super suit, to be particularly precise!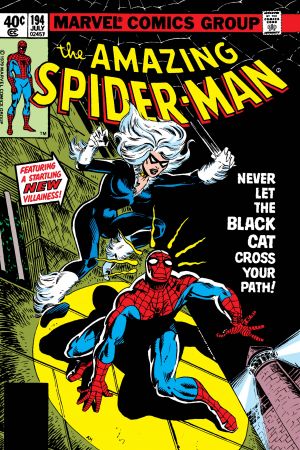 The Amazing Spider-Man (1963) #194
published

added to marvel unlimited

writer

penciler

inker

letterer

colorist
What is Marvel Unlimited?
Spider-Man glommed onto her perpetrating profession early in her experiences, as well as her plan to break her pappy out of prison. In AMAZING SPIDER-MAN (1963) #195 she managed the dastardly deed, but as Spidey learned all too soon, Walter was terminally ill and Felicia simply sought his return home to spend his final moments with his dear wife. The Web-Head then failed to save the Black Cat from plunging into some raging rapids nearby, prompting him to wonder if the Cat would ever truly come back…
The Black Cat knew Spidey's secret identity...but didn't care!
The Cat came back all right, and in PETER PARKER, THE SPECTACULAR SPIDER-MAN (1976) #75 she made it clear to Spidey that she wanted to go steady. The Wall-Crawler thought about and took her up on it, much to his future frustration...
A furious fracas arose in PETER PARKER, THE SPECTACULAR SPIDER-MAN (1976) #76 between kitty and spider and octopus and owl—not to mention a big, bad Kingpin of crime. That led to Spidey and the Black Cat making it a thing together, which also led to that fateful day when the Web-Slinger revealed his true identity of Peter Parker to Felicia in PETER PARKER, THE SPECTACULAR SPIDER-MAN (1976) #87 and his depressing disappointment over her reaction. "Put the mask back on," she purred.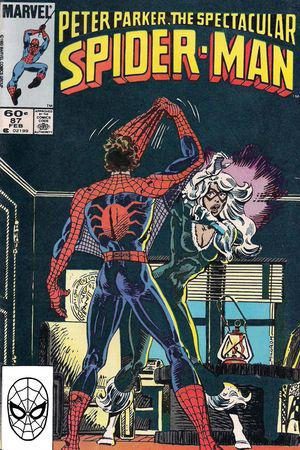 What gives, you ask? Seems the Black Cat liked him better as a super-sort, not as Puny Parker. Just his luck! (More on that soon.) They eventually parted ways in PETER PARKER, THE SPECTACULAR SPIDER-MAN (1976) #100 and though they ended up in each other's arms again and again, Felicia's fecklessness pointed Peter toward something better—namely one Mary Jane Watson! See, True Believers? True love always wins out in the end!
The Black Cat's had some bad luck with bad luck!
Admit it, heroes: You see someone dressed up like a cat and you'd have to wonder what kind of Super Powers they'd have, right? Our boisterous Black Cat's had a bevy of 'em, and the strange saga of her amazing abilities is one for the archives, we assure you!
Right off the tip of the bat she seemed to be able to cause bad luck in those around her, but it was discovered to be merely parlor tricks, set-ups, and silly sallies, but after losing a tussle in PETER PARKER, THE SPECTACULAR SPIDER-MAN (1976) #88, Felicia had a fit and went looking for a way to boost her badness to a new level. She called on everyone from Tony Stark and Hank Pym to the Avengers and the Fantastic Four, but in the end it was none other than her old enemy the Kingpin who, in PETER PARKER, THE SPECTACULAR SPIDER-MAN (1976) #89, bestowed her with actual bad luck abilities!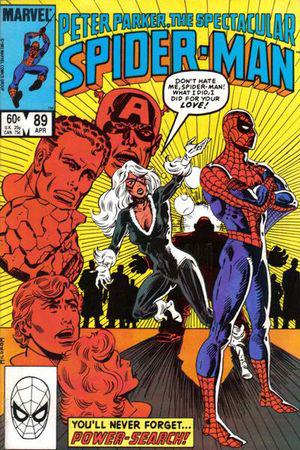 Sadly, our boy Spider-Man caught the short end of the stick and started to suffer a whole string of bad luck for sitting too long in the Black Cat's shadow. So, he paid a visit to Doctor Strange in PETER PARKER, THE SPECTACULAR SPIDER-MAN (1976) #115 for a paranormal prescription...which sorta backfired and replaced Felicia's bad luck mojo with a slew of cat-like powers, including stealth and agility. She got her bad luck back in WEB OF SPIDER-MAN (2009) #12, yet on the caustic end of some cybernetics…along with cat claws! See, we told you it was complicated!
Peruse these powerful periodicals with Marvel Unlimited!
The Hype Box
Can't-miss news and updates from across the Marvel Universe!