Comics
Published June 19, 2019
The Comics You'll Want to Read After Watching 'Marvel's Jessica Jones' Season 3
Get caught up on the detective's origins, her time as an Avenger, and her friend Patsy Walker!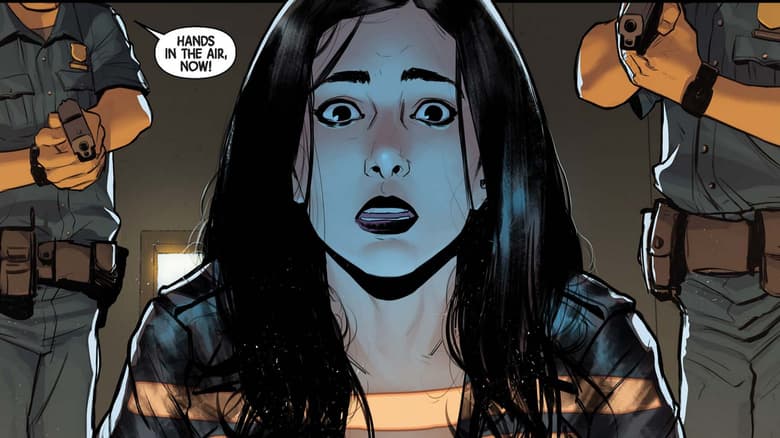 Hard-hitting, super-powered gumshoe Jessica Jones is back on Netflix for its third and final season in Marvel's Jessica Jones. But if you're jonesing for more Jones – and maybe some Patsy Walker – there's plenty more where that came from in Marvel Comics.
Here's a reading guide for not only Jessica Jones, but also a bit of Patsy Walker and a little something extra for those die-hard fans who love seeing characters come to life on the silver screen.
ALIAS #1 and #22 (2001-2003)
Jessica Jones, co-created by Brian Michael Bendis and Michael Gaydos, started out in the ALIAS series back in 2001, and we would be remiss if we didn't reminisce about where and when this rugged genetically-engineered P.I. got her start.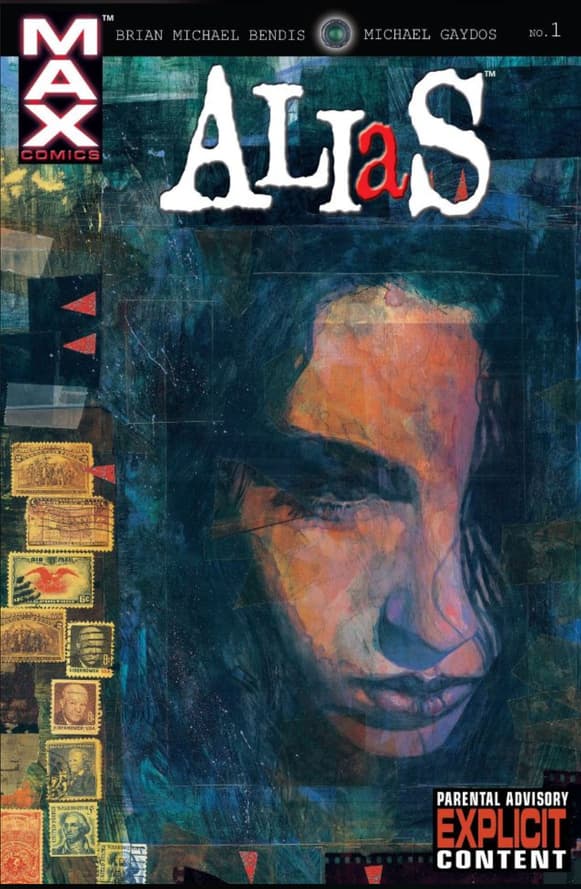 In this series spanning 28 issues, it's ALIAS #1 where Jessica retires as a Super Hero and starts a new career as a detective with her own business, Alias Private Investigations. She first investigates the missing person case of Miranda Pritchett and discovers her to be safe as well as the girlfriend of Steve Rogers AKA Captain America.
It's not until issue #22 that her origins are revealed, including that she went to school with Peter Parker AKA Spider-Man and that Jessica's father worked for Tony Stark AKA Iron Man. Her origin story also reveals that her parents and brother died in a car crash that she walked away from, after which she was adopted by the Jones family. It wasn't until her recovery that her superhuman powers surfaced, including strength and durability.
ALIAS is also the series during which Zebediah Killgrave AKA the Purple Man terrorized Jessica – and he never really stopped.
JESSICA JONES: THE PULSE #1-9, 11-14 and NEW AVENGERS ANNUAL #1
While she's working at the Daily Bugle in JESSICA JONES: THE PULSE #1, Jessica starts a new job as an investigative reporter writing for "The Pulse," a section covering the one topic she's intimately familiar with: Super Heroes. In this complete collection, Jessica helps uncover the identity of a former Bugle reporter's super-powered murder as Nick Fury's Secret War spills into her life with partner Luke Cage. Another chapter begins between Jessica and Luke when they have a baby girl together and name her Danielle.
While the trailer for Marvel's Jessica Jones Season 3 sees Jessica being called out as a cheater, it begs the question: Is she a fraud or a hero? Jessica may have worked alongside heroes like the Defenders on- and off-screen, but in the comics, she is a prominent card-carrying member of the Avengers. It's while she's working with Earth's Mightiest Heroes that she has her daughter with fellow Avenger Luke Cage in NEW AVENGERS ANNUAL #1.
JESSICA JONES: AVENGER
During the Skrulls' secret invasion in NEW AVENGERS #38, shortly after Jessica marries Luke, she signs the Superhuman Registration Act to keep their daughter safe. It does not go over well with Cage who would rather die than sign it, and it almost destroys their marriage.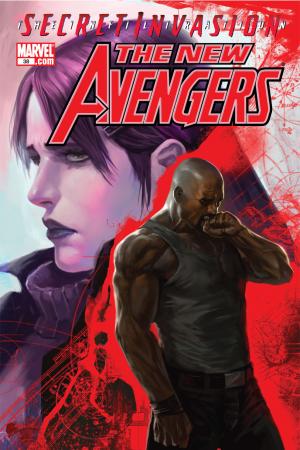 New Avengers (2004) #38
published

added to marvel unlimited

writer

artist

inker

letterer

colorist

penciller (cover)
What is Marvel Unlimited?
JESSICA JONES: BLIND SPOT #1-3
After facing down her most dangerous enemy and winning, you think Jessica would catch a break, but no – her past is never far behind as we find out in the first JESSICA JONES – MARVEL DIGITAL ORIGINAL. When a former client ends up dead in her office, Jessica becomes suspect number one. While Jessica is framed for murder and the killer still out there, the work is piling up in issue #1.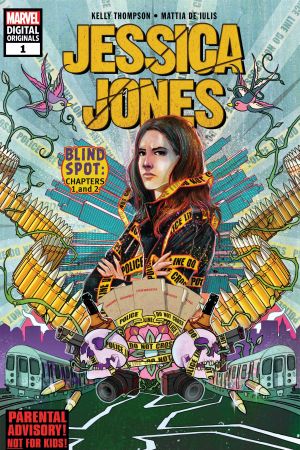 Jessica Jones - Marvel Digital Original (2018) #1
published

added to marvel unlimited

writer

letterer

editor

colorist (cover)

inker (cover)

penciler (cover)

colorist

inker

penciler
What is Marvel Unlimited?
As her investigation moves forward, she finds out that this killer is targeting powerful women, and his next targets are Elsa Bloodstone and Mary Jane Watson. Jessica faces the serial killer, who has reality-manipulation powers, and it all comes to a bizarre end, but an end nonetheless. She reunites with her family, only to make a startling discovery that is continued in JESSICA JONES: PURPLE DAUGHTER.
JESSICA JONES: PURPLE DAUGHTER #1-3
Jessica's home life takes a turn when she and her family become the client of Alias Investigations. In issue #1, her daughter Danielle turns purple, and it's an all-too familiar hue reminiscent of her worst enemy, Killgrave. The incident starts an avalanche for Jessica and calls into question not only everything she knew about the time she spent with the Purple Man, but also her marriage to Luke. She hits up Hell's Dive Bar for some drinks and throws some punches to find the truth, as she does.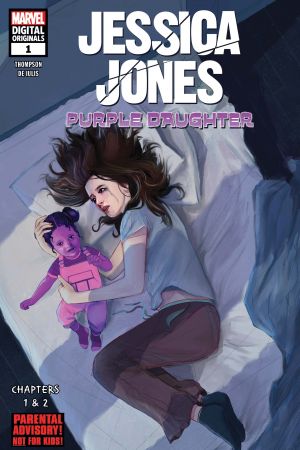 Jessica Jones - Marvel Digital Original: Purple Daughter (2019) #1
published

added to marvel unlimited

writer

letterer

editor

colorist (cover)

inker (cover)

penciler (cover)

colorist

inker

penciler
What is Marvel Unlimited?
Issue #2 sees Jessica dealing with the Purple Man still infecting her life while Daredevil and Emma Frost assist her in her investigation. Luke and Jessica end up in a nightmare world with a son, who is in fact one of Killgrave's children, while issue #3 sees them escaping the nightmare to help their daughter.
PATSY WALKER, A.K.A. HELLCAT! #7
Jessica Jones and Patsy Walker may not be sisters in the comics, however they do team up. Jessica helps Patsy AKA Hellcat with her frenemy Hedy Wolfe, who currently holds the publishing rights to a set of comics starring teenage Patsy and written by Patsy's late mother, Dorothy. Hedy hires Jessica to dig up dirt on her former "friend" to discredit her, but little does she know that Jessica and Patsy go way back (to that one time Patsy attended Jessica's wedding, and that other time she offered to babysit Jessica's daughter). They end up working together on a heist that goes wrong, but then turns around in their favor.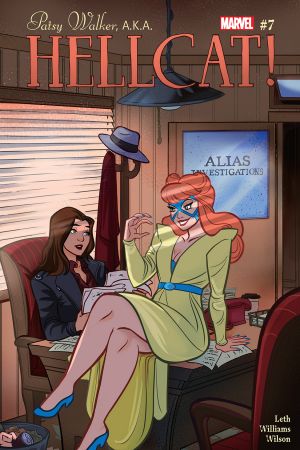 Patsy Walker, a.K.a. Hellcat! (2015) #7
published

added to marvel unlimited

editor

writer

penciller

penciller (cover)
What is Marvel Unlimited?
OMEGA: THE UNKNOWN #8-9
Gregory Sallinger, the name of Jessica's new nemesis in Marvel's Jessica Jones Season 3, harkens back to a villain in the comics – the Foolkiller, a vigilante poet whose mission in life is to kill fools (who spells his last name with one "l"). His first cameo is seen in1977's OMEGA: THE UNKNOWN #8 with a deeper introduction into the character in issue #9 showing his signature calling card which warns potential fools before he delivers them to their death.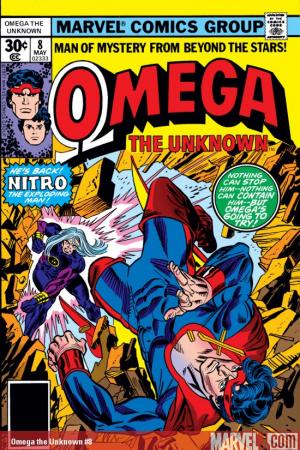 The case file of Marvel's Jessica Jones may be closed, but there's plenty more to be uncovered in Marvel Comics!
Marvel's Jessica Jones Season 3 is now streaming on Netflix.
The Hype Box
Can't-miss news and updates from across the Marvel Universe!