Comics
Published January 23, 2020
run:SYS_ANALYSIS; print_asset(The Complete History of Machine Man)
if:MACHINE-MAN Enters_asset(Marvel-Universe); send_asset(ROBOT-REVOLUTION.bin)
As the artificial intelligence revolt stemming from IRON MAN 2020 heats up, Machine Man will have an ages-old question to figure out: whose side is he on? The robots? Or the humans?
Christos Gage, Tom DeFalco, Mike Hawthorne, and Andy MacDonald will help the longtime defender of the world answer that question in the all-new 2020 MACHINE MAN!
The character sprang from the genius mind of Jack Kirby back in 1977. He actually debuted in the eighth issue of the tie-in comic to the Stanley Kubrick film, 2001: A Space Odyssey—and from there, Machine Man became a fixture of the Marvel Universe, both in the present and the far future!
After the 2001 appearances, Machine Man garnered his own series in 1978, written and drawn by "King" Kirby. In the first issue of that series, readers learned that a Dr. Broadhurst experimented with thinking machines called X-models. When each one achieved sentience, they rebelled against their human masters and had to be deleted. However, X-51 had been taken in by psychologist Abel Stack who treated him not just like a human, but like a son. This model took on a human name, Aaron Stack, as well as human features thanks to a skin-like body and mask resembling a human face.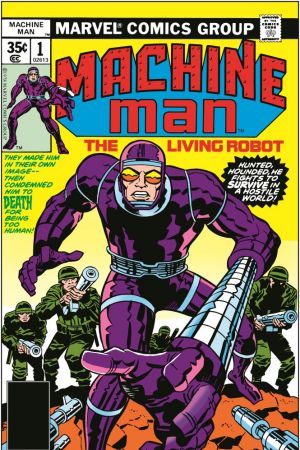 Unknowingly marked for death by the government who sponsored his creation, the Machine Man tried to find his place in humanity while also using his highly adaptive body to help those he hoped to join. Along the way he faced Colonel Kragg and a time-traveling robot. Issue #9 marked Kirby's last issue and the title disappeared for several months. However, a Machine Man guest spot in INCREDIBLE HULK (1962) #235-237 rekindled interest in the character, and the series returned with ish #10 written by Marv Wolfman and drawn by Steve Ditko. This team would continue drafting these adventures until the run ended with mag #19. The series also introduced characters like Sunset Bain and Gears Gavin!
After a four-year gap, a MACHINE MAN comic reappeared on shelves in 1984. In this limited series by Tom DeFalco, Herb Trimpe, and Barry Windsor-Smith, a routine purging of materials at a Baintronics Storage Warehouse found Machine Man out among the living in a world run by corporations...in the year 2020.
Machine Man sided with the humans who helped get him back online, including his old pal Gears, and fought against recurring old foe Sunset Bain, as well as the mercenary she hired, Arno Stark (otherwise known as Iron Man 2020). This is the series that not only gave birth to that version of the armored avenger, but also inspired the entire 2020 event that's begun its journey across the Marvel Universe today!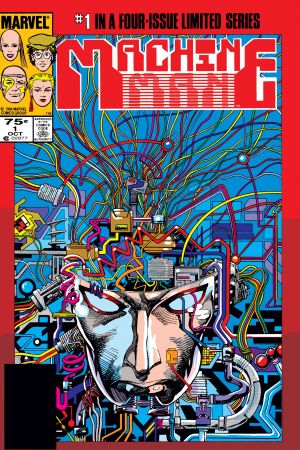 Machine Man (1984) #1
published

added to marvel unlimited

penciler

letterer

writer

colorist

inker

penciller (cover)
What is Marvel Unlimited?
Back in the 616, Machine Man proved a solid utility player who would get the nod any time a technological threat popped up. He even scored another ongoing that lasted from 1999 to 2000, but in 2006 he joined up with Dirk Anger, Monica Rambeau, the Captain, Elsa Bloodstone, and Boom-Boom in NEXTWAVE: AGENTS OF H.A.T.E. (2006) by Warren Ellis and Stuart Immonen.
This wildly out-there series, remade X-51—who now preferred to be referred to as Aaron—into a suds-loving 'bot who thought more highly of himself than his fleshy counterparts. This same version of Machine Man eventually joined up with the 50 State Initiative in the wake of CIVIL WAR. He joined up with Sleepwalker to assist Carol Danvers in her missions, but still carried on in a flippant way that got plenty of laughs (as seen in MS. MARVEL (2006) #18-27). He got a bit more serious in the pages of MARVEL ZOMBIES 3 (2008) wherein he not only helped stop the spread of the undead, but reclaimed his Machine Man moniker.
X-51's next mission included keeping an eye on General Thunderbolt Ross at the behest of Steve Rogers. That assignment found Machine Man co-starring in RED HULK and RED SHE-HULK as he and the crimson crushers took on Sultan Magus, Zero/One, Black Fog, a giant Hydra, and Echelon. 
Now, after a stint with Deadpool and the Mercs For Money, Machine Man's been appearing regularly in TONY STARK: IRON MAN, written by Dan Slott. First, he was Jocasta's boyfriend and a strong proponent of robot rights and culture. Knowing that, he was easily tricked into beta testing Stark's virtual reality interface eScape.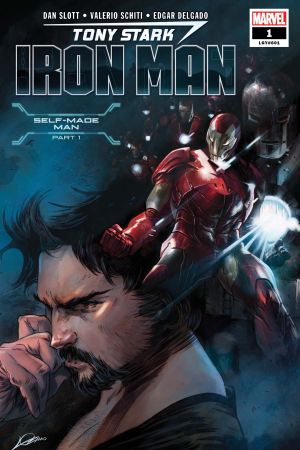 Tony Stark: Iron Man (2018) #1
published

added to marvel unlimited

colorist

editor

letterer

inker

penciler

painter (cover)

penciler (cover)

writer
What is Marvel Unlimited?
Jocasta left him after that, but he kept trying to get her back. So when she asked him to help solve one of eScape's major launch flaws, he agreed—and even managed to help save Iron Man's life.
Having shifted his stance on human-robotic relations on more than one occasion, it will be fascinating to see which side X-51 comes down on in 2020 MACHINE MAN!
Read these stories on Marvel Unlimited now! Then pre-order 2020 MACHINE MAN #1 at your local comic shop today before picking it up on February 19!
The Hype Box
Can't-miss news and updates from across the Marvel Universe!