Comics
The Five Craziest Deadpool Comics
Need more Wade Wilson in your life? Look no further!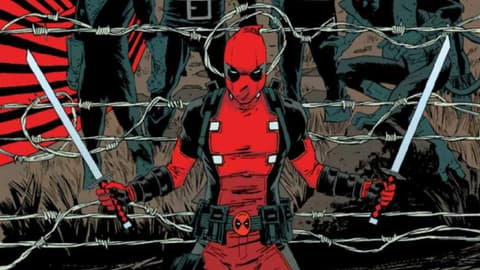 Can't get enough of the Merc with a Mouth? With his superhuman healing ability, Deadpool's physical attributes have naturally been enhanced but so has his gift of gab. This is one loquacious, fast-talking fella. Oh and he's deadly—like, deliriously blood-thirsty, in a charming but extremely terrifying sort of way.
Grab your chimichangas and check out some essential reads that highlight the best of the fourth-wall-breaking, spirited anti-hero.
THE NEW MUTANTS #98 (1991)
Rob Liefeld, Fabian Nicieza
You can't discuss the merc with a mouth without talking about his very first appearance where Deadpool arrived to collect the bounty on Cable's head. This issue is iconic because it also includes the first appearance of the very lucky Domino.
DEADPOOL #15–19 – "The Good, the Bad, and the Ugly (2012)
Gerry Duggan, Brian Posehn, Declan Shalvey 
This fan favorite series has the merc doing everything from fighting zombie presidents to going to North Korea to teaming up with Wolverine and Captain America. This book deep dives into Wade's psyche and makes you have all the feels while still laughing at his antics. Now that's the kind of destructive emotional roller coaster ride that only Deadpool can give.
DEADPOOL KILLS THE UNIVERSE (2013)
Cullen Bunn, Dalibor Talajic 
Just as the title says, this is Deadpool's attack on his maker. This twisted horror comic isn't for everyone, but if you love Wade's sadistic sense of humor more than the average Deadpool fan, this is the comic for you. Deadpool goes around attacking every hero and villain while being under the mind control of Psycho Man.
YOU ARE DEADPOOL (2018)
Al Ewing, Salva Espin, Paco Diaz 
The Choose-Your-Own-Adventure of Deadpool stories, RPGers will love reading You Are Deadpool, a book that gets you involved in the story. Readers will have to roll dice, make decisions that alter the outcome, and have a whole lot of fun along the way.
DESPICABLE DEADPOOL (2017)
Gerry Duggan, Scott Koblish 
Deadpool in a new role doing what he does best: killing people. DESPICABLE DEADPOOL hit a finale milestone this month with issue #300, and it's a doozy. Deadpool will face off with the biggest villains and heroes in the Marvel Universe until he realizes he's having an internal crisis and the problem is actually himself. It all ends in a mind wipe, but that's just the set up for a brand new Deadpool comic. You can't ever really kill the Regenerating Degenerate.
Can't get enough Wade Wilson and want to read all these digital comics? Check out Marvel Unlimited!
The Hype Box
Can't-miss news and updates from across the Marvel Universe!