Comics
Published June 8, 2018
The Guardians of the Galaxy are No More
Who are the Asgardians of the Galaxy? Writer Cullen Bunn explains.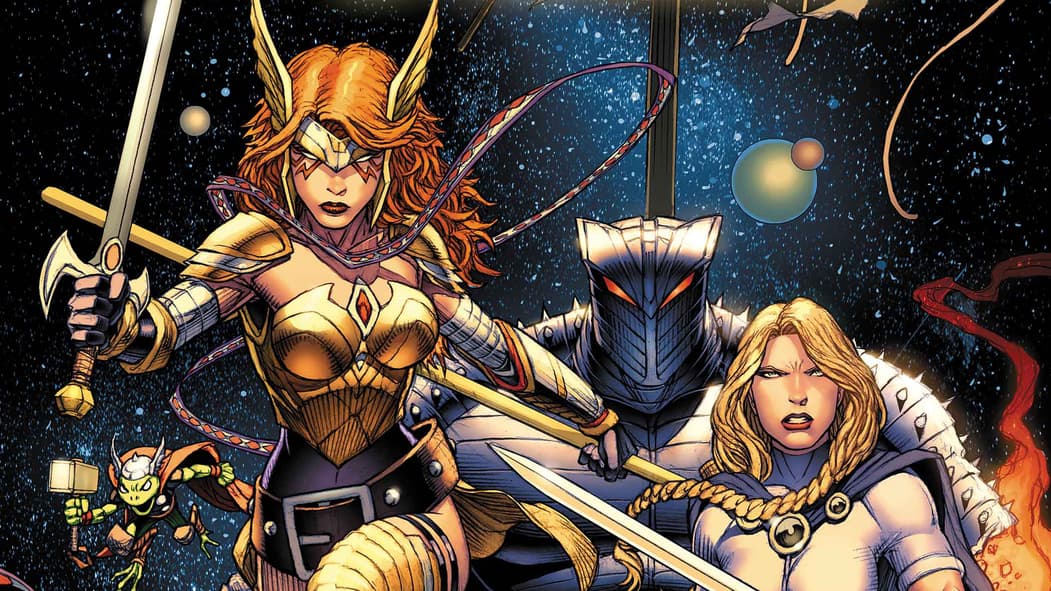 Spiraling out of the events of the INFINITY WARS, the Guardians of the Galaxy are no more.
In their place, a new team rises to look after the universe: the Asgardians of the Galaxy.
On September 5, an epic space opera by writer Cullen Bunn and artist Matteo Lolli begins, as Angela, Valkyrie, Skurge the Executioner, Throg the frog Thor, the Destroyer, and Thunderstrike join together for a larger purpose.
We sat down with Bunn to get a few details about the new limited series.
Marvel.com: Cullen, what was the pitch behind this story? Without getting into spoilers, where do we find this new team at the beginning of the book?
Cullen Bunn: So, I did a search through my e-mails and found the original message I sent to [editor] Wil Moss about this story. I sent that message, proposing a spacefaring adventure book starring the Asgardians and titled ASGARDIANS OF THE GALAXY, back in 2015. Wil and I knew we wanted to do this book straight away, but we needed to wait for the right moment. That moment, it seems, is now, as the events of INFINITY WARS leave a bit of a void when it comes to cosmic heroes.
In this story, a group of Asgardians is drawn into an intergalactic quest to stop a terrible villain (I will not reveal who just yet, but this baddie has longstanding ties to cosmic Marvel tales) from unleashing…well…something terrible upon the universe. For various reasons, though, this group of Asgardians must work without the knowledge of their peers.
Marvel.com: Why them? What brings these individuals together?
Cullen Bunn: What? Or who?
There's another member of the initial group who remains, for the time being, a secret. When this character is revealed, it'll baffle and surprise readers. Anyhow, this surprise character sets the Asgardians on their secret mission.
Marvel.com: Have you drawn inspiration for this book from any sources in particular?
Cullen Bunn: I drew inspiration from a number of sources. Guardians books, both classic and current. Thor stories. Classic Jim Starlin cosmic tales. Movies such as Marvel Studios' "Thor: Ragnarok", Marvel Studios' "Guardians of the Galaxy", and Star Wars. In my pitch document for the series, I listed a number of touchstones ranging from Star Trek to Firefly.
Marvel.com: What do the Asgardians of the Galaxy have in common with the Guardians? How are they different?
Cullen Bunn: I didn't approach this as a group that would replace the Guardians, and the team, by its very nature, is quite different than Star-Lord and company. They have a completely different vibe and style and approach to the challenges they face.
Still, I wanted this book to be a rollicking good time, just like the very best issues of GUARDIANS OF THE GALAXY. The Asgardians are facing some very dangerous threats, but I want readers to be smiling as they enjoy the story.
Marvel.com: How would you describe the Asgardians' team dynamic?
Cullen Bunn: These characters have not worked together often, and never in this way, so the team is just starting to find its footing. Some of the characters get along better than others. Some of the Asgardians are less trustworthy than others, and that will lead to some interesting interactions. Some of the team members are unsure of the motivation for bringing the group together in the first place. Others don't seem to belong at all. Watching this team come together and seeing how very different members of the group interact will be a big part of this book's fun.
Marvel.com: Which character have you had the most fun writing so far, and why is it Throg?
Cullen Bunn: Haha! Of course, Throg is a lot of fun to write. Throg will be, I think, a breakout character in the book. He's being played a little differently than he has been in other books. But he is not a frog to be trifled with.
Really, though, I love writing all these characters. It's especially cool to be writing Valkyrie (and her mortal counterpart Annabelle Riggs) once again! But Skurge is a delight. Angela is cool. Thunderstrike is a character we're going to make readers love. And even the Destroyer has some fun surprises ahead.
Marvel.com: You've worked with Matteo Lolli a couple of times before. What's it like teaming up with him again? And what about these cosmic visuals make this a perfect story for him to tell?
Cullen Bunn: Matteo is a delight to work with, and his work is delightful to look upon. This project is a little different than what we've done together in the past, but I think it's even better! He has obviously spent a lot of time drawing Deadpool, but he's also drawn big Super Hero action, such as DEADPOOL'S SECRET SECRET WARS. His art is crisp and clear and dynamic, and he draws some amazing spaceships, alien worlds, and—of course—Asgardians!
Begin the tale of the ASGARDIANS OF THE GALAXY, by Cullen Bunn and Matteo Lolli, on September 5!
The Hype Box
Can't-miss news and updates from across the Marvel Universe!