Comics
Published August 9, 2017
The History of Kirby: 1961-1962
Celebrate the King's career in a year-by-year look at his Marvel work!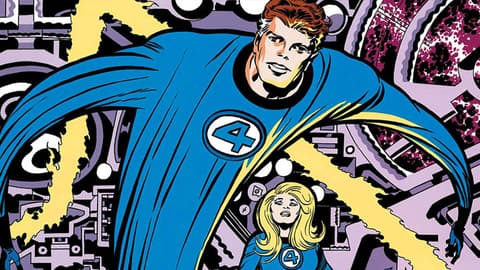 In celebration of Jack "King" Kirby's 100th birthday, we're reviewing the man's legendary creations with a year-by-year examination of his unparalleled career at Marvel Comics. Read on and witness the work that made him comic book royalty.
Though Jack Kirby's history with Marvel Comics stretches back to the early 1940s when he co-created Captain America, the dawn of the 1960s saw "The King" help form the foundation of the Marvel Universe—and ultimately catapulted him to the legendary status he holds today.
The introduction of Captain America—which Kirby spearheaded alongside his partner Joe Simon in 1941—also occurred around the same time that Jack met a young man named Stanley Lieber, a budding creator who'd one day rename himself Stan Lee. Little did the two know that 20 years after their introduction, from late 1962 through the end of 1963, Jack and Stan's collaborative output would stagger the industry in its unprecedented longevity and depth of creativity.
It all began, of course, with FANTASTIC FOUR #1. Jack designed characters for a new team that emulated facets of books he'd worked on in the years before—choosing to include elements of suspense, romance, and most importantly, monsters. The series whipped up wildfire among readers, with Stan and Jack wasting no time in filling each issue with expansive concepts and the underpinnings of a larger universe.
FANTASTIC FOUR #2 introduced the shape-shifting Skrulls, FANTASTIC FOUR #3 gave the quartet of heroes costumes and equipment, and FANTASTIC FOUR #4 revived Golden Age character Namor the Sub-Mariner as a villain. Once FANTASTIC FOUR #5 unveiled a new baddie named Doctor Doom, Stan and Jack immediately teamed him with Namor to inaugurate Marvel's first bona-fide super villain team-up.
Jack stayed with the monster theme—thanks to the Thing's instant popularity in the pages of FANTASTIC FOUR—and offered up a not-so-jolly green giant to complement Stan's prose with INCREDIBLE HULK #1. The series bravely asked readers to allow a brutish behemoth to act as a hero in his own adventures—and Jack endowed the beast with not only the features of a Frankenstein Monster, but also the soul of the scientist trapped inside.
Larger-than-life central protagonists seemed the way forward for Marvel, so Stan and Jack looked to their fondness for mythology for the next bold idea in 1963. They converted the long-running thriller series JOURNEY INTO MYSTERY into a vehicle for a new version of the Norse god Thor, and in doing so, gifted Jack with far-flung realms to draw that would dovetail with his grandiose imagination. After Thor debuted in JOURNEY INTO MYSTERY #83, the sky served as no limit as to where the creative duo might go.
After telling the tale of a simple man trapped in an underground world in TALES TO ASTONISH #27, Stan and Jack decided to fashion the character into a super hero, complete with the power to shrink and control insects. Ant-Man stepped into the ever-growing Marvel Universe in TALES TO ASTONISH #35, sporting futuristic technology and yet another unique Kirby costume.
Incredibly, beyond these fantastic firsts, Jack still maintained his regular art chores in 1962 and 1963 on such books as KID COLT OUTLAW, TALES OF SUSPENSE, and more than one romance title, making him one of the most prolific creators in all of comics.
Stay tuned to Marvel.com for more throughout Kirby Month and beyond! And join the conversation on all of our social channels with the hashtag #Kirby100.
The Hype Box
Can't-miss news and updates from across the Marvel Universe!