Comics
Published August 30, 2017
The History of Kirby: 1965
Two of the Fantastic Four tie the knot, Hulk fights Thor, plus more!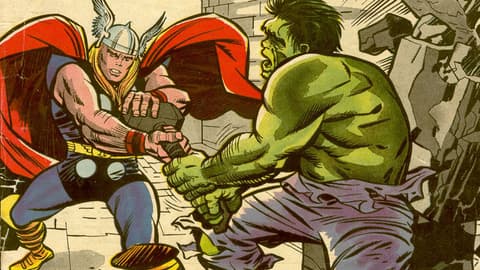 In celebration of Jack "King" Kirby's 100th birthday, we're reviewing the man's legendary creations with a year-by-year examination of his unparalleled career at Marvel Comics. Read on and witness the work that made him comic book royalty.
Even a casual Marvel reader in 1965 might've believed that Jack Kirby worked on every single issue of every single title the House of Ideas published that year. The truth of it stands as something less than that, but Marvel editor and writer Stan Lee knew a good thing and ensured Jack's presence across the line in varied ways, and with a concentration where the Kirby touch would bring comic book gold.
First and foremost, Lee and Kirby's flagship book remained Jack's true focus at the midpoint of the 1960s. In FANTASTIC FOUR #32, after a battle with the strange android Dragon Man, Reed Richards received the answer he'd hoped for from his marriage proposal to Sue Storm, setting up one of the true monumental moments in comic history: the wedding of Mr. Fantastic and The Invisible Girl in FANTASTIC FOUR ANNUAL #3 that summer.
Not to rest on their laurels, Stan and Jack also introduced the Frightful Four in FANTASTIC FOUR #36, brought Daredevil in for a guest-spot in FANTASTIC FOUR #39, and following Gorgon's introduction in FANTASTIC FOUR #44, unveiled their next big idea, the incredible Inhumans, in FANTASTIC FOUR #45 to round out the year.
Over in Thor's universe, Jack illustrated one of the greatest clashes of comics, the Thor-Hulk match fans clamored for, in JOURNEY INTO MYSTERY #112, as well as designing a villain for the ages, Absorbing Man, for JOURNEY INTO MYSTERY #114. In addition, Jack's images of the robotic Destroyer impressed fans in JOURNEY INTO MYSTERY #118, but perhaps the real stand-out moment of the year in Thor's world came in the introduction of Greek demi-god Hercules into the ongoing drama in JOURNEY INTO MYSTERY ANNUAL #1.
Jack's penciling duties for 1965 also extended into Captain America's solo series in TALES OF SUSPENSE. For the first part of the year he produced covers and simple layouts for others to follow, but for his and Stan's powerful team-up between Cap and Nick Fury in TALES OF SUSPENSE #78, he provided full interior art. From there, the duo planted dynamite under Cap's world with the return of The Red Skull in TALES OF SUSPENSE #79, and the amazing Cosmic Cube saga beginning in TALES OF SUSPENSE #80.
Speaking of Nick Fury, Jack's visions of technological wonders expanded exponentially when he and Stan promoted the sergeant into their newest concept, S.H.I.E.L.D., in the landmark STRANGE TALES #135. For the next several issues of the mag, Jack would do layouts and covers, helping guide his former World War II star into the Swingin' Sixties.
Jack relinquished penciling chores on AVENGERS in 1965, but also helped out with layouts and covers, same as with SGT. FURY and TALES TO ASTONISH. Over in UNCANNY X-MEN he worked to illustrate the memorable meeting of the young mutants and the Avengers to fruition in X-MEN #9, and introduce the savage Ka-Zar in X-MEN #10.
Stay tuned to Marvel.com for more throughout Kirby Month and beyond! And join the conversation on all of our social channels with the hashtag #Kirby100.
The Hype Box
Can't-miss news and updates from across the Marvel Universe!